by Oriana Papantoniou
Independent candidate Andreas Mavroyiannis, backed by AKEL, the Ecologists' Movement, and non-affiliated Cypriots, can be considered the big winner of the first round of elections for the 8th President of the Republic of Cyprus. With 29.60% of the vote, he appears to justify the Left Party's decision to support him, despite being chastised in various ways during the election campaign.
Diplomat Andreas Mavroyiannis was pleased with today's result and in a friendly discussion with journalists he recommended patience for the next day, saying that "the night brings advice". He is expected to begin consultations on potential partnerships ahead of the second round on Monday, without excluding any democratic force from this effort. His goal is to continue on the same path he has taken thus far in order to elevate the country, so in addition to the candidates, he will address each citizen individually.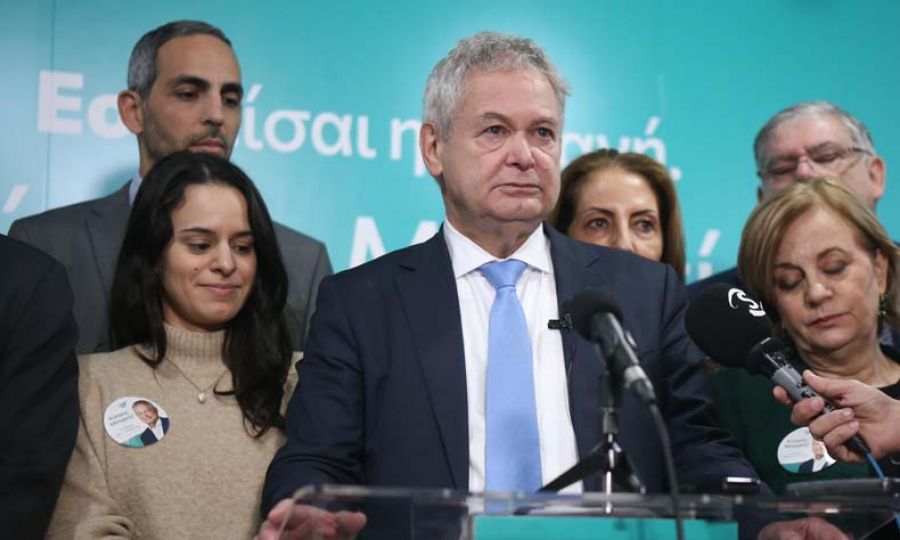 Besides this, the staff has already prepared scenarios for the next moves based on the goals outlined in Andreas Mavroyiannis' election program. Furthermore, the candidate has made it clear in previous statements that he will not violate the foundation of political principles, positions, and proposals for resuming a last effort to solve the Cyprus problem simply to achieve partnerships. The Left Party is also pleased to see him vindicated for his decision. Given that its candidate Stavros Malas received 22.34% in the 2018 elections and 26.91% in the 2013 elections, today's result bodes well for the changes that will be enacted at the party's statutory congress next autumn.
Simultaneously, they acknowledge that Andreas Mavroyiannis' personality and soft-spoken character were finally embraced by citizens who wanted to send a message of change. Leaving the first word to the candidate is expected to begin tomorrow, with contacts at the party level focusing on partnerships in preparation for the second round of presidential elections. The long-standing positions of AKEL on the Cyprus issue will be used as a front for potential partnerships, which is why Achilleas Dimitriades and Konstantinos Christofides appear to be among the first to want to meet, while cooperation with George Kolokasidis is considered remote.
"There are very good chances of winning these elections," said the party's secretary-general Stefanos Stefanou, so they will keep working hard. Furthermore, a positive outcome is especially beneficial to him personally because this is the first election managed by the party's secretary general. A result that, as it turns out, was predicted by AKEL and, more specifically, by a team of three partners who are well-versed in numbers and figures, and which gave a figure of 29.5%.
[This article was translated from its Greek original]