Police urge caution on highway as weather warnings continue Wednesday, storms, power outages, snow on mountains
There was snow high up in the mountains on Tuesday night, when the skies opened up in many parts of the island with severe weather also causing power outages in the west.
Heavy rains with lightning and thunder appeared in many parts of Cyprus on Tuesday night, along with powerful winds across the island and foggy conditions in higher elevations, all painting a winter landscape.
Police also went on alert issuing a warning for motorists on the Limassol-Paphos highway near Avdimou, citing heavy rains and powerful winds in the area.
Reports from Paphos said weather conditions were more intense as heavier rain showers affected many areas in the district.
Both Paphos and Limassol reported power outages while it was not clear how many parts elsewhere on the island might have experienced electricity problems.
A yellow warning remained in effect on Wednesday as a low pressure system was still affecting the island until the afternoon, when more stable conditions are expected to move in.
Poor driving conditions
An official warming on Wednesday morning also cited low visibility conditions on major highways due to continuous rain, with police officials reminding motorists to slow down, maintain safe distances from other vehicles, and turn on their headlights.
Car drivers should also avoid puddles and standing water that can cause vehicles to hydroplane, especially those not traveling at low speeds.
Warnings continue Wednesday
Showers, powerful winds, and isolated thunderstorms are expected to continue in the daytime Wednesday with possible hail during heavy rains, while snow is expected to continue falling on the highest peaks of Troodos along with sleet in surrounding areas.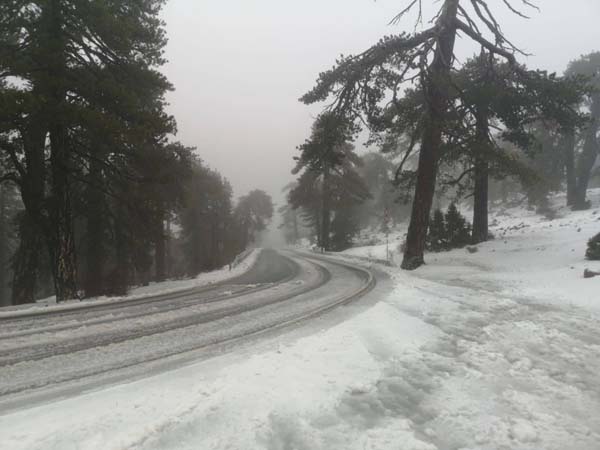 Temperature highs will reach 17 degrees Celsius inland and along the coast, while it will be 7 high up in the mountains.
Evening skies will remain partly cloudy with rain chances but also low chances of isolated thunderstorms in the early part of the night.
Heavy winds will persist throughout the evening with temperature lows dropping to 8 degrees inland, around 13 in the north and west, around 11 in all other coastal regions, and 2 higher up where frost is also expected to form.
Temperatures will rise on Thursday to reach levels above normal averages, with cloudy skies expected for the rest of the workweek while Saturday weather will be mostly clear.