Bright future ahead for Nicosia's real estate puzzle, once mistreated luxury building with no balconies
Nicosia's abandoned luxury hotel Yiorkio Residence has been sold to a group focusing on upscale living, with reports saying the bidder is shelling out €20 million to acquire one of Cyprus' real estate puzzles.
The Real Estate Management Unit of the Bank of Cyprus announced on Tuesday that Yiorkio, built in 1997, has been sold to Akelius Group just two millions shy of the listed price.
Situated in the heart of the capital on the banks of Pedieos River, the well-known luxury building had been deserted for years, with one part housing initially Alpha Bank administration and since 2008 the health ministry while the other attracted vandals and drug users but also delighted romantic couples who sought privacy and excitement since it was abandoned in 2011.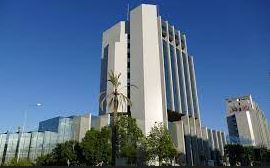 According to the financial team of Kathimerini Cyprus, Akelius' global profile suggests the Group will most likely seek to convert the complex's two towers into a downtown luxury hotel while another possibility would be luxury apartments, or a combination.
Based on online listings by the Bank of Cyprus' REMU, asking price had been set at €22 million but local media reported on Tuesday an offer had been accepted for €20 million.
Yiorkio, an exciting proposition in the Cypriot real estate market, never really took off after the owner died.
About a decade ago a group of Israeli investors acquired Yiorkio but ended up declaring bankruptcy after failing to sell flats. Reports said realtors and experts had always doubted the Israelis could sell luxury apartments in Cyprus without balconies.