Three patients receive Limassol student's organs after fatal crash caused by illegal overtake maneuvre
A young local woman died in hospital over the weekend, ten days after a brutal car crash caused by an illegal overtake, with reports saying her organs have been donated to patients in Cyprus and Greece.
According to local media, 19-year-old Marilena Pericleous succumbed to her injuries on Sunday following a brutal late-night car crash along the Limassol-Platres road.
Police said Marilena and another 19-year-old girl were passengers in a car driven by a 20-year-old male on July 10, when they were involved in a collision with another vehicle driven by a 21-year-old man.
The incident took place on Friday night just before midnight, around 11:50pm, when the two vehicles collided at an angle according to police in what media described as a "very violent" collision.
Unconfirmed reports said the 21-year-old man driver was trying to overtake another vehicle when he ended up in the opposite lane
Following the impact, the vehicle with the three young people inside veered off and ended up in a ditch, according to local reports.
All four, described as Greek Cypriots, were rushed to the Emergency Room at Limassol General Hospital, where doctors said Marilena had suffered a traumatic brain injury, a life-threatening stroke caused by a burst blood vessel, and a punctured lung. She was then transferred to the ICU at Nicosia General with medical officials describing her brain injuries as severe and irreversible.
The other girl, who also suffered a head injury but not life threatening, reportedly fractured her left hip and pelvis. She was hospitalized in Limassol while reports said the two male drivers received medical treatment and were released from hospital.
According to a supplemental statement by police, the 21-year-old male driver was detained for questioning the day after the accident and was later released. No details were provided regarding the collision or the arrest, but unconfirmed reports said the young man was trying to overtake another vehicle when he ended up in the opposite lane.
Limassol traffic police said they were still investigating the circumstances under which the collision took place.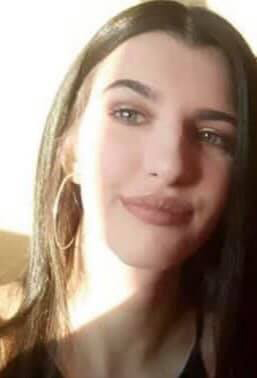 Marilena's funeral service was scheduled for Monday late afternoon, at 6pm, at the Agios Nicolaos church in Palodia, Limassol district.
Local media said a 40-year-old man and a 50-year-old woman in Cyprus were called in Sunday for an unscheduled kidney surgery, after reports saying Marilena's family confirmed their daughter was an organ donor.
Reports also said her liver was transported to a hospital in Greece where another 39-year-old woman was called in for an unscheduled surgery.
Marilena's parents issued a call to their daughter's school classmates and fellow students, as well as to all young people who planned to attend the funeral, asking them to dress in white.
Donations in lieu of flowers have been requested according to a post on Facebook.