Cyprus police mount new campaign to catch traffic light offenders and remind drivers to obey rules at all times
Traffic police will be watching out for drivers who violate traffic lights this week, as part of specific weeklong campaigns piling up one after the other to prevent serious accidents.
Starting Monday, November 5, cops are mounting a special campaign to catch traffic light offenders and remind drivers they must obey the rules at all times.
Drivers are reminded that a Red light requires vehicles to stop behind the while line and wait for the green light before going forward. In cases where the line may not be visible on the road, drivers are still required to stop their vehicles at such a point where looking ahead they can still view the traffic light next to them on the left side of the road.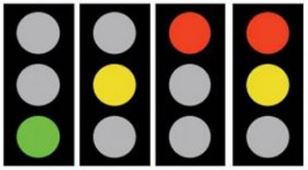 According to general traffic rules, Yellow light means "steady" but forbids drivers to going forward unless their vehicle is in motion at such a distance where stopping would be more dangerous for other drivers. In other words, cars seeing a yellow light ought to slow down and stop for red light unless they are close enough to the while line to keep steady and pass through the intersection before the light turns red.
Drivers must go forward on Green light, however, prudent and responsible drivers ought to be aware of other directional traffic at all times when going through any intersection in order to avoid accidental collisions.
Last week, police went on a weeklong campaign against drivers using their mobile phones or otherwise not driving hands-free, while a number of similar campaigns focused on speeding and seat belts.
The traffic light awareness campaign runs through Sunday, November 11.