Holy See signs lease for diplomatic mission in Nicosia, Francis to award Anastasiades with Grand Collar
Cypriot President Nicos Anastasiades met with Pope Francis at the Vatican on Monday, with the two men reportedly discussing bilateral issues including refugees following the Holy Father's visit to the divided island last year.
Anastasiades was received by Pope Francis on Monday morning during an audience in the Vatican Apostolic Palace.
"I expressed my appreciation and that of my people to the pope for showing support in seeking a solution to Cyprus Problem but also the large interest the Holy See is showing on the issue of refugees," Anastasiades said.
'I expressed my appreciation and that of my people to the pope for showing support in seeking a solution to the Cyprus Problem but also large interest shown by the Holy See on the issue of refugees'
The Cypriot president, who revealed he was to receive the Grand Collar of the Papal Order of Pius IX during a state dinner later in the day, also told reporters the two men also touched on other issues including, Turkey, Lebanon, and Ukraine.
A statement by the Holy See press office said Anastasiades met with Francis and also had other meeting with Cardinal Secretary of State Pietro Parolin, who was joined by Archbishop Paul Richard Gallagher, Secretary for Relations with States and International Organizations.
Discussions were described as being cordial and touched on bilateral relations as well as "the intention to develop further collaboration in sectors of mutual interest, including the reception of refugees," the statement said.
Anastasiades also confirmed rumors that the Holy See has signed a long-term lease with Nicosia on a plot in Aglandjia, in the eastern part of the divided capital, where the Vatican will set up a consulate. 
The pope gave his guest an icon of "Jesus the Good Shepherd, who knows His sheep and the smell of His flock," according to the Holy See press office, with Francis telling Anastasiades that he chose the gift because "you know your people with your heart, you are close to the people."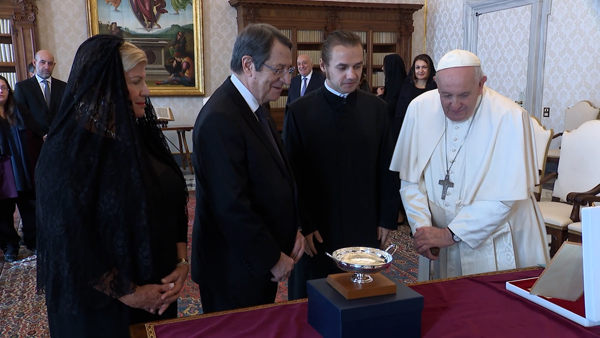 The Holy Father also gave a collection of papal documents to the Cypriot president, who in return presented the pope with a silver chalice modeled after cups used in Cyprus in ancient times.
Last year Francis flew to Cyprus where he met with refugees, some of whom he had selected to join him later at the Vatican, while the pope also vowed to take in more asylum seekers from Cyprus.
The outgoing Cypriot president said he expected to remain friends with Francis after leaving office early next year.