File photo
What began as a tranquil day in Koilani and Omodos took a nightmarish turn as a significant wildfire erupted on Thursday, September 14th, around noon. This devastating blaze, characterized by Fire Department spokesperson Andreas Ketti, has firmly established itself in the rugged terrain to the east of Koilani and is swiftly advancing northwestward, creating an urgent crisis.
Local authorities reacted with swiftness and precision. The District Manager of Limassol rushed to the scene to spearhead coordination efforts, while the Chief of the Fire Service is en route. Their rapid response led to the establishment of a Forward Control Center and the activation of Project Ikarus II. Currently, an impressive fleet of eight aircraft valiantly battles the inferno from the skies.
''During the development and battle against the fire, a Forest Department fire truck with three crew members overturned''
Equally commendable are the heroic efforts on the ground. A total of twelve fire trucks from the fire brigade have been dispatched, reinforced by additional support pouring in from Nicosia, Larnaca, Paphos, and Emak. Civil Defense acted promptly, deploying three vehicles along with their dedicated personnel.
In the face of this crisis, the Forest Department has sprung into action, mobilizing a formidable force of nineteen fire trucks and a robust team of eighty personnel. Their tireless work is bolstered by the unwavering support of organized volunteer groups such as Kitas, ETEA, and Support Cy. The Limassol district administration plays a crucial role by providing two water transport vehicles and a land pusher to bolster firefighting efforts.
Heartbreakingly, six families were forced to evacuate their homes, a precautionary measure taken in collaboration with the police and the community leader of Koilaniou. The sight of these families hastily leaving their beloved homes serves as a poignant reminder of the gravity of the situation.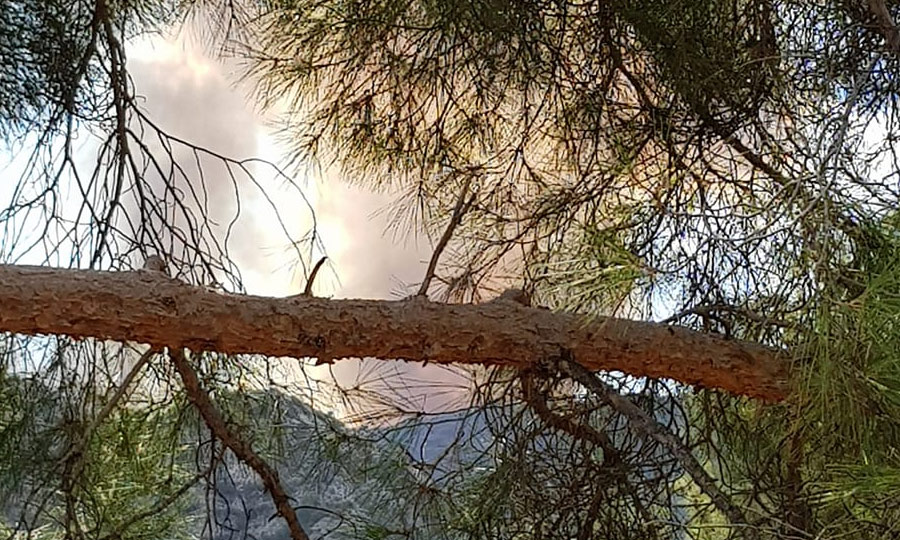 Amidst the chaos, a harrowing incident unfolded as one fire truck overturned in the midst of the battle against the raging flames. Fortunately, fate smiled upon them, as there were no serious injuries among the Forest Department personnel involved in this ordeal.
Andreas Kettis, the spokesperson for the Fire Service, addressed this chilling incident, stating, "During the development and battle against the fire, a Forest Department fire truck with three crew members overturned." As of now, it appears that there are only minor injuries, with an ambulance summoned to provide immediate first aid and, if necessary, facilitate transportation to Limassol General Hospital.
Through it all, the resilience and unwavering dedication of the firefighting teams, coupled with the outpouring of support from the community, shine as beacons of hope. The battle against the relentless wildfire is far from over, but the collective spirit of Koilani and Omodos remains unbroken, holding onto the hope that their combined efforts will soon quell this fiery nightmare.