watch video
A twister spins through Agious Trimithias and Paliometocho Sunday afternoon, scaring residents and causing damages
A huge tornado sweeping though rural areas west of Nicosia made landfall Sunday afternoon spreading panic among local residents and causing damages along the way.
During poor weather conditions in the region, a tornado with accumulated dust was seen moving in rural Nicosia, sweeping through areas of Agious Trimithias and Paliometocho.
The large twister was not particularly strong but was large enough to scare local residents and cause multiple damages, including tossing items metres away and damaging roofs and installations. Power outages were also reported in the area. 
No injuries were reported and no people were trapped during the tornado, while police closed down a main route due to flooding, starting from the Metro roundabout in Strovolos towards Lakatamia and further out towards the tornado-affected areas. Drivers in Strovolos were forced to move at extremely low speeds to avoid accidents and hydroplaning incidents.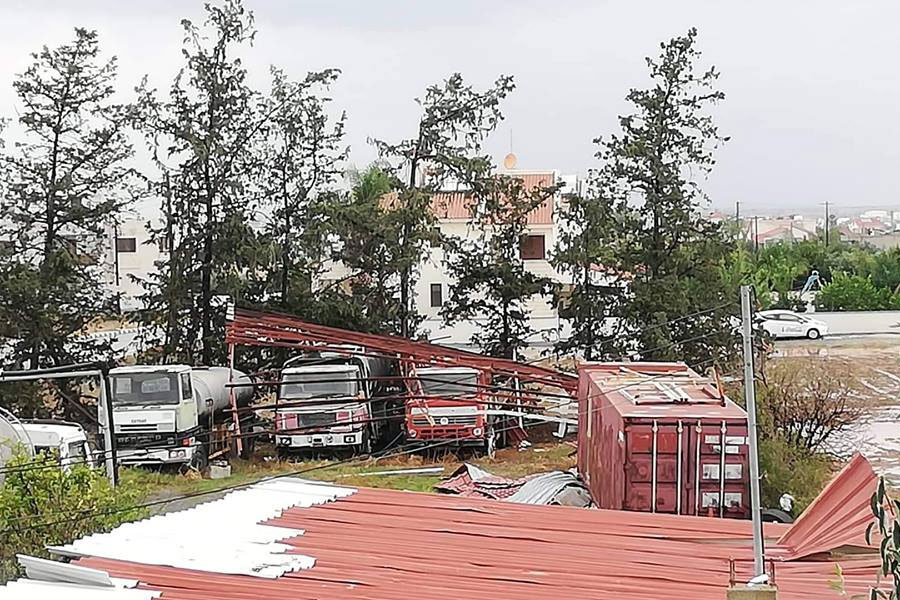 Local authorities said they would offer temporary hotel accommodation to residents whose living conditions were negatively affected by structural damages due to the tornado. Civil Defence staff was appointed as first contacts for people in need while it was reported that state agencies would be inspecting damages first thing Monday morning.
Interior Minister Constantinos Petrides visited Agious Trimithias, the area most affected by the tornado, while he also remained in contact with Paliometocho officials, reportedly reassuring there would be government support for the inflicted areas. A photo posted by the NGO Reaction Cyprus, showed the minsiter in the evening inspecting the area.
The NGO also warned the public to avoid going near utility poles that had been affected by the twister to mimimise risks.