The new Navtex concerns the activities of the Turkish drillship Yavuz
Kathimerini Greece Newsroom
Turkey has issued a new Navigational Telex (Navtex), reserving a maritime area within Cyprus' exclusive economic zone (EEZ) for drilling activities, Greece's Skai reported on Wednesday.
The new Navtex concerns the activities of the Turkish drillship Yavuz, and will come into force as of July 18.
The new drilling is expected to last through August 20.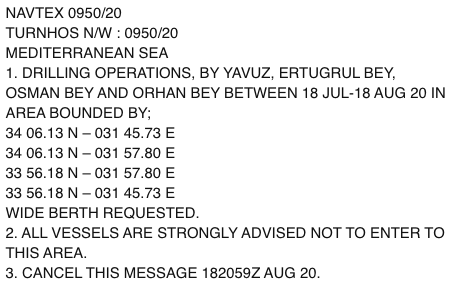 Responding to the navtex on Wednesday, President of the Republic of Cyprus Nicos Anastasiades said "it is a strong message towards Europe, what they [Turkey] mean when they say that they seek a supposed dialogue and that they are supposedly exerting every effort to be in line with international law."
Anastasiades underlined that Turkey's actions, which "disregard international law and European principles and values", will be brought up at the upcoming European Council meeting.
The leaders of Greece and Cyprus have recently been issuing strong calls to the EU for additional sanctions against Turkey in view of what is considered aggressive behaviour in the Eastern Mediterranean. 
The President of Republic of Cyprus flew to Athens on Tuesday in view of ensuring optimal cooperation with Greece in dealing with the escalating Turkish provocations. 
The matter was raised this week at the EU Foreign Affairs Council, which agreed to task the relevant EU bodies with drafting potential sanctions that could be imposed against Turkey.