Sea turtle's death still a mystery off the coast of Limassol (photo credit: Philenews)
There has been no official word following the discovery of a sea turtle carcass that washed ashore in Limassol over the weekend.
Beachgoers at a nautical club in Limassol pulled a turtle out of the water on Saturday morning, with sources telling Knews the sea creature was already dead in the water. After notifying the police, they were told to contact local authorities and later the sea turtle was picked up by municipality officials.
According to Philenews, the sea turtle appeared to have died under mysterious circumstances, while photographs published online showed what appeared to have been injuries.
"Under circumstances that remain unclear, it appears that the turtle was distressed, something which ought to have alerted the authorities," Philenews wrote.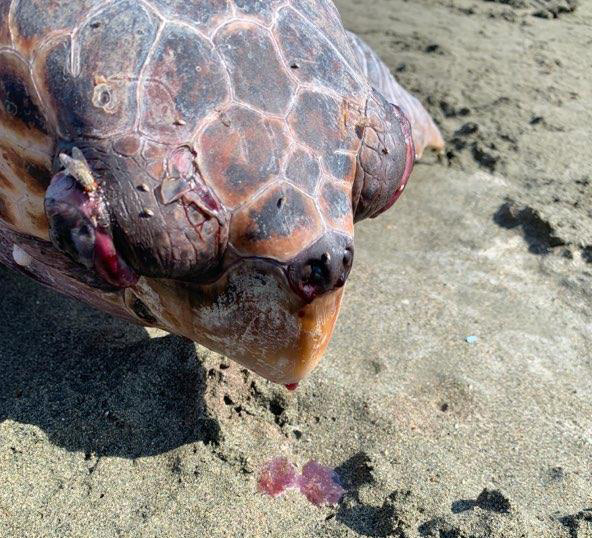 But another witness, who works in the area, told Knews there were no visible injuries on the carcass, while also not ruling out that the death could have been caused by an accident.
Knews attempted to learn more information, with two officials from the Limassol branch of the Fisheries and Marine Research Department saying there had been no reports of an incident involving a dead turtle.
An employee at Germasogeia municipality told Knews attempts were being made to ascertain the facts over the incident
One official said the two most common causes of turtle deaths are accidental impact from a boat or drowning after getting trapped under water. The official also said in some cases the department can be contacted with information, mainly for statistical purposes, while local authorities would have to be directly involved in such incidents.
An employee at Germasogeia municipality, which oversees the beach area in question, told Knews on Monday morning that attempts were being made to ascertain the facts over the incident. Later at noon, it emerged that the turtle had already been buried by municipal workers.
Cyprus hosts two sea turtle species, the green sea turtle and the loggerhead turtle also known as Caretta Caretta, both of which are protected by international.
The green turtle is listed as endangered but the Mediterranean population is considered critically endangered. Green sea turtles, like other sea turtle species are particularly susceptible to population declines because of their vulnerability to impact by human activity.
Story has been updated to reflect burial