Paphos judge denies arrest warrant for driver in road death of 10-year-old girl Nelina Fakliska
Paphos police believe a young girl who was killed in an accident last week had pressed the button at the crossing prior to the incident, while a court has denied an arrest warrant for the driver.
According to local media, police have at least two different sources of information suggesting 10-year-old Nelina Fakliska who died in a road accident on Friday had pressed the button at the pedestrian crossing.
Nelina, a Bulgarian girl born in Cyprus, was fatally injured when she was struck by an oncoming vehicle as she was trying to cross the street on Friday afternoon on Tassos Papadopoulos Avenue.
Young friends and classmates visited the scene of the accident, bringing flowers and lighting candles a few feet away from where Nelina took her last breath
The child's grandfather, who walked with Nelina to a pedestrian crossing equipped with lights, had reportedly started to walk away expecting his granddaughter would be safe after pressing the button at the crosswalk.
But police say they have another witness who said the girl pressed the button, after a driver came forward saying he had just driven over the crossing as the light was changing from green to amber. According to statements he made to police, the male driver then came to a stop at another traffic light some 100 metres away and saw in his rear view mirror a girl on the ground and a vehicle nearby.
Reports said a Jeep driven by a 70-year-old female driver struck Nelina with brutal force as the girl was crossing the street, killing her instantly. The official cause of death was said to be internal bleeding.
No brakes applied prior to impact
Media outlets also reported that the driver said she did not see the girl or the lights. Officials reportedly also confirmed there were no skid marks on the surface of the road, suggesting the driver had not applied the brakes before hitting the child.
Police sought a warrant for the driver's arrest alleging the woman failed to stop at a red light at a pedestrian crossing. But a Paphos district judge denied the request, saying an arrest was not necessary as the woman remained hospitalized following the accident.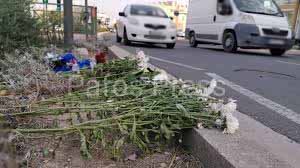 On Monday, young friends and classmates visited the scene of the accident, bringing flowers and lighting candles at a makeshift roadside memorial a few feet away from the spot where Nelina took her last breath.
Nelina's funeral service was scheduled for Tuesday afternoon at 2:30pm. The grieving family has asked for donations in lieu of flowers.