Cyprus walks fine line as House Speaker meets with Chinese ambassador amid EU talk of strengthening ties with Taiwan
Cypriot House Speaker Annita Demetriou reaffirmed Nicosia's One China position this week during a meeting with the Chinese ambassador, who responded with a similar One Cyprus principle as the two countries sought to strengthen ties while Brussels warned EU should steer clear.
According to the Cyprus News Agency, Demetriou on Thursday met Liu Yantao, the Ambassador of the People's Republic of China to Cyprus, with the two officials discussing the Cyprus issue and bilateral cooperation.
Demetriou thanked Liu for Beijing's "firm principled position" on the Cyprus Problem, noting the Security Council permanent member's efforts towards a solution based on international law and the UN resolutions.
The Greek Cypriot second-in-command also stated that a two-state solution favored by the Turkish Cypriot side would never be accepted and further reaffirmed Nicosia's firm position in respect of the sovereignty and territorial integrity of China and the principle of One China.
'Now we are talking about our dependency, vulnerability from Russian gas. We have to avoid creating new ones' Borrell said referring to China
CNA also reported that Liu expressed his appreciation for Cyprus' long-standing support for the One China principle and also reiterated his country's "One Cyprus" policy.
A press release cited by CNA said the two officials underlined the importance of upgrading their ties to a "strategic relationship particularly in the areas of education, trade, health and local authorities."
In November 2021, during a phone conversation Cypriot President Nicos Anastasiades told Chinese leader Xi Jinping that "China is a vital partner and friend of Cyprus," with the two heads of state deciding to upgrade their relationship to a strategic partnership.
But a lot has changed in the last year, with the war in Ukraine now enetring its eighth month and the meeting in Nicosia taking place just one month after EU foreign policy chief Josep Borrell told European Parliament that Brussels was seeking to "broaden our cooperation" and "modernize our dialogue" with Taiwan.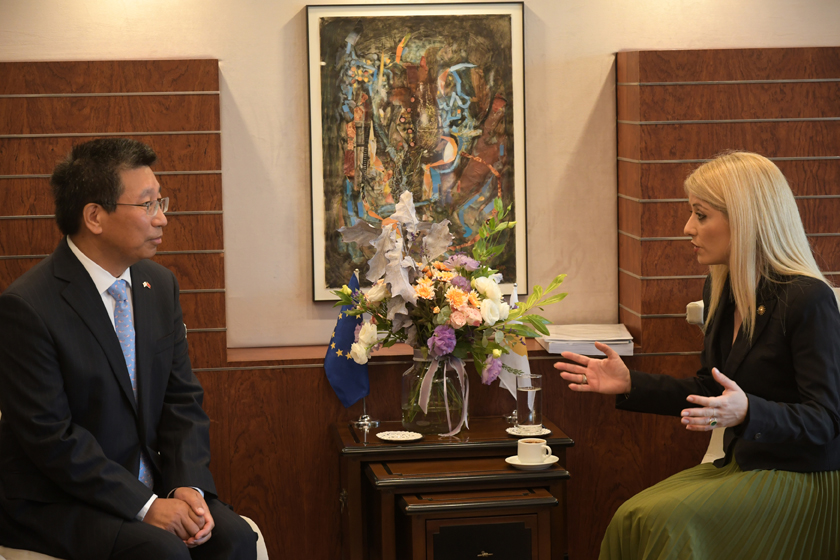 On Monday Borrell also told reporters the bloc was looking to fine-tune relations with Beijing, saying the label of China being a competitor had become more central than rival partner.
"Now we are talking about our dependency, vulnerability from Russian gas. We have to avoid creating new ones," the foreign chief said.
But Borrell maintained that EU's broadening cooperation with Taiwan did not amount to dropping the One China policy.
"Let me be clear on this. The One China Policy does not prevent us from persisting and intensifying our cooperation with Taiwan," Borrell told EU lawmakers.
In addition to rising tensions between Washington and Beijing over Taipei, Beijing was angered this week when US President Joe Biden introduced a ban on exports of microchips and semiconductors to China, amid America's recent calls on allies to stop selling microchips to the Red Dragon.
But EU competition with China could become complicated very quickly as some member states including Cyprus have signed up to China's Belt and Road Initiative.
Liu, who assumed duties in Cyprus during the coronavirus pandemic, gave Demetriou a rundown of various initiatives of the Chinese Embassy on the island aimed at "further strengthening the relations between the two countries and peoples" and further called on the House speaker to lend her support.