No ice to break between new and old faces as Israeli and Cypriot leaders pick up where they left
Cypriot President Nicos Christodoulides and Israeli Prime Minister Benjamin Netanyahu reconfirmed their commitment to working together during a meeting in Jerusalem on Thursday, with the two men joking in front of cameras and the host teasing the guest's new ministers. 
Christodoulides went to visit Netanyahu right after a fresh wave of attacks in the troubled country, where Israelis and Palestinians are still in a decades-long conflict, with the president saying he went there "despite the terrorist attacks that we fully condemn."
"Because I want to send a strong and clear message about the strategic nature of our relationship," Christodoulides said.
All jokes aside
During raw footage when the Cypriot exited his vehicle, the two men were heard greeting amicably each other, with Netanyahu also surprising Christodoulides as a camera was getting up and close and asking him to say hello to friendly cameramen.
"To these trouble makers?" Christodoulides asked.
"No, these are friendly people. We don't have that problem here, but you have it," Netanyahu remarked as the two shook hands while taking an official photo.
Netanyahu was also caught on video explaining to the Cypriot president what had occurred before the Israeli strikes, saying "they fired on us, we fired back, they stopped" and then pausing for reporters to leave the room.
The amicable atmosphere between the two men, who had worked closely together in the past when Christodoulides was foreign minister, was maintained throughout an exchange of pleasantries between delegations, with Netanyahu congratulating new faces and Cypriot ministers but also taking the liberty to tease them.
Teasing newcomers
"Congratulations and commiserations," Netanyahu said, adding "we are emphasizing congratulations right now."
Israel and Cyprus have over the years maintained very close ties, with the meeting on Thursday aimed at reaffirming those relations on economy, energy, intelligence, defense, and alliances.
Christodoulides highlighted regional developments and how "two predictable democracies in the eastern Mediterranean" to "create a stable future.''
Netanyahu welcomed the comment saying "we built together an alliance, an eastern Mediterranean alliance of democracies, Israel, Cyprus, Greece, we put our American friends in the loop as well, and I think it's a very stable and very promising alliance."
Both men agreed to continue on building and enhancing the alliance, with Netanyahu saying he looked forward to his next meeting in Nicosia in September where he would like to visit the archaeological museum.
Christodoulides, who also met with Israeli President Isaac Herzog, took with him on his trip to Israel archival material about the Jews who were hosted in Cyprus and then moved to Israel.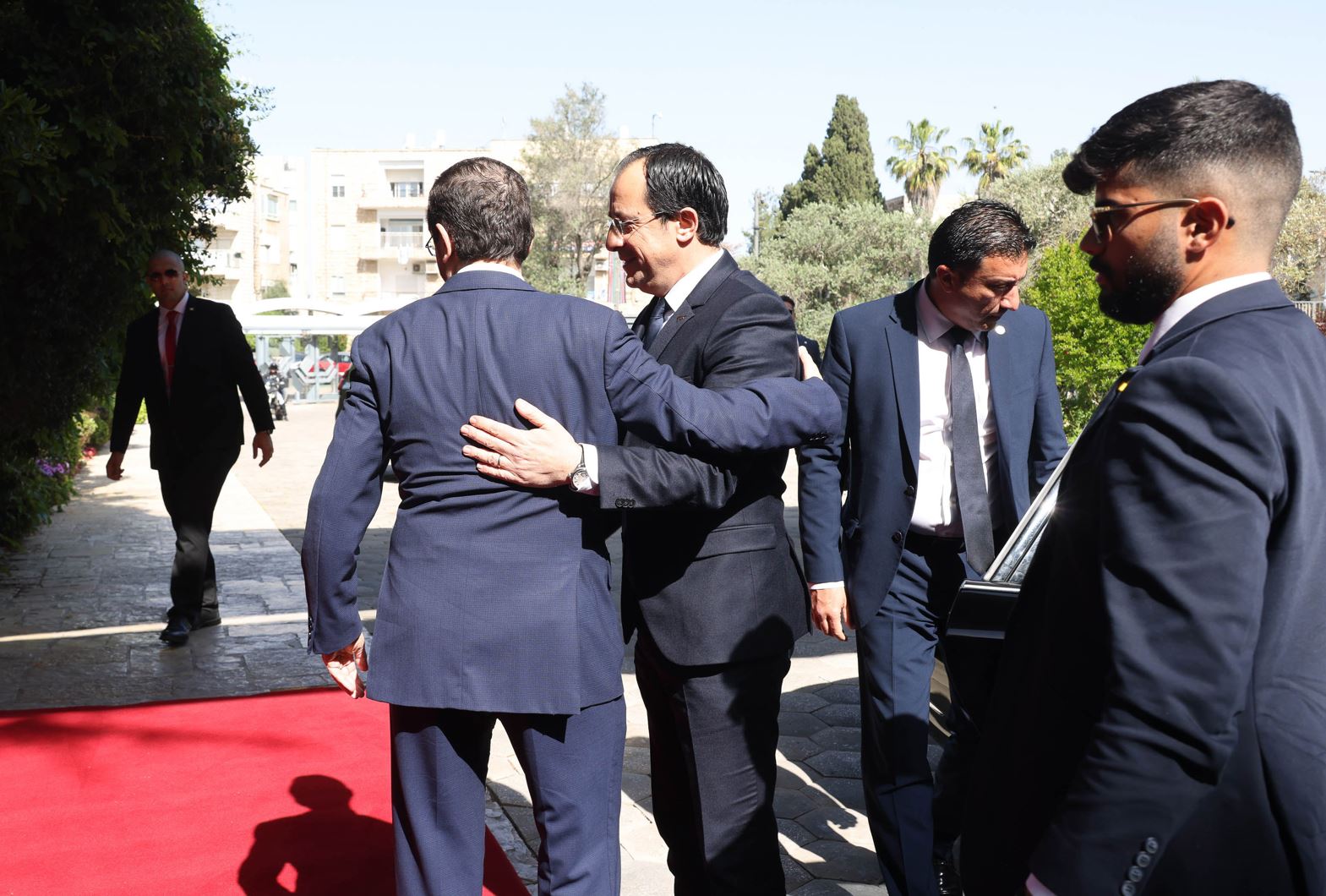 Historical and archival interest between the two countries was revived in recent years, with more details emerging about past connections including historical links between Cyprus and Herzog, whose grandfather on his mother's side was one of the co-founders of Cyprus Phassouri Plantations in the 1930's.
On his father side, Herzog's other grandfather had been involved in the repatriation to Israel of Jewish Holocaust survivors who had been held in British camps in Famagusta in 1947 and 1948.