Anastasiades and world leaders gather mark Auschwitz anniversary in Jerusalem, Macron gets angry at Israeli police
World leaders and royalty from around the world gathered in Israel on Wednesday to attend a Holocaust forum in Jerusalem, marking the 75th anniversary of the liberation of the Auschwitz concentration camp.
Cypriot President Nicos Anastasiades was among the leaders who went to Israel to mark the 75th anniversary of the Soviet liberation of the Auschwitz death camp in Poland, where over a million people, mostly Jews, were murdered by the Nazis.
Israeli President Reuven Rivlin delivered a speech welcoming the leaders, which included French President Emmanuel Macron, Russian President Vladimir Putin, Britain's Prince Charlse, US Vice President Mike Pence, and Speaker of the House Nancy Pelosi, as well as the presidents of Bulgaria, Romania, Finland, Georgia, and Bosnia and Herzegovina.
In a recent op-ed in The Jerusalem Post, Rivlin wrote that the "historical truth of the Holocaust must be vigilantly protected from those who seek to deny it or misuse it."
The event was criticized for not having holocaust survivors on the guest list, except a few dozen, with the government responding that the forum was intended for leaders and was not a public ceremony.
Prime Minister Benjamin Netanyahu, who had welcomed some guests earlier this week at Ben Gurion Airport, said it was "important that they remember where we came from, and it is important that they see where we have gone."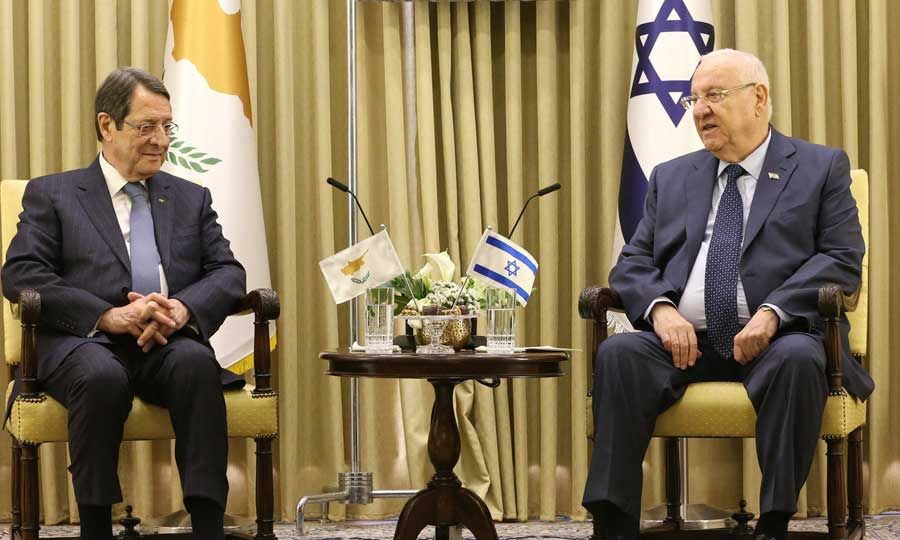 After speaking with Rivlin on Wednesday, Anastasiades told reporters the two leaders had an excellent meeting.
"What we both underlined is the further reinforcement of these excellent relations," Anastasiades said according to the Cyprus News Agency.
Last month, Anastasiades' Cabinet approved a decision by which the Cypriot Government adopted the definition of antisemitism as it has been spelled out by the International Holocaust Remembrance Alliance.
CNA also reported that Anastasiades met with the leader of the Israeli Blue and White Party, Benny Gantz, who expressed his gratitude over Cyprus' position against Jew hatred as well as the adoption of the IHRA.
Despite the somber ambience over the event, a playful moment took place when at the presidential palace, when Macron grabbed the camera and took a picture of Anastasiades as the Cypriot leader was taking his seat to sign a guestbook dedicated to the fight against antisemitism.
"Ah, we have a wonderful photographer, a new one" Rivlin told reporters.
But the French president was also caught on video being visibly angry in another incident, as he ordered Israeli police to "go outside" during a visit at the Church of Saint Anne on the Via Dolorosa in Jerusalem's Old City, which is French territory.  
Coup de colère de #Macron contre la police israélienne à Jérusalem. Dans les pas de Chirac en 1996 pic.twitter.com/DKP5ICThTK

— Ava Djamshidi (@AvaDjamshidi) January 22, 2020