The #NFR2022 event is being co-hosted by the European Parliament Office in Cyprus and the Union for the Mediterranean
The role of civil protection and international solidarity in disaster management as a result of climate change is being discussed at the two-day Nicosia Risk Forum 2022 (#NRF2022) on Civil Protection, which began today in Larnaca and is organized by the CERIDES Foundation of the European University Cyprus.
The Cyprus Fire Service and Civil Defence are co-organizers. The #NFR2022 is being held in collaboration with the European Parliament Office in Cyprus and the Mediterranean Union.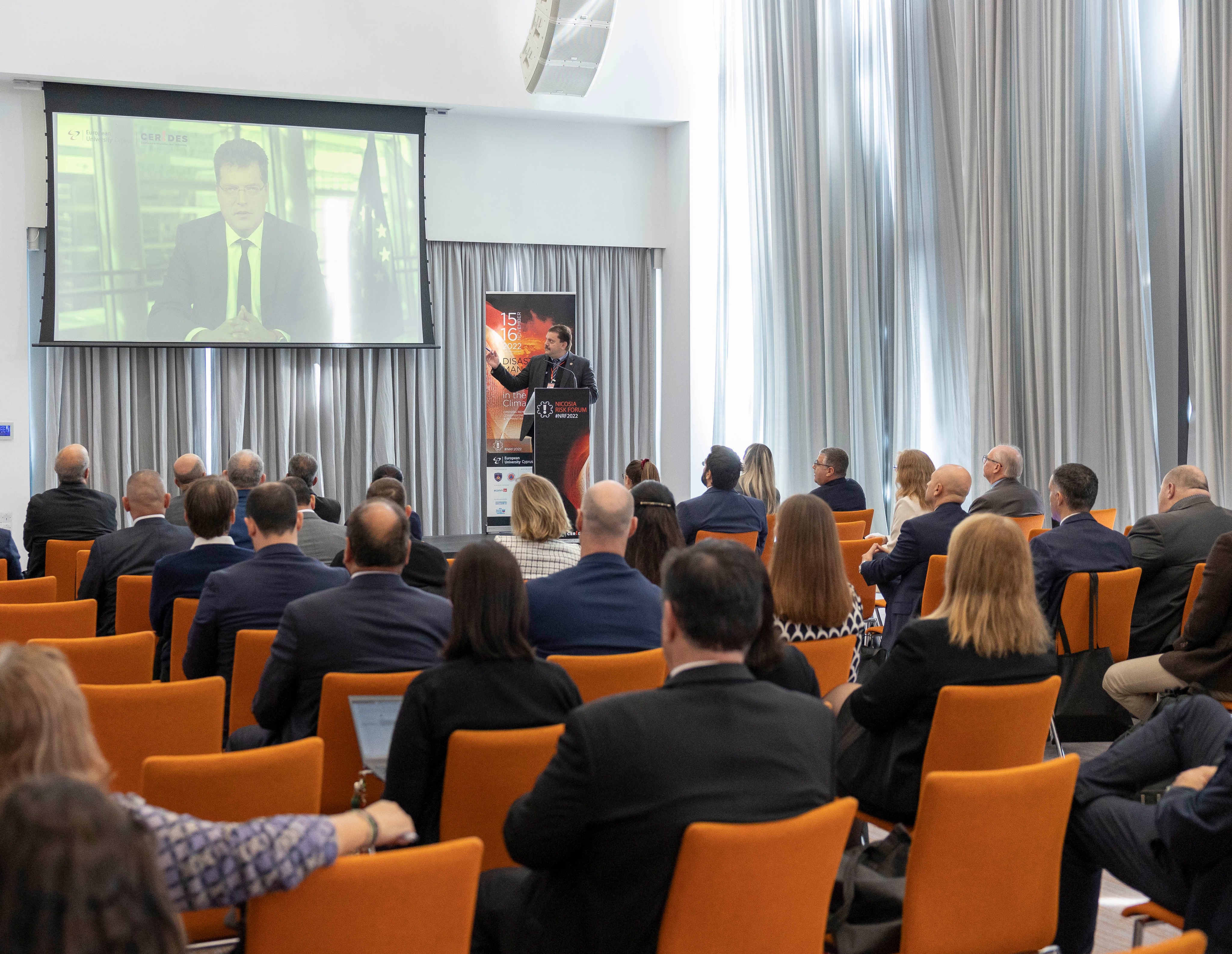 Dr. George Bustras, Director of the CERIDES Foundation, welcomed the delegates and stated that the forum hopes to become a bridge of cooperation between countries because the issue of civil protection is one of state solidarity.
"We're trying to play a small role in all of this, not only to produce research results but also to have an impact on regions and local communities," he explained to the audience.
Janez Lenarcic, European Commissioner for Crisis Management, stated in a recorded message that the previous summer was marked by an unprecedented period of forest fires, as well as floods, tornadoes, and heat waves that are becoming more common. He mentioned the devastating floods in Pakistan and Nigeria, the consequences of the drought in the Horn of Africa, and how famine is a real threat in Somalia after four dry seasons.
"Crises of this magnitude necessitate a unified response, not only in disaster response but also in disaster prevention and management," he explained, adding that his department "works on all three levels."
According to Mr. Lenarcic, the EU intends to double its aerial firefighting capacity. This, he claims, will ensure that we respond to fires in the EU. "This is European solidarity at work," he said.
At the same time, he stated that the EU is determined to combat the effects of climate change before disasters occur, noting that the EU's actions are focused on five key areas: risk assessment, awareness raising, early warning systems, emergency response, and the operation of emergency response centers during and after disasters.
Mr. Lenarcic stated that, while much has been done to combat climate change, more remains to be done. "International cooperation is essential for preventing, preparing for, and responding to future disasters," he added.
He also emphasized the importance of support from stakeholders, specifically policymakers and academics, which is why forums like today's one continue to play an important role.
Clelia Vassiliou, Commissioner for the Environment, emphasized the importance of investing in education for all target groups so that messages reach the people who need them.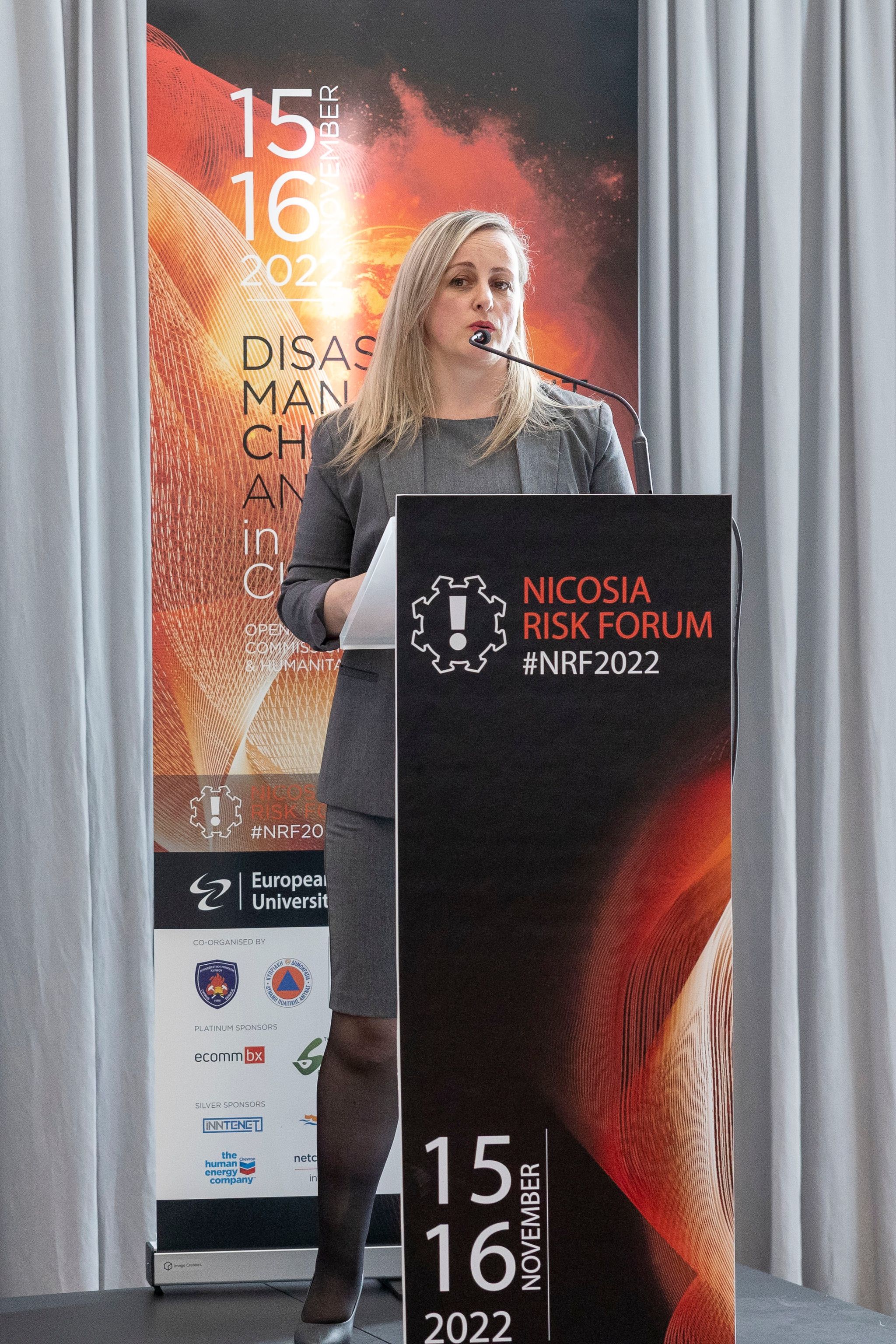 Adults who are vulnerable in areas where they need the necessary tools to address the climate crisis are given special attention.
He stated that the best strategy is to be proactive or, failing that, to be thoroughly prepared.
Nikos Chardalias, Greece's Deputy Minister of National Defense, stated in his speech that the importance of civil protection to protect life, safety, health, and property is growing.
He stated that climate data remind us that the climate crisis is systematically causing natural disasters that can only be addressed by a strong, specialized, and well-organized mechanism that will have the full support of the state.
During his tenure as Secretary General of Civil Protection and Minister of Civil Protection and Crisis Management, he stated that he took over an understaffed agency in the summer of 2019 that was "haunted" by the heavy shadow of recent multi-death natural disasters.
"We had to increase staff, train them, radically change the coordination mechanism between public services for responding to natural disasters, secure European funds, necessary legislation, and, most importantly, change the philosophy," he explained.
Despite the fact that nature does not give the slightest grace period, he continued, they dealt with more than 23,000 fires, bad weather, floods, and earthquakes in the 112 weeks of his tenure, and when he completed his term in August 2021, he had secured millions of euros in EU funds, the institution was upgraded, and the General Secretariat for Civil Protection was restructured.
"There is no formula for success," he said, only "hard work, constant vigilance, and staff confidence."
He stated that since September 2021, when he was appointed Deputy Minister of National Defence, he discovered that the armed forces are increasingly involved in managing the consequences of natural disasters and dealing with the climate crisis, which is a global trend.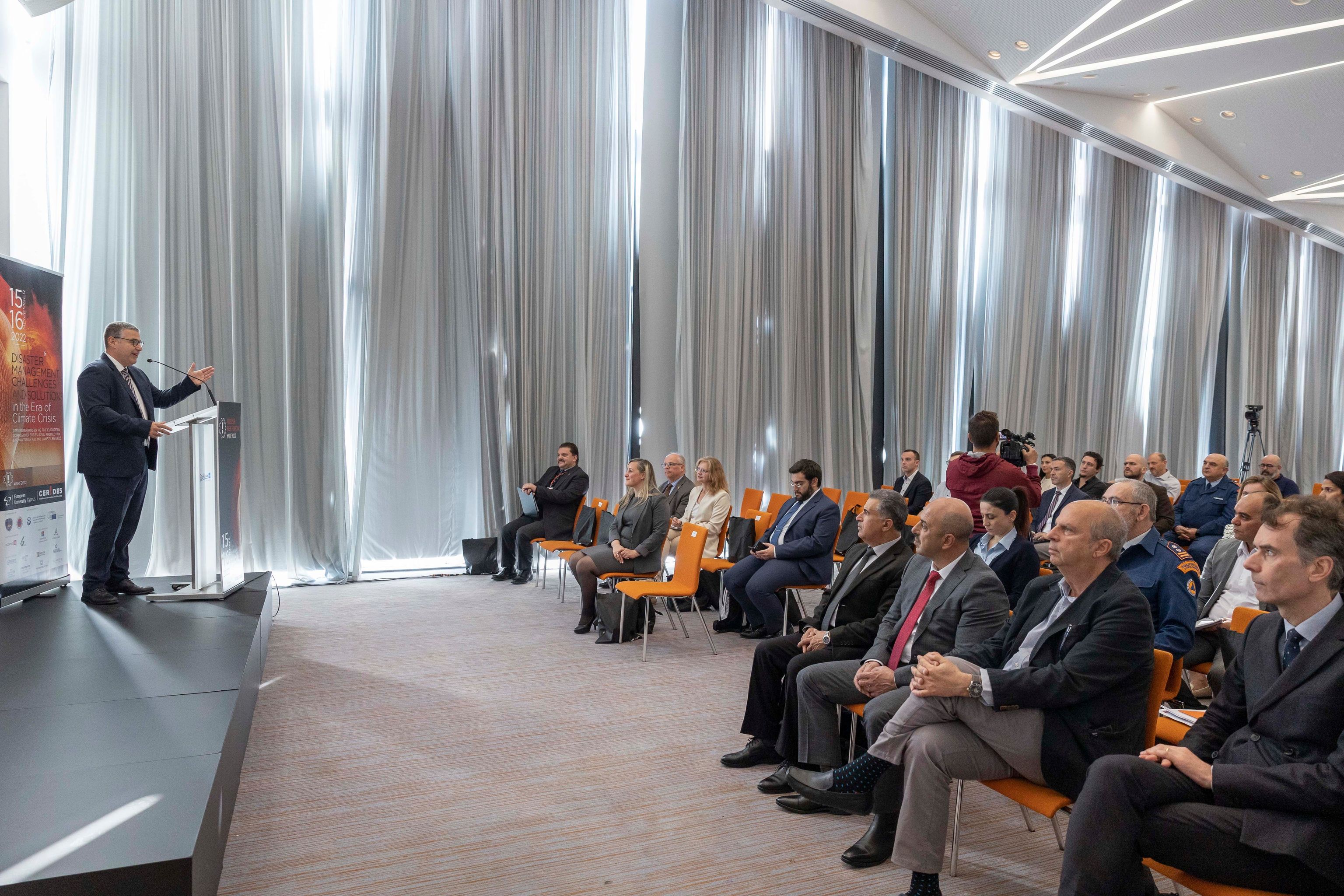 He stated that in Greece, the Civil Protection and the Armed Forces work in tandem to ensure the safety of citizens.
However, he emphasized that recent developments in international relations necessitate a shift in how we perceive the role of our military personnel in the field of civil protection. According to him, the Armed Forces "can no longer be used as an emergency solution to patch up long-standing pathologies of the state apparatus, including natural disaster management." He emphasized that they should only get involved in such situations on rare occasions. Any other approach jeopardizes national security.
He also mentioned improved collaboration with the EU in dealing with natural disasters.
Tristan Simonart, Head of the Directorate General for European Civil Protection and Humanitarian Aid Operations stated in his speech that the Mediterranean region is suffering greatly and is facing and will continue to face major temperature increases, which will result in more disasters and major challenges for societies.
Cooperation and solidarity, he said, are the keywords and that solidarity is important in such rapidly changing situations.
Dr. Nicholas Paris, Deputy Commissioner of Civil Defence, stated in his speech that "We are living in perilous times. We have seen a significant increase in disasters, loss of life, and economic, social, and environmental losses over the last few decades, both regionally and globally."
According to him, "everyone agrees that this increase is primarily due to progressive climate change or the climate crisis, the unprecedented pace of technological change, increased urbanization, and the digital system's over-reliance on basic supplies."
He stated that the Republic of Cyprus's Civil Defence intends to play an active role at the regional level, capitalizing on the Republic's excellent relations with its neighbors.
According to him, the southern Mediterranean is prone to natural disasters and is already feeling the effects of climate change. He stated that the ultimate goal is to create conditions for a society that is prepared to contribute effectively to mitigate the effects of disasters.
He went on to say that Civil Defence has a "strategic and operational role, and it is called upon to improve its services and operate in the new challenging environment."
[This article was translated from its Greek original]