Divers continue to search Mitseros and Xiliatos as police come under heavy criticism in Filipina murders
The president of the Housemaids Association of Cyprus says he was told off by police in Limassol when he went to inquire about the investigation into Marry Rose's disappearance.
(Click here for an update to the story)
During a Sunday vigil held downtown Nicosia in memory of murdered Filipina Marry Rose, housemaid advocate and HMA president Louis Koutroukides told reporters that he contacted authorities last year after a friend of the victim turned to him for help. He said the woman told him she was not getting through to the police and that he was her last hope in finding out what had happened to her friend.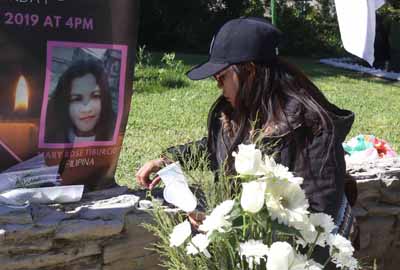 The woman's friend, Marry Rose Tiburcio from the Philippines and her young daughter, 6-year-old Sierra Graze Seucalliuc, went missing in May 2018, while the 35-year-old male suspect reportedly confessed last week to killing both mother and child. Marry Rose's body was discovered in mid-April at an abandoned mine in Mitseros, Nicosia district, where the corpse of another slain Filipina was found a week later. Both women were naked and bound in the same way, authorities said.
Koutroukides says he called the police in August 2018 to push the investigation forward and asked to speak with the chief himself. But was told he could go to his local precinct to file a complaint. He then went to CID Limassol where he alleges that he was told off by a police officer.
'You are 70 years old and you sit here trying to deal with a Filipina and her baby? They left, for goodness sake. They crossed into the north and went to Europe. Don't waste your time'
"You are 70 years old and you sit here trying to deal with a Filipina and her baby? They left, for goodness sake. They crossed into the north and went to Europe. Don't waste your time," an officer told him according to Koutroukides.
The HMA president then tried to meet with political figures but ended up writing an open letter to the justice minister. He also wrote on his Facebook wall on Sunday that "eight months ago I, Louis Koutroukides, in my Politis story, spoke of a serial killer. They thought I was crazy. Today, it's real!"
Police were also criticised for not evaluating crucial facts in Marry Rose and her daughter's disappearance, with critics pointing out the fact that she left all their belongings and passports behind. Computer forensics work and telecommunications data were also ignored at the beginning, with Koutroukides saying murders could have been prevented if something was done quickly. 
Media reports said the suspect tried to lure another potential victim, who approached him online seeking information about the disappearance of Αrian Palanas Lozano, another 28-year-old Filipina whom the suspect says he murdered while having sex. Officials believe the second body found in Mitseros could, in fact, belong to Arian.
Suspect tried to lure second victim's cousin
The suspect then tried to set up a meeting with the woman, who was Arian's cousin, claiming he had important information to share but they had to meet somewhere in secret because, as he alleged, the state was involved and he could not be seen having any involvement. The woman felt something was not right and refused to meet him.
The suspect was using his profile, Orestis35, on the Badoo social networking site where he came into contact with women from the Philippines. He told police that he "had a thing for Filipinas" while investigators believe the suspect may have killed at least four women and dumped them in the mine shaft elevator in Mitseros.
Suspect contacted HMA about a job posting
Koutroukides said he also got a message from "Orestis Apoel" on Facebook messenger, who wanted to inquire about a housemaid job posting. He said in his message that he wanted to pass along the job details to his Filipina girlfriend, but HMA never heard back from him.
Police say both Orestis35 nad Orestis Apoel accounts belonged to the suspect, who reportedly admitted to killing Marry Rose and Arian. He also said he killed Sierra but divers failed to locate the body so far at the location pinpointed by the suspect.
Koutroukides has recently alleged that the little girl may not be dead but could have been sold to human traffickers.
According to Kathimerini Cyprus, navy seals are being called in to help with the search for the little girl in Xiliatos reservoir, while emergency responders are using robotic equipment in Mitseros to locate and retrieve at least two more bodies.