There is a lot of work that needs to be done now to interpret the data, said today Cyprus Energy Minister Yiorgos Lakkotrypis.
''We have added a large deposit, Glaucus, to our energy reserves which effectively are European energy reserves''. 
ExxonMobil announced yesterday the discovery of a natural gas reservoir at a depth of 6263 meters from the sea surface. Based on preliminary analysis of the well data, the discovery could represent a natural gas resource of approximately 5 trillion to 8 trillion cubic feet. 
This is the largest discovery so far and the third reservoir discovery in the Cyprus EEZ. In February 2018 ENI announced a discovery at Calypso in block 6 while in 2011 Noble made the first discovery at Aphrodite in block 12.
The Minister confirmed that natural gas from the Aphrodite gas field is earmarked for the Egyptian market and negotiations are scheduled to continue next week.
''Calypso (block 6) took time for the companies to deliver results because of the complex morphology which extents to neighboring block 7''. ''The Cabinet moved yesterday to licence block 7 to TOTAL/ENI''. Lakkotrypis also said that results for block 6 are expected in a few days. 
''There are more targets of interest in Block 10 and based on the current findings, some targets will be upgraded or downgraded in terms of priority'' said Lakkotrypis.
''We have a busy exploration schedule ahead of us, of Total and ENI and we expect 5 drillings, 4 exploratory and 1 confirmatory. We hope they will add to the reserves of Cyprus''.
@ExxonMobil & @QatarPetroleum make a world-class discovery offshore #Cyprus at #Glaucus. A high-quality reservoir 5-8 TCF of #NatGas is added to the country's reserves and demonstrates the emergence of the Republic's #EEZ as an alternative indigenous source of supply to the #EU. pic.twitter.com/BkE0VKrKTS

— Georgios Lakkotrypis (@GLakkotrypis) 28 February 2019
Responding to a question on the timeline needed to develop the Glaucus reservoir he said that it depends on the development objective. ''If for example we had discovered quantities that would be sufficient to move forward with a land based LNG plant then companies foresee a 5-7 years development time''.
The Minister explained that the larger the quantities the easier it is to calculate the cost benefit equation. The Energy Minister reiterated that the quality and recoverability of the deposit at Glaucus is very high.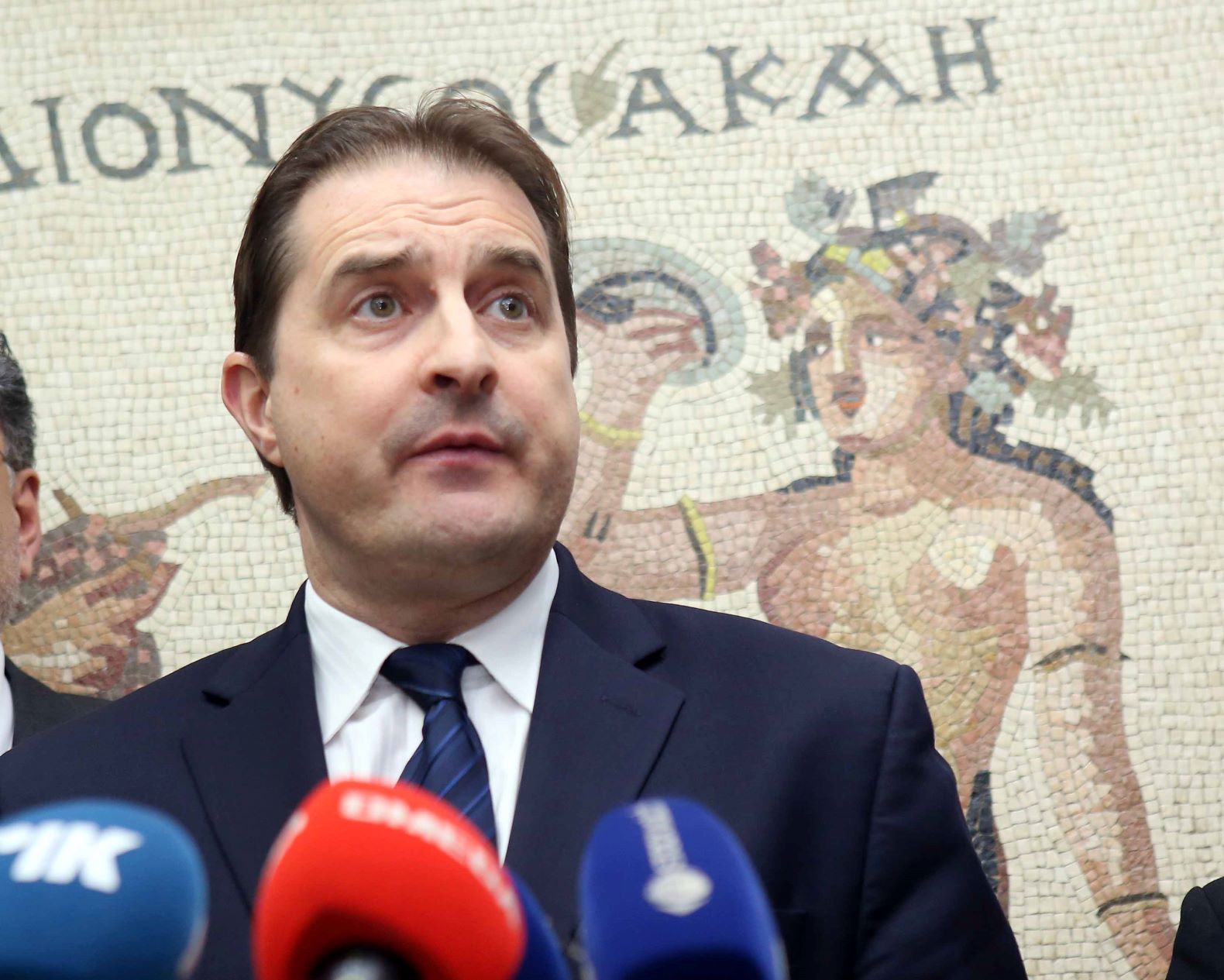 ExxonMobil's VP Tristan Aspray said yesteday "we will certainly be spending the next period of several months to analyse the results of Glaucus 1 well to better determine that potential as part of the appraisal plan". To a question if there are any other potential targets in block 10, Apray said they will look at the data gathered from the two wells to look for potential exploration opportunities in the block.
Asked what resource would be sufficient for an LGN plant, Aspray did not give a certain figure, adding that would depend on lot of different factors, such as the actual reservoir, the quality, the resource density, away from any wells they drill and the development solution that they have chosen.
"As I said before, typically if you look at active LNG projects today, they are developing resources likely in excess of 10 or perhaps 15 tcf. That is a very broad average, it varies enormously". I cannot give you a specific number but obviously the higher the better, he remarked.
On the LNG Plant, Aspray said they "are at the start of a long journey here towards potential development. In general, we are going to spend the next few months analysing all these results before we can get into any specific development plan".

Typically, LNG projects particularly, he said, require resources likely larger than single deposits but clearly "we are just getting started with our evaluation of what we still regard as a frontier area". The ExxonMobil official said "there is still potential for more discoveries in our own block and perhaps those of others so early days in terms of determining the total resource potential".

He reminded that his company always said that "if we were to find sufficient resource preferred option would be to bring that gas ashore in Cyprus to underpin exactly the sort of development you mentioned an LNG plant. That's still an option for the future, we haven't discounted that it is still there as a future possibility".

The Cypriot minister, answering a question about the LNG plant said "we believe we have good grounds to look into the issue in a more holistic manner".
Surely, he continued, we will need more quantities but the discovery sets us on a foundation where we can work from.

Asked whether in the light of this discovery ExxonMobil will be looking to bid for more blocks in the Cypriot EEZ, Aspray said "we are not limiting our search in block 10, we would be interested in other opportunities offshore Cyprus and indeed the whole Eastern Mediterranean" and recalled that Exxon was awarded an exploration license in Egypt's block 3.

Replying to a question whether Exxon is concerned over the tension created by a neighbouring country, Aspray said "we obviously have been aware of the geopolitical tensions in this area, they are not new but ultimately we have to be focused as a contractor to the government to evaluate the block that we secured in the last tender, block 10, which we've done. We are stressing that block 10 itself is not in disputed waters", he remarked.