The existing status of external security guarantees for Cyprus is anachronistic and no longer responds to current reality said Russian Foreign Minister Sergei Lavrov. Lavrov was speaking following a meeting with Cyprus Foreign Minister Nikos Christodoulides in Morscow. ''Bi-communal talks should continue on the basis of the existing UN Security Council resolutions; any changes are to be made by new Security Council resolutions".
Addressing the press Lavrov also said, ''we currently do not see any need to correct the mission of the UN peacekeeping force in Cyprus and expressed the conviction that a precondition for securing the independence and territorial integrity of Cyprus would be the guarantees of the UN Security Council''.
For his part Christodoulides said that he ''expressed the Republic of Cyprus's appreciation for the longstanding stance of the Russian Federation to the Cyprus issue, especially within the framework of the UN Security Council, the clear position on the abolition of the anachronistic system of guarantees of 1960 and of any intervention rights, as well as the need for the continued presence of the UN peacekeeping force in Cyprus for as long as the present, unacceptable state of affairs continues''.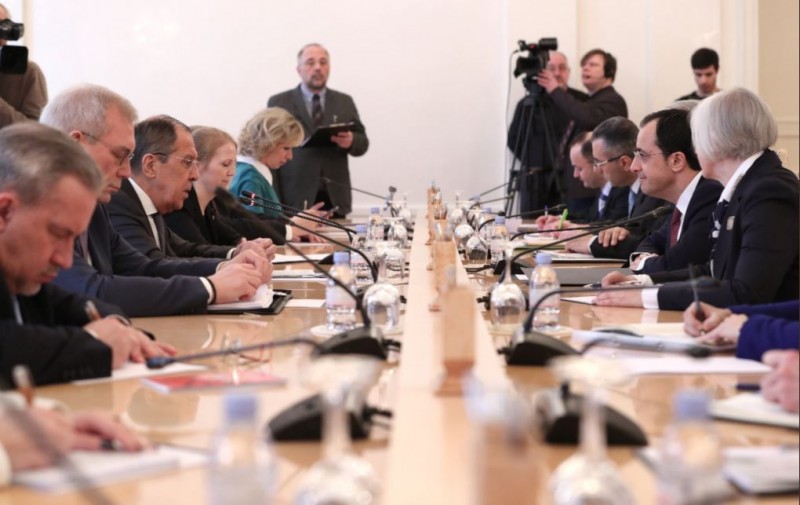 Christodoulides also stressed the need for dialogue to resolve regional issues of common interest such as Russia-EU relations and the Middle East.
In December following an increased interest by the US to work with Cyprus to develop the islands energy reserves Russian Foreign Ministry spokeswoman Maria Zakharova said that Moscow ''will have to take response measures in case of a military build-up by the US in Cyprus.''
The Cypriot Foreign Minister said on Friday that ''upon review and evaluation of bilateral relations between the two countries, it shows that they are at a very satisfactory level. We had the opportunity today to discuss, in particular, the prospects for further enhancing relations and agreed to work together, through concrete actions, to achieve this goal on a number of issues of common interest''.