Heavy runoff problems clog bridges causing multiple issues in local communities
Local authorities all over the island were busy Wednesday dealing with the aftermath of heavy rains, while road closures were caused by heavy runoff both north and south.
Water levels at local reservoirs reached or exceeded capacity, affecting many local communities and bridges. In one case, roads in Kalavasos village, Larnaca district, turned into rivers as heavy runoff flooded streets and damaged utility poles, leaving families either stranded or without electricity.
The channels of Kalavasos dam, just five kilometers away from the village's built up area, also overflowed last year but there had been no reports of severe flooding in early 2019.
According to Cyprus News Agency, officials at the Water Development Department said it was the first time in Cyprus that water levels had been so high in the month of January, noting that dams usually overflow towards the end of winter or just before spring.
Media also reported that some local bridges were blocked due to being old and narrow, with some being constructed up to four decades ago.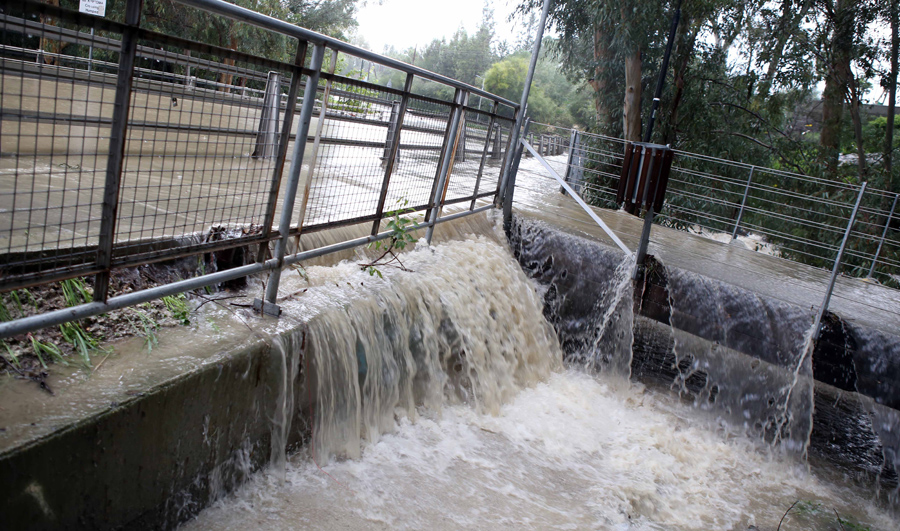 Kalavasos community leader Lefteris Foka told Kathimerini Cyprus that the local council plans to request assistance from the state in order to conduct studies for wider bridges.
"For this kind of construction, local communities cannot decide on their own whether the structures are built to withstand extreme weather," Foka said.
There were also heavy runoff problems in cities, including Nicosia, where several roads were closed on both sides of the divided capital due to water accumulation reaching dangerous levels.
Business and school closings were announced in north Nicosia, where a lot of damage was done by debris and heavy runoff.
Weather officials have warned the public that extreme weather would likely continue on Thursday, with some improvement expected on Friday, while temperatures are expected to rise slightly over the weekend.