Kathimerini Greece Newsroom
Politicians and other officials around the world often talk about the impact of Covid-19 on public health and the economy. To most people, however, these statements seem vague, as what they experience on a daily basis is a series of different emotions.
In particular, some feel anxiety and sadness, while others feel joy and optimism.
An interesting study by the Economist shows how Covid-19 has affected happiness levels around the world in different age groups.
It is interesting to note that the entire world population was no more or less happy at the height of the pandemic than in the pre-Covid era.
There are, however, some geographical and age differences. The latter is also the most interesting. The study found that older people were happier than younger people, which was not expected because Covid is deadlier for older people.
The Economist estimates that the elderly who survived, feel satisfied that they managed to withstand the threat of Covid, while the young are faced with uncertainty regarding their vocational recovery, loss of social relationships during lockdowns, etc.
In one example in the study, the graph below shows the percentage of people in Britain who answered the question "How happy are you with your life these days?" in 2017 and 2021, with "10" meaning completely satisfied.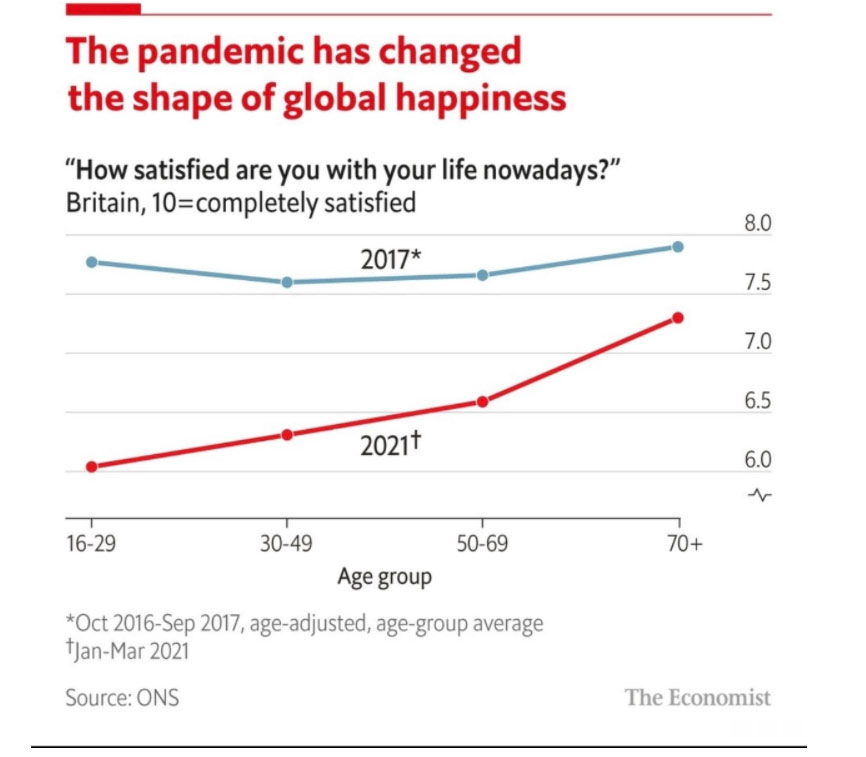 As shown above, the people who stated that they were most satisfied with their lives in 2021 belong mainly to the age groups 50 - 69 and 70+, while the respective percentages were lower for the younger ages.