Authorities wait for sonar equipment before retrieving second suitcase or searching for third
Authorities got no definitive answers as to the identity of a female corpse inside a suitcase, as the search for more bodies in the Mitseros serial killer investigation continues.
(Click here for an update to the story)
State forensic pathologists on Monday examined a female corpse, which was pulled out of the water a day earlier at the red lake in Mitseros, Nicosia district. The body was in the fetal position inside a suitcase, along with a cement block to keep the weight down.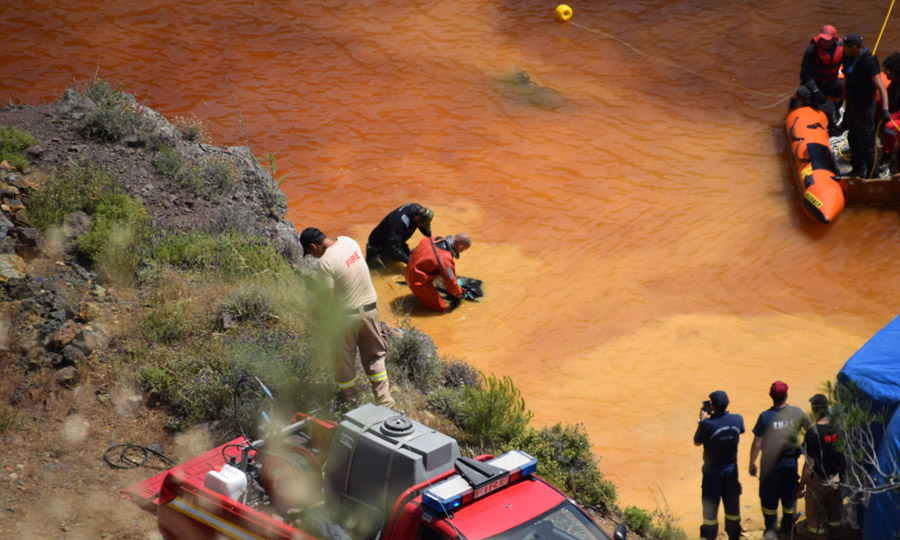 Following an initial autopsy, forensic pathologists failed to establish the identity of the woman, who was earlier described as an adult female of a certain age. More answers are expected on Tuesday when forensic anthropologists will join in for a second autopsy.
Media reports said the body inside the suitcase was in the fetal position, neither naked nor bound in contrast with two other bodies in Mitseros
The suspect in custody, a 35-year-old Greek Cypriot who is said to be a skilled photographer and very familiar with the area, told investigators he killed seven females, including two children, and dumped three of them in suitcases in the red lake in Mitseros.
The bodies are believed to belong to 36-year-old Livia Florentina Bunea from Romania, her 8-year-old daughter Elena Natalia Bunea, and 30-year-old Maricar Valdez Arquiola from the Philippines. The mother and child were last seen in September 2016, while the Filipina went missing in December 2017.
The bodies of two other Filipinas were previously found naked and bound inside an abandoned mine shaft right across from the red lake. DNA evidence confirmed one body belonged to 39-year-old Marry Rose Tiburcio while confirmation is pending for the other body believed to be 28-year-old Αrian Palanas Lozano.
In the meantime, search efforts for a little girl in nearby Memi lake, in Xiliatos reservoir, failed to find anything on Monday morning. Authorities have been searching Memi for two weeks in search of 6-year-old Sierra Graze Seucalliuc, Marry Rose's daughter, after the suspect said he dumped the girl but initially denied killing her. He later admitted to killing the girl to get rid of her as a potential witness in the murder of her mother.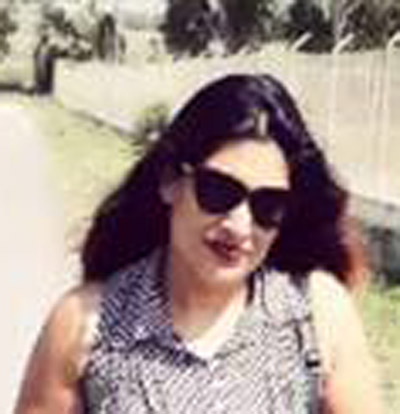 The body parts of another victim, believed to be 30-year-old Nepali national Asmita Khadka Bista, were retrieved last week after the suspect reportedly pointed out the location to investigators. Asmita's remains had been tossed inside a remote pit in Orounda, also in Nicosia district, within the area of a military shooting range.
Sonar equipment en route to Cyprus
Cypriot authorities have requested assistance from British experts in order to build a psychological profile of the suspect as well as further ascertain whether he may be hiding information regarding the possibility of more victims. Sonar technology is also expected to arrive in order to assist divers with advanced underwater mapping of the red lake, said to contain highly acidic water and a complex lakebed terrain.
So far, one other suitcase has been located in the red lake and officials plan to retrieve it after they get their hands on sonar equipment. A third suitcase is also expected to be located using sonar technology, but officials say it won't arrive until Friday.
Media reports also pointed out that the victim inside the suitcase was neither unclothed nor bound, while the bodies of Marry Rose and Arian were dumped in the mine shaft naked and tied up.