New foreign minister speaks of EU integration commitment and Cyprus solution within UN parameters
Cyprus' new Foreign Affairs Minister Constantinos Kombos has set the tone of the new administration's foreign policy, stressing a commitment to EU integration and the need for reunification with UN parameters.
Kombos who was addressing the handover ceremony also spoke of the need to show-case the diplomatic corps as a modern, European diplomatic service which will have far greater weight than Cyprus' small size, an active presence with the EU and an even more successful EU Council second Presidency in 2026.
Addressing the ceremony, outgoing Foreign Minister Ioannis Kasoulides said he was happy to hand over the Ministry to "an excellent scientist, academic, head of the University of Cyprus' law department, well versed in constitutional and EU matters."
'The Republic of Cyprus and its foreign policy remain unwaveringly committed to European integration with a clear orientation and commitment to the Union's principles and values'
At the same time, he praised the Ministry's staff telling Kombos that their level is a particularly high one.
Referring to the challenges the Cypriot diplomatic corps faced last year, Kasoulides spoke of the war in Ukraine the efforts undertaken "to ensure without any doubt that Cyprus' foreign policy is towards the West."
He also said that the Ministry had to face a coordinated and very active activity by Turkey to find ways to show, or to achieve or to spread propaganda that it has managed to upgrade the pseudostate. In essence, in practice, he added, all that remained was the propaganda.
Cyprus has been divided since 1974 when Turkey invaded and occupied its northern third. Numerous UN-led efforts to reunify the island into a bizonal, bicommunal federation have so far failed.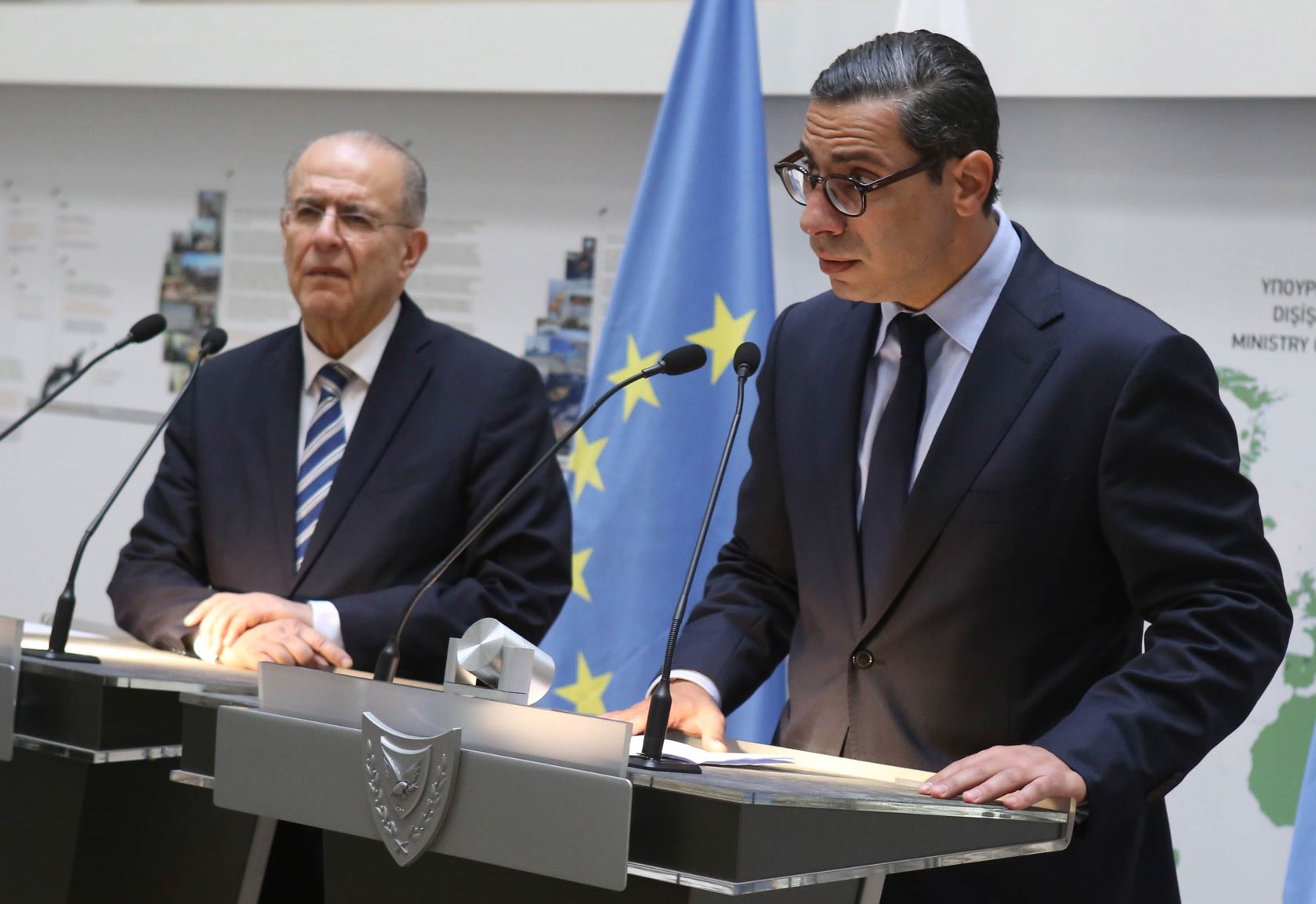 On 15 November 1983, nine years after the Turkish invasion of the island, Turkey instigated and endorsed a "unilateral declaration of independence" in Cyprus` occupied areas, announced by the Turkish Cypriot leadership. The United Nations Security Council with Resolutions 541 and 550 calls upon all States to respect the sovereignty, independence, territorial integrity, unity and non-alignment of the Republic of Cyprus. They also describe the UDI as "legally invalid."
On his part, Kombos praised Kasoulides, noting that his "contribution, experience and wisdom is something which has been well-established among the people, his counterparts, colleagues and collaborators at the Ministry" and added that as they discussed in their private meeting, he would seek his advice at times.
He continued noting that he wishes to send the message that "the Republic of Cyprus and its foreign policy remain unwaveringly committed to European integration with a clear orientation and commitment to the Union's principles and values with everything that follows as a result thereof."
Our EU member state status "constitutes the core of our approach and allows us to further develop our relations with countries in the region and further afield, acting as a bridge," he added.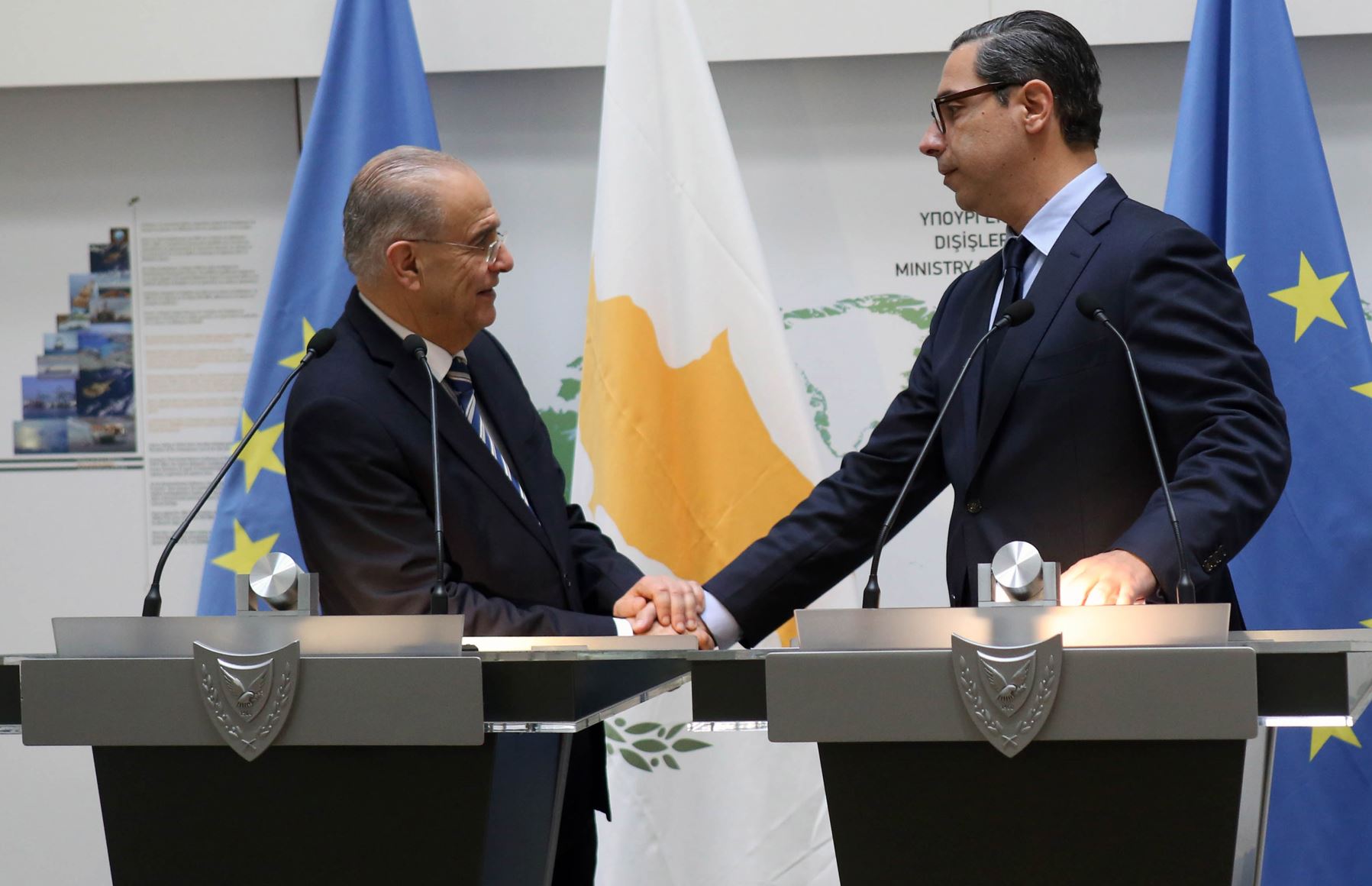 The new Foreign Affairs Minister continued saying that "we stress in all directions that the Cyprus problem is matter of survival for us. It constitutes a policy axis but at the same time we are not monothematic."
We have heard of "negotiation fatigue", he said, adding that we do not have such luxury and that this is a thinly veiled refusal and lack of will to negotiate.
"Our country's reunification is urgent, and we stress that our side will never agree with an approach outside of UN parameters," he noted, adding that "we reject without any hesitation positions which have to do with two states or similar ideas in favour of partition."
Kombos also said that he monitors with particular concern the unacceptable activities in the Turkish occupied Famagusta, known as Varosha, pointing out that "dealing with them will continue to be one of our priorities."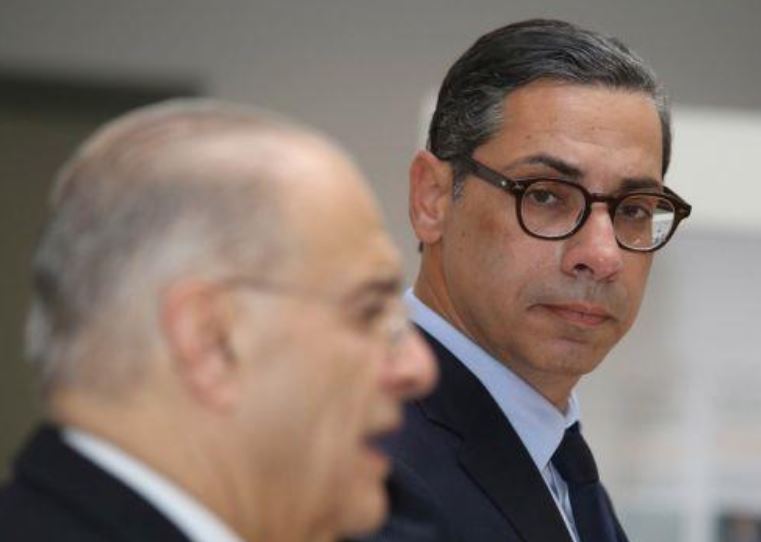 Addressing the Ministry's staff, he said that he wants them to be "proud of the Ministry, something which we should feel but also project, that it is a modern, European diplomatic service, which has a much greater weight than the country's size." This, he pointed out, "is the goal".
Referring to his vision for the ministry he said it would unfold in cooperation with the staff in time but indicated two parameters.
In particular, Kombos spoke of Cyprus' participation in European and international fora, noting that "we have never been nor will be a mere spectator of developments, simply happy to just take part in fora waiting for his turn to raise as matter of procedure the matters concerning him." Quite the opposite, he stressed, "we are an honest, active interlocutor who has a position about all matters; And this is in particularly the case when it comes to the EU."
He also stressed his aim that the second EU Council Presidency which Cyprus will undertake in January 2026, will be even more successful than the first one.