Russian woman remanded in custody following Tuesday's Ayahuasca retreat where a woman from Latvia died
Larnaca police are attempting to piece together what went wrong in an Ayahuasca ceremony in Vergina on Tuesday, following the death of a 34-year-old woman from Latvia.
(Click here for an update to the story)
A retreat in the Vergina area, a borough within Larnaca city limits, went terribly wrong on Tuesday according to reports, when a woman from Latvia passed away during a purification ritual. A strong hallucinogenic plant-cocktail known as yagé was also said to have been administered as a ceremonial potion, but it was not clear whether the death was linked to the powerful drug.
The ayahuasca plant concoction has been used in similar retreats around the world, which are gaining popularity worldwide in purification ritual ceremonies
The ceremony took place in the common area of an apartment complex, where about 20 people took part in a retreat allegedly put together by a 50-year-old Russian female who lives in Limassol. 
The Russian woman, who is pregnant according to reports, was arrested on reckless manslaughter charges following a brief stay at a private clinic in Limassol. She was then remanded by a Larnaca district court judge for six days in connection with the case.
Larnaca police spokesman Charalambos Zachariou told Cyprus News Agency that investigators were attempting to locate about 20 individuals who attended the ritual.
"Samples have been collected from the body of a 34-year-old woman from Latvia and will be sent to the lab for toxicology and pathology tests, which are expected to shed light on the cause of her death," Zachariou said.
According to Zachariou, the majority of the participants in the retreat were foreign nationals who did not know each other previously and had paid €150 as a participation fee.
"We have tracked down five or six persons in order for them to make statements to police investigators," the spokesman added.
Police reportedly have learned from a witness that participants in the ceremony were offered a drink, which possibly could have contained ayahuasca. The active ingredient in ayahuasca is DMT, a powerful hallucinogen that causes extreme changes in perceptual awareness.
Ayahuasca retreats gain popularity
The drug has been used in similar retreats around the world, including Europe and the US, gaining popularity worldwide among famous celebrities as well. The botanical decoction is said to have amazing healing powers while there are also safety concerns and risks to human health if not taken properly.
People who take ayahuasca, usually as tea made from the hallucinogenic Amazonian plant, consume it in shamanic ceremonies led by a facilitator. Those who consume ayahuasca often feel they are expelling the vileness within themselves when they throw up in a bucket.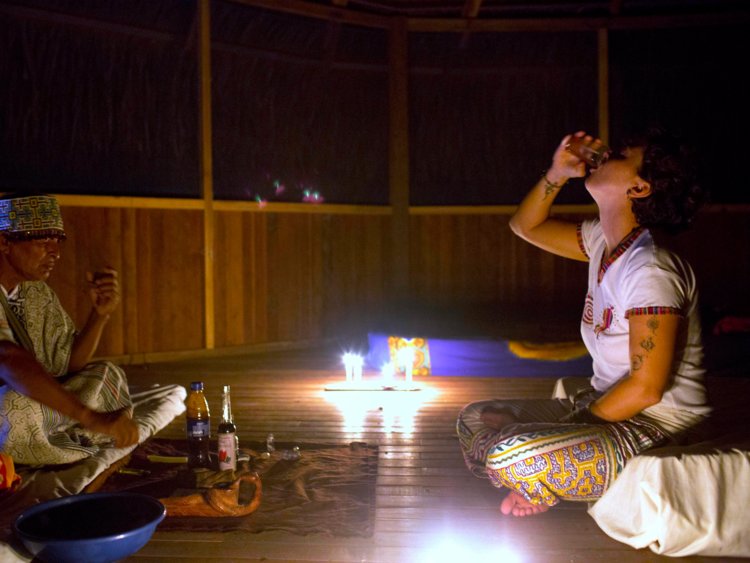 A man from Colombia, who is believed to have brought the plant to Cyprus and departed prior to the ceremony, is now wanted by Cypriot police for questioning.
There were no previous reports of ayahuasca ever been brought or used in Cyprus in the past.
Larnaca police continue to investigate.