Protesters in Larnaca community accuse company of installing 5G antenna illegally
Local residents in Larnaca district have been mounting a campaign against the installation of a 5G antenna on the rooftop of a supermarket, accusing the telecommunications company of acting illegally.
According to the Cyprus News Agency, organized parents and the mayor of Livadia in Larnaca district attended a demonstration on Wednesday morning outside a kindergarten in the area, which is located near a supermarket where a 5G antenna was recently partially installed.
But the attempt to fully install the antenna recently failed after Livadia mayor Marios Armenis rushed to the site after notifying police and accused the telecoms giant of not obtaining a permit from local authorities.
Protesters want their own experts to examine 5G antenna applications and identify installation spots that would 'certainly not be within 50-100 meters from schools'
"The problem started last week when a CYTA crew, without the company even notifying the municipality, proceeded to install a 5G antenna illegally and unlawfully on the rooftop of a known supermarket," Armenis told CNA.
Armenis says he was then reassured by CYTA officials that the antenna would not be activated before a proper request could be submitted to the municipality and approved.
But the mayor wants all antennas removed altogether, saying the municipality had already taken a company to court demanding that antennas be disconnected entirely.
Locals argue that 5G antennas can be detrimental to the health of children, who attend local schools in the area near the supermarket.
Some 30 protesters were also asking for their own experts to examine antenna applications from companies, saying only the municipality could identify installation spots which "certainly cannot be within 50-100 meters from schools."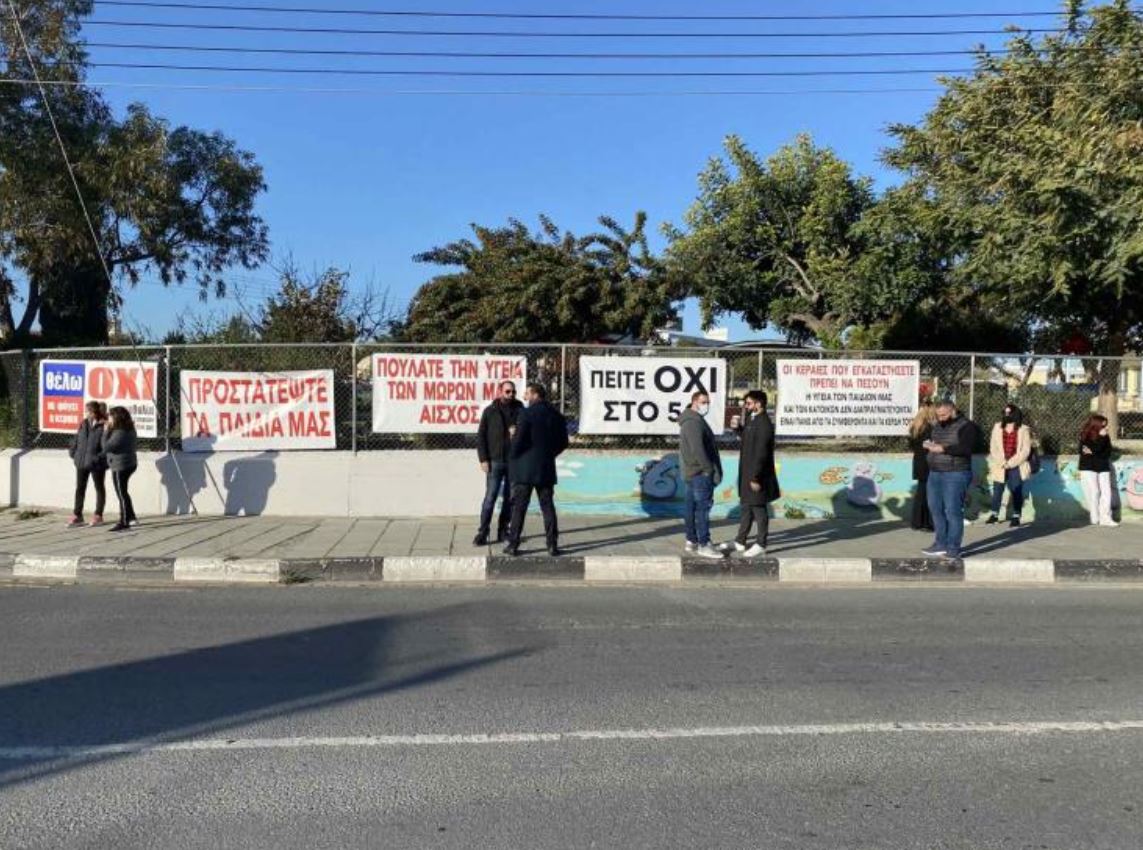 A number of technology-related arson attacks on antennas have been investigated across the Republic of Cyprus, with 5G technology bashers calling on companies to halt installations due to health concerns.
Activists have claimed that upgrades to mobile networks with 5G technology can cause cancer, infertility, and autism, but no proof has been given to support the claims that keep opposing up online either as conspiracy theories or concerns.
During Wednesday's protest, demonstrators outside the Livadia kindergarten were seen holding signs that read "Say no to 5G," "The antennas you installed need to go," "Protect our children," "You are marketing the health of our babies, shame," and "No to radiation," among others.
Experts say there is no scientific proof or solid evidence that 5G or other mobile communications networks can have a harmful effect on human health.