Greeks tell NATO tweet on Turkish Victory Day was 'tasteless' and 'unacceptable'
A tweet by NATO's Allied Land Command congratulating Turkey on its Victory Day was quickly deleted this week, following a demarche by Greece which has a different take on the history.
NATO's Allied Land Command wished on Tuesday "Happy Victory Day" to Turkey, a day celebrating Turkish Armed Forces and commemorating the country's victory over Greece in the Greco-Turkish War in 1922.
"Today is the 100th anniversary of Turkish Independence. We join our Turkish allies across NATO and beyond in celebration of their Victory and Turkish Armed Forces Day," LANDCOM, which is based in the Turkish city of Izmir, said in the tweet.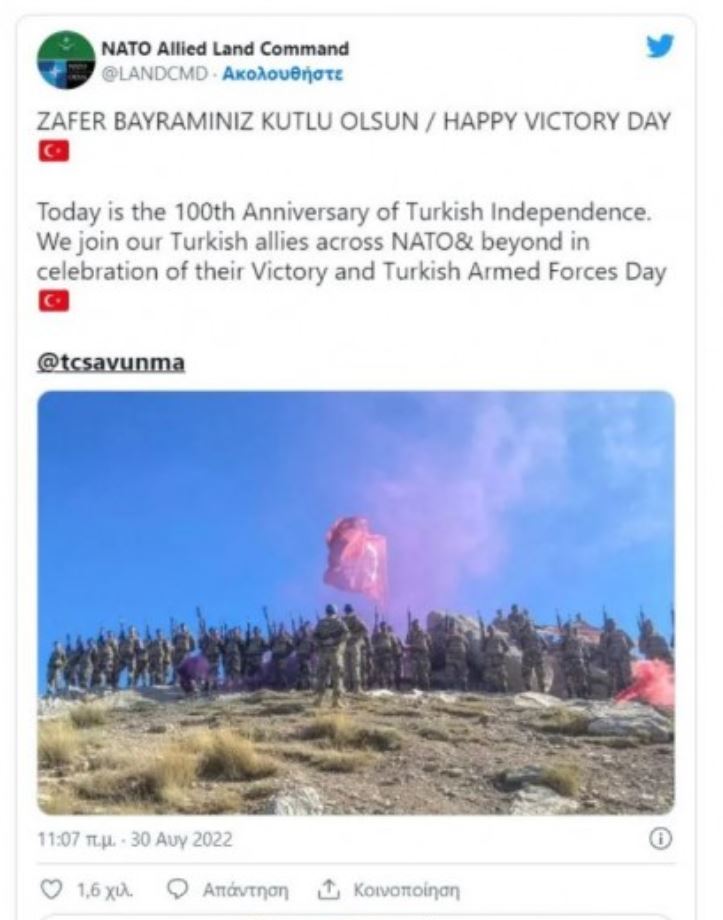 But the tweet, which was accompanied by a photo depicting a unit of Turkish soldiers below a large Turkish flag, was later taken down.
According to Kathimerini, the Greek Foreign Ministry said the country's permanent representative to the security alliance filed a demarche condemning the tweet describing it as "tasteless" and "unacceptable."
Turkey was occupied by allied forces after the defeat of the Ottoman Empire at the end of WWI, prompting a war of independence in 1919 as Greece was also moving to capture territory.
The Greco-Turkish war resulted in a defeat for the Greeks, who look back on the events as a "disaster," while Victory Day in Turkey marks the Battle of Dumlupinar in late August 1922.
LANDCOM Twitter activity 
It was not clear when NATO deleted the tweet but it was no longer visible by Wednesday evening.
The LANDCOM Twitter account regularly tweets messages on the national holidays of member countries, including 25 March Independence Day when Greeks celebrate their revolution against the Ottomans.