Cypriot travelers furious over health certificate rule granted exception after coronavirus deadline
Government officials got a taste of their own medicine on Monday after students who flew in without complying with the latest coronavirus guidelines were granted an exception after hours of tension at the airports and inside the plane.
(Click here for an update to the story)
Airlines operating flights to Cyprus had been notified on Sunday of a new government measure, according to which entry will be denied after Monday 6pm to those not carrying a valid health certificate showing a clean bill of health and no presence of the novel coronavirus.
A passenger was frantically trying to open the door, with flight attendants trying to explain there was no staircase outside the door
But students on an EasyJet flight from Manchester, which landed at Paphos International Airport at 7:15pm, were granted an exception to the rule and were admitted into the country following hours of tension at the airport and on the plane.
Local media said relatives of the young passengers gathered at the airport and were protesting the measure, asking for an exception to the rule.
There was also tension on the flight after landing where a passenger was frantically trying to open the door, with flight attendants trying to explain there was no staircase outside the door.
After the door opened and medics walked inside the plane, one passenger was heard cursing at them and calling them "fascists" as a fellow passenger was on the floor presumably passed out.
Passengers, some of them shaken and crying, were arguing that it was unacceptable to block people getting back to their own country. 
Health Minister Constantinos Ioannou on Sunday said the government was determined to take bold action and would not make any exception to the health certificate rule, "not at 6:01pm, not at 6:05pm."
According to Kathimerini Cyprus, Ayia Napa resident Spyros Spyrou, a father of one of the students, said he was waiting for his son to arrive in Paphos after the young man used multiple means of transportation to make the connections and get home.
Spyrou argued that citizens of the Republic of Cyprus have the right to medical care in their own country and it "wouldn't be right to send them back."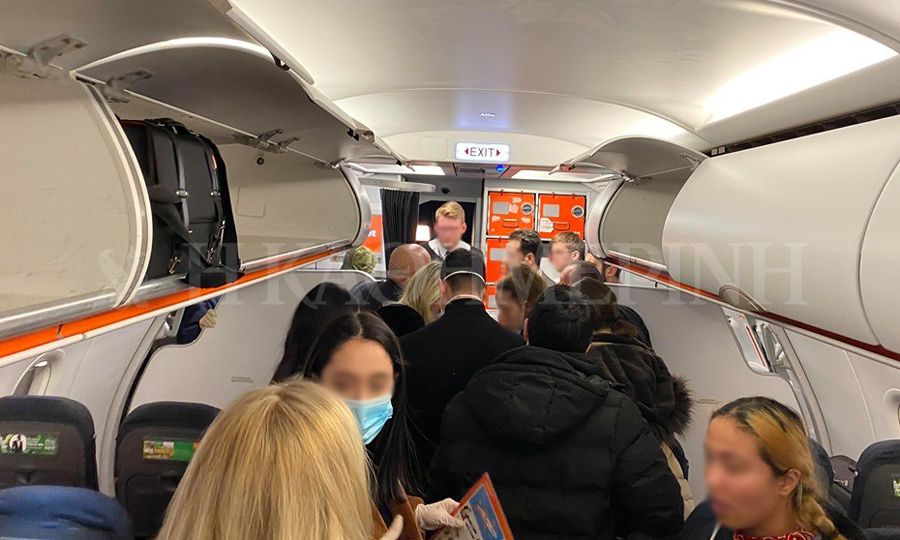 Transport Minister Yiannis Karousos, a former Ayia Napa mayor, visited Larnaca International Airport where a similar situation had been unfolding. 
The government finally caved in around 9pm and allowed the students to enter the county, offering them special transportation to Troodos where they will remain quarantined for 14 days. Both Greek Cypriot and Turkish Cypriot students had landed at LCA according to reports.
Karousos later wrote on Twitter that he would take legal steps against the airline, saying a NOTAM about the health certificate was violated and "Cypriot citizens who shouldn't have boarded the plane ended up arriving in Cyprus."
"We had to make a decision based on the situation as it unfolded due to some companies not complying with the order," Karousos said.
Critics had warned that some measures could be impractical, while the transport minister said he would seek to modify some of the rules that allow self-isolation for travelers. Kathimerini sources said one new measure could include every arrival being quarantined for 14 days no matter what.