Unknowns remain as eastern Mediterranean friends and foes broach maritime goals during 'calm summer'
The Republic of Cyprus along with Greece and Israel have leased a research vessel to conduct seismic surveys in waters east and west of the island, at a time when chatter over gas exploration rounds in the region are coming back to the surface.
According to Kathimerini Greece, a multipurpose vessel available for worldwide operations was expected to sail off the coast of Crete, "though details regarding what kind of work it will be carrying out and when have not been made public."
Kathimerini's Vassilis Nedos reported on Monday that the Nautical Geo's initial plan, to begin surveys for hydrocarbon deposits in waters claimed by the Republic of Cyprus, did not materialize.
A NAVTEX issued in mid-April by the Republic of Cyprus warned mariners that Nautical Geo would be conducting a geophysical survey within the Cypriot Exclusive Economic Zone in April and May.
But Nedos also pointed to groundwork for the planned EastMed natural gas pipeline, adding the Malta-flagged vessel was leased to conduct seismic surveys between Cyprus and Crete as well as between Cyprus and Israel.
The construction of an eastern Mediterranean pipeline, which is considered a project of common interest of energy infrastructure in Europe, became a regional goal in January 2020 when Cyprus, Greece, and Israel signed an agreement in Athens.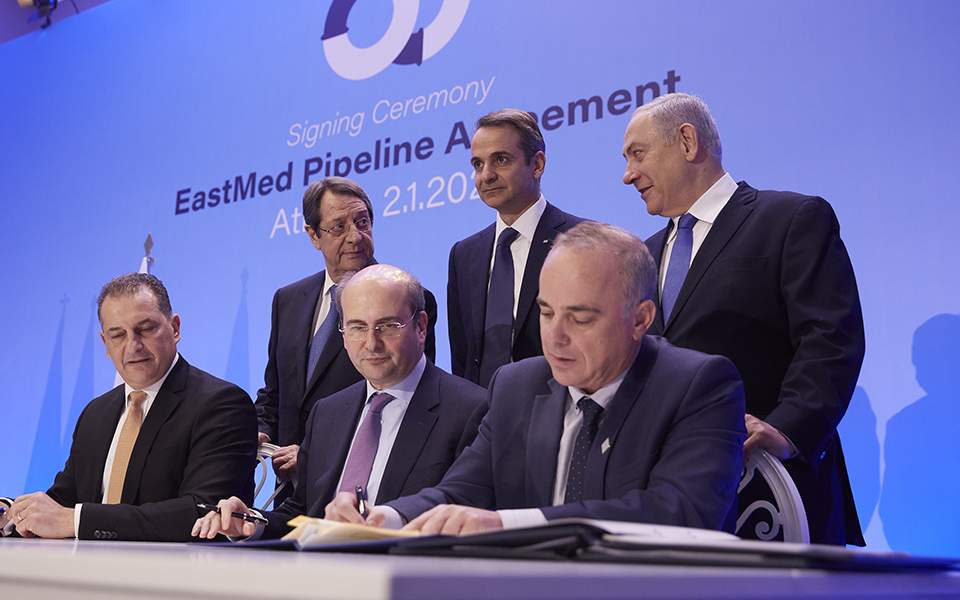 But the EastMed project has been marred by geopolitical and technical difficulties, including second thoughts earlier this year after Egypt reportedly proposed an alternative route bypassing Cyprus on technical grounds.
A Greek NAVTEX said Nautical Geo would be conducting "scientific research" from July 11 until further notice.
The activity also comes after Turkey announced it would be expanding its search for natural gas in the Mediterranean as well as conducting surveys in the Black Sea.
But last month, Turkish energy minister Fatih Donmez failed to specify whether Turkish activities in the Mediterranean would be conducted in contested areas, that is, waters claimed by both Turkey and either Greece or the Republic of Cyprus.
'We are on a very good path, we hope to avoid any surprises and we don't expect any surprises as regards to the pandemic,' Pilides said
Greece has previously raised concern over Ankara's plans that might include surveys south of Crete, an area claimed by Athens for exclusive economic use.
The Republic of Cyprus has also accused Ankara of violating international law in waters off the island, a claim rejected by Turkey which says Greeks and Greek Cypriots were trying to keep the EU candidate country out of the eastern Mediterranean.
In late June, Cypriot Energy Minister Natasa Pilides also made public that her country's plans, which were frozen due to the pandemic, would resume with ExxonMobil taking the lead.
The American giant is expected to restart the drilling schedule by year's end, according to Pilides.
"We are on a very good path, we hope to avoid any surprises and we don't expect any surprises as regards to the pandemic," Pilides said.
Late last year it was estimated that the next drilling licensed by the Republic of Cyprus would take place in the second half of 2021.
But several months earlier, the eastern Mediterranean was simmering with disputes over maritime disputes between rivals Greece and Turkey.
Athens and Ankara finally made a concerted effort to prevent any flare-ups, declaring their common wish to have a calm summer in 2021.