Turkish Cypriot girl hopes attack will not fuel tension, two Greek Cypriot men arrested, third person wanted
A Turkish Cypriot woman, who was brutally assaulted over the weekend during an escalated altercation with Greek Cypriot men in Ayia Napa, says she is shocked but hopes there will be no worsening of relations between the two communities over the incident.
Asya Karaali, a 25-year-old Turkish Cypriot woman, posted a short POV video on Facebook showing an incident on Saturday, when she was pushed off an elevated walkway and fell from a height of over two meters.
According to local media, a group of Greek Cypriots were having an altercation with a group of Turkish Cypriots in Ayia Napa very early Saturday morning after a night out, with a man at one point throwing Karaali's phone away.
After she retrieved it, Karaali started recording the incident including her assailant who is seen in the video striking and pushing her. Additional security camera footage posted online showed a different angle of the entire incident, with the assailant first kicking another man and then trying to grab her phone just before the push.
Karaali was rushed in an ambulance to the Emergency Room at Famagusta General Hospital, where Greek Cypriot doctors said she had a broken tooth and various bruises. Later in the north, where she received dental treatment for two chipped teeth, Turkish Cypriot doctors at a public hospital also treated her for a broken finger.
But according to Karaali, she had a difficult time with Turkish Cypriot doctors and police, saying the hospital in the north refused to give her a medical report that was requested by Greek Cypriot police, while local police in the north said they could not get involved in an incident that took place in the south.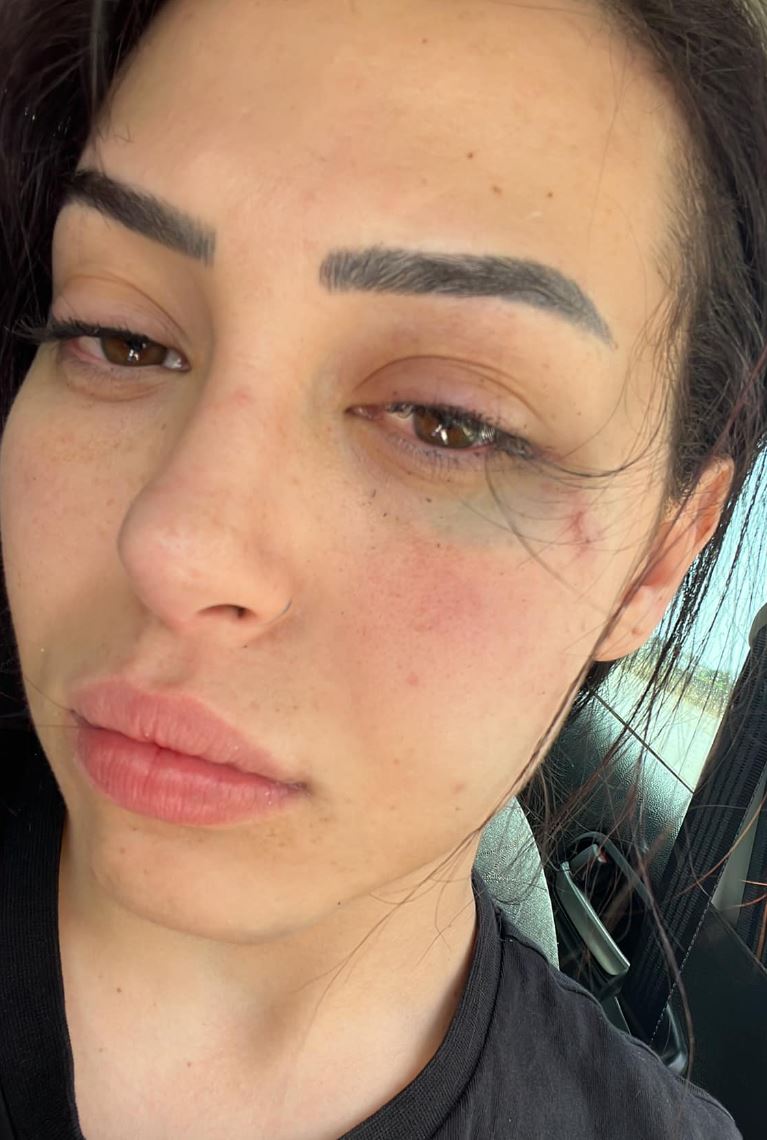 Turkish Cypriot leader Ersin Tatar, who spoke on the phone with Karaali, issued a statement saying his office would monitor the case through the divided island's bicommunal crime commitee.
"Such incidents that harm the peaceful climate on the island are unacceptable," Tatar said.
Christodoulides condemns, tells Tatar incident not racial
Tatar's Greek Cypriot counterpart, President Nikos Christodoulides, also spoke with the Turkish Cypriot leader, saying he condemned the incident but played down any racist or ethnic connotations.
Christodoulides, who said two Greek Cypriot men aged 22 and 30 had been arrested, reportedly told Tatar that "the incident is unacceptable and condemnable criminal behavior but does not appear to be racial."
A Famagusta judge ordered the two men in remanded custody for four days, following their Sunday arrest by Famagusta police on charges of aggravated assault.
Karaali on Monday posted on her Facebook that she was shocked over the incident but hoped it would not fuel further tension between the two communities, adding that the suspects were detained quickly after she had filed her official complaint.
A third person is wanted by law enforcement authorities in connection with the incident, police also told Knews on Tuesday morning.
According to Karaali's initial post and other online comments, one of the suspects had initiated unwanted advances and she refused. After talking to her friends in Turkish, the suspect punched her in the face and pushed her off the walkway, causing her to lose consciousness.
Karaali later said she would like to thank authorities both in the north and south for their cooperation in handling the incident.