Cypriot resort town welcomes upscale visitors in new marina as local officials try to shed 'boorish image'
A cruise ship offering passengers a luxury yachting experience around the world made a stop in Cyprus' Ayia Napa over the weekend, with locals highlighting the resort town's efforts to attract high income visitors as an alternative to tourists balling on a budget.
Sea Dream II, a liner offering personalized luxury yachting experiences around the world, became on Sunday the first cruise ship to make a stop at the Ayia Napa Marina, Famagusta district, where millions have been spent on upscale investments to attract high income visitors.
Transport Minister Yiannis Karousos said he hoped that the arrival would be "the start of increasing traffic and attracting specific tourism."
Ayia Napa has been on a campaign in recent years to attract high income visitors in the eastern part of the island, coinciding with efforts aimed at clamping down on noisy nightclubs and what local officials described as "boorish behavior" by younger tourists out all night on the town.
Before becoming minister, Karousos served as the town's mayor when in 2018 he declared "unwelcome" the binge-drinking tourists known for misbehaving and indulging in public sex in the Spring-break-like resort town.
According to the Cyprus News Agency, the Norwegian-flagged ship was carrying high-income tourists from the United States and various European Union member states. A week earlier, Sea Dream II arrived in Limassol from Greece and then went on to Israel before sailing back directly from Haifa to Ayia Napa.
Karousos made this possible by signing an executive order, allowing port officials to set up shop in a restricted-use area of the Ayia Napa marina to carry out customs and immigration inspections.
According to Karousos, the special customs decree was issued "so that cruise ships can reach the Ayia Napa Marina and disembark passengers," thus bypassing other entry points on the island.
'Today is a very important day for all of us, firstly because it marks the beginning of a new economic course of our region'
"Our goal is to make all the marinas in Cyprus accessible to all cruise ships," the minister announced.
Ayia Napa has been on the rise and in search of a new identity after Egyptian billionaire businessman Naguib Sawiris, the man behind the marina investment, struck a chord with government officials during the rebound years of the financial crisis.
"We will turn Ayia Napa into an expensive destination," Sawiris declared as he took on the ambitious project.
Sawiris, who won a court case after he had been assaulted in a night club hours before the stone laying ceremony for the marina back in 2016, later criticized the Cypriot government for changing the rules and walking back tax break promises.
"The bureaucracy in Cyprus is worse than that experienced in Egypt and everything takes too long," the investor famously said.
But after the Republic of Cyprus sought to gain a comparative advantage by welcoming international ships during the COVID pandemic, Ayia Napa officials renewed efforts to lobby for their town and Famagusta district to become a destination that could compete with other marina locations on the island.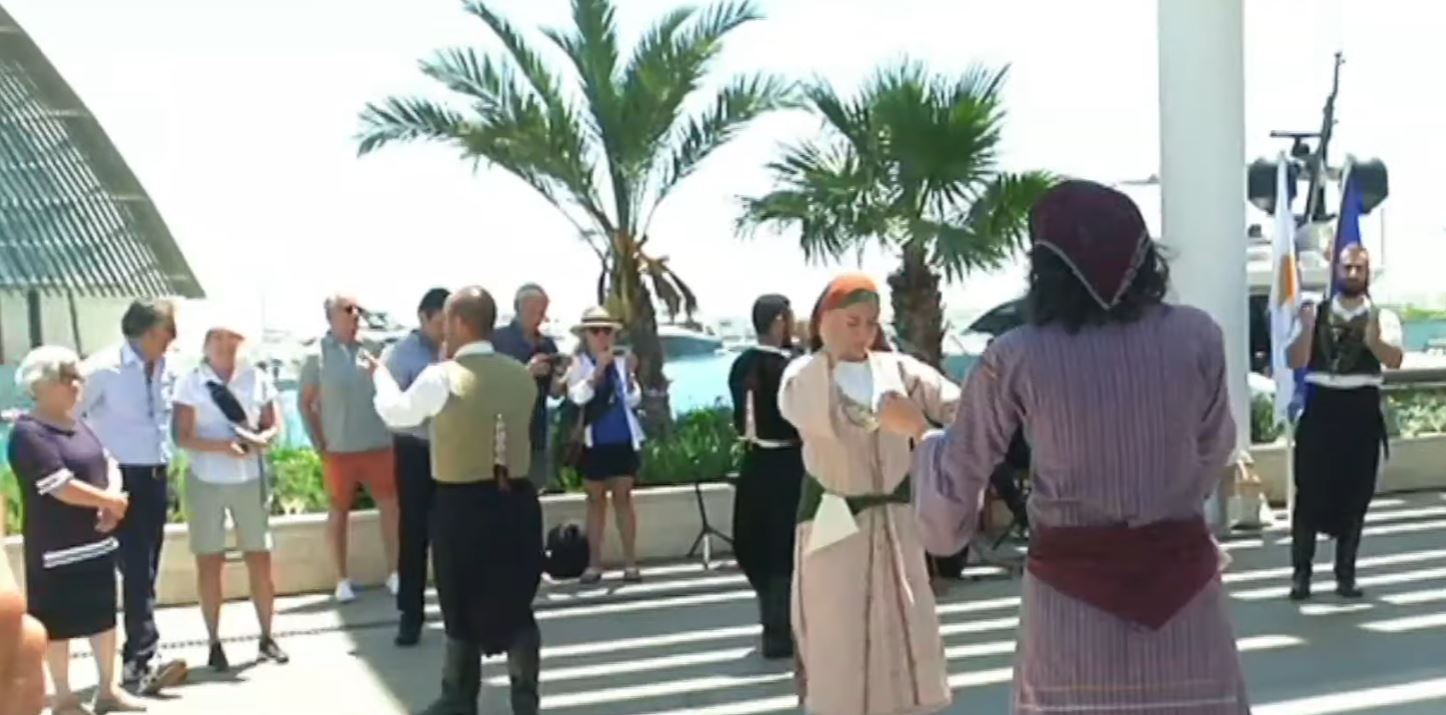 Ayia Napa marina director Costas Fitiris said that Sunday was "a very important day for all of us, firstly because it marks the beginning of a new economic course of our region."
"Secondly because Sea Dream II is the first passenger vessel to sail in the free area of Famagusta after 1974," Fitiris added, referring to the ethnic division on the island.
A Famagusta port in the north is currently operated by Turkish Cypriots but it is not an official port of entry to the Republic in the Greek Cypriot south nor is it recognized by other countries except Turkey.
Turkish destinations have been excluded from the specific itinerary, which includes Greek islands Rhodes and Santorini, while other cruises operated by Sea Dream Yachting Club include destinations such as Istanbul, Antalya, and the ancient city of Troy.