World's largest cruise ship Wonder of the Seas back on schedule after itinerary changes and pandemic challenges
Wonder of the Seas, the world's largest cruise ship left Limassol on Thursday at 4:30pm after a short visit to pick up crew and renew the company's commitment to Cyprus at a particularly tough time for both the industry and the island looking to rebrand itself.
The humongous cruise ship by Royal Caribbean International is en route to Spain while the inaugural sailing will take place next month out of Fort Lauderdale in Florida, where some crew members had initially booked flights but were told to reschedule for Cyprus at the last minute after reports of the company experiencing service disruptions at selected destinations.
Limassol, a port city on the southern coast of the Republic of Cyprus, has been an ideal stop for many cruise companies including Royal, which has announced Wonder's maiden voyage was to take place in March in the Caribbean after plans to launch in China fell through amid pandemic uncertainty.
Cyprus has been a rock-solid choice for cruise ships as companies faced a host of restrictions and guidelines that varied from country to country, including Florida in the US where the state's governor has been fighting the cruise industry with a law that bars ships requiring passengers be vaccinated.
Royal thanks Cyprus for vital help during pandemic
During a press event on board the ship at Limassol port on Wednesday, a Royal senior vice president expressed the company's gratitude to Cypriot authorities over services granted to seafarers during the Covid-19 pandemic.
Wonder of the Seas does not plan to visit Cyprus this year but Limassol would once again serve as a port of call with Rhapsody of the Seas in 2023
"You were there when other markets weren't," said Ben Bouldin, Royal Caribbean's Vice President for Europe, the Middle East, and Africa.
Last year, when companies had to postpone or cancel cruises due to the pandemic, Cyprus stepped in by welcoming ships and helping crews get vaccinated or fulfill their quarantine obligations, making the island an ideal destination for stranded floating palaces and even landing a cruise to the Greek islands by Royal's Jewel of the Seas out of Limassol.
"We did this without asking for anything in return" said Vassilios Demetriades, Cyprus' shipping deputy minister who also attended the press conference on board the brand new ocean liner.
"Cyprus is a shipping nation and we feel it is a duty to support seafarers and all the staff working on the ships, so our government took the decision to provide services from the beginning of the pandemic," Demetriades said.
The Cypriot official, who pointed out that the island had been instrumental in assisting cruise ships during crew shift changes, said the country had assisted over 55,000 stranded seafarers to return home while also promoting a national vaccination program covering 40,000.
Knews has learned that crew members originally scheduled to fly to Miami last week were asked to rebook flights to Cyprus at the last minute, where they could meet up with Wonder in Limassol and travel back to Fort Lauderdale.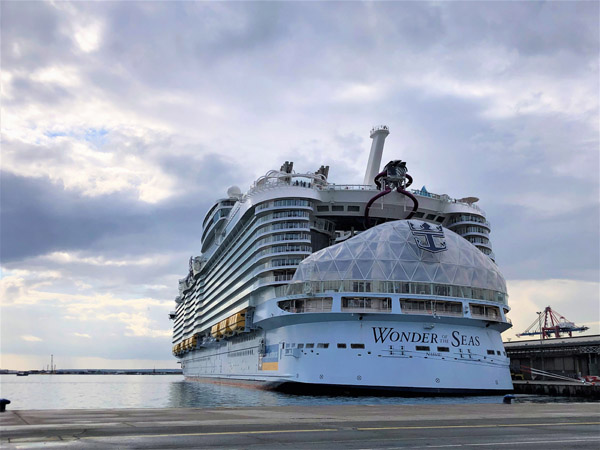 Recent reports said Royal Caribbean has been moving crew members who have tested positive for coronavirus to other ships, although there was no information available about any infections on the brand new ship.
"Our case count has spiked, but the level of severity is significantly milder," said Calvin Johnson, chief medical officer of Royal Caribbean Group, adding they remained in "constant contact with health authorities."
Cypriot officials have declined to comment on crew transfers but told Knews vaccinations took place last year through the government's program but no jabs had been planned this time on Wonder.
Wonder of the Seas does not plan to visit Cyprus this year but after the Caribbean cruise it will embark on a western European summer tour before heading back to western hemisphere for a much-anticipated Christmas holiday tour.
But Bouldin said Limassol would once again serve as a port of call with Rhapsody of the Seas in 2023, adding that company plans for Cyprus would go beyond next year.
Knews has learned that in addition to Rhapsody, Odyssey of the Seas and the company's subsidiary brand Celebrity Apex would sail to Limassol sometime in 2022 but an official from the deputy ministry said the number of port of calls could not be provided before the official publication of the program by Royal.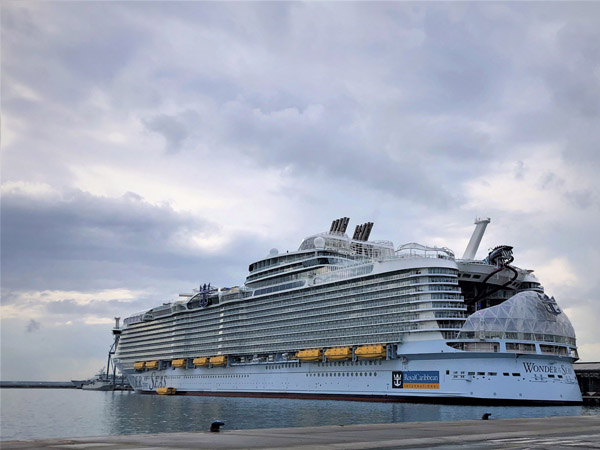 But Bouldin recalled his company's first time in Cyprus last year with Jewel of the Seas, telling guests and Cyprus News Agency representatives that the island had proven to be an exciting and popular destination for many of their clients and despite difficulties due to restrictions in movement "we have done enough showing that Cyprus is a port of call we must build upon."
Local wine and football in the mix
Knews has also been told that Wonder of the Seas staff, including senior staff overseeing marine and hotel operations, had a chance to visit the island during their brief stop, with excursions including Kato Paphos out west and Omodos village in the mountains.
"Not only did they go to Omodos but they also grabbed cases with 600 bottles of Blue Wine from Linos Winery," an official told Knews, saying the island has been supplying ships and providing services for some time to different companies.
According to CNA, Bouldin also said Royal Caribbean will be the main sponsor for Limassol's Apollon Football Club, expressing hope that the team would join European football championships promoting the company's logo.
Tourism deputy minister Savvas Perdios, who also attended the press gathering, said the interest shown by Royal was the result of hard work in the preceding months.
"We can assure that we will be here collaborating, working as much as we can both with the company and others like it," Perdios said.