City councilors physically remove Turkish flag against official advice, stirring controversy ahead of global cycling event
A Turkish flag hoisted in Paphos as part of an international cycling event was pulled down within minutes, stirring controversy within the city council and prompting the mayor himself to weigh in.
Local media reported that 39 flags of different nations had gone up Wednesday at a location in Kennedy Square as part of Cyprus Gran Fondo, a cycling event for professionals and amateurs from around the world.
Within minutes of the flags going up, there were strong reactions about the Turkish flag, prompting a city administrator to seek input from Cyprus Sports Organization officials who advised her to keep the flag hoisted.
'Strictly speaking, the removal was unfortunate. I'm no Turkophile but there is no need to prolong this'
But minutes later two city councilors proceeded to physically remove the flag by pulling it down on their own initiative, prompting a statement from Paphos Mayor Phedonas Phedonos.
The mayor, who spoke to a different news outlet, reportedly tried to keep the incident quiet, saying there was no need to make a big deal out of it.
"Strictly speaking, the removal was unfortunate. I'm no Turkophile but there is no need to make an issue out of this," Phedonos said.
The mayor went on to suggest this was not an appropriate time to assert patriotism, adding the participant from Turkey was not a Turk but a Russian with Turkic origins.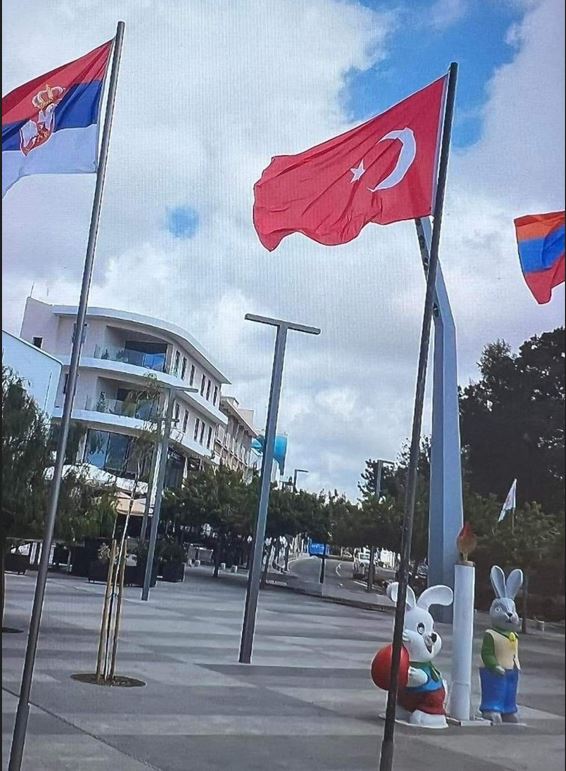 A statement from Paphos municipality suggested Cyprus Sports Organization officials sided with the mayor, pointing out that the flag of the Republic of Cyprus remains hoisted whenever local athletes compete in Turkey.
The Cyprus Gran Fondo is a three-day Road "Cycling for All" event from March 31 through April 2, that gives all participants an opportunity to qualify for the Gran Fondo World Championship.
According to the event's website, the event brings passionate cyclists together, pros and beginners riding shoulder to shoulder, to enjoy "amazing Cyprus nature and have fun in a relaxing and comfortable atmosphere."
"Starting every day next to the Mediterranean coast, you will climb some of the nicest mountains of the island and pass through traditional and rustic villages, enjoy the Cyprus weather and nature, before returning back to some of the best hotels in Paphos to enjoy your off-the-bike time!" it was said in a statement.