Using a roundabout intersection in Cyprus can be a challenge if basic rules are not followed
If you drive a vehicle in Cyprus, then you most likely have to use a roundabout at some point. But with many drivers not following the rules, merging with traffic becomes a challenge even for responsible drivers.
Many Cypriot drivers do not use roundabouts properly either due to lack of knowledge or other reasons, despite so many circular intersections popping up everywhere on the island. 
Roundabouts are circular intersections designed to facilitate traffic by requiring drivers to slow down, maintain low speed, and yield so that all cars driving in a clockwise direction can exit safely.
Who has right of way
When approaching a roundabout, drivers must reduce and maintain slow speed. Then, before entering a roundabout, drivers must always yield to any oncoming vehicles that are already using the roundabout, coming always from the right.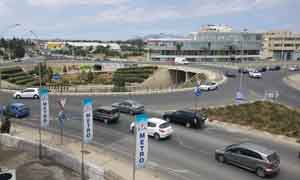 When you arrive at the yield line and no car in the circle is coming from the right, then you can proceed with caution and enter the roundabout.
But if another car coming from the right arrives at the yield line first, it can enter the circle and you need to yield so that you don't get in the way. If there is enough gap for you to enter safely, especially in large roundabouts, you can enter the circle as long as you don't block traffic already moving in the circle.
The Cypriot bottleneck
A big issue in Cyprus is too much city traffic with cars moving bumper-to-bumper. This usually forces drivers to form the wrong impressions that all cars entering from the right will always have right of way, even if those drivers have two or three cars in front of them behind their own yield line.
As a result, many cars enter the circle without yielding and come one by one from the right, while cars in your lane wrongly end up having to wait at their own yield line as if there were sitting at a red light.
But roundabouts are not designed for cars to come to a complete stop. Instead, everyone should be on the move, where slow speed and priority are the two main elements that make these circular intersections effective in regulating traffic.
See the forest for the tree
The key is for drivers to see themselves as part of the bigger picture and use common sense. The official guide on roundabouts in Cyprus specifically asks drivers to "take into account the speed and position of all other drivers around you," and this means both those who will enter the circle from the right as well as those who are inside either behind you or in front of you.
In cases where two cars arrive at their respective yield lines at the same time, the one on the right has priority to enter. However, drivers should also use discretion in assesing which vehicle ought to be ahead inside the circle, depending on speed, position, priority, and overall flow of traffic.
Using lanes properly
If there are two or more lanes at a roundabout, then drivers must select their entry lane in advance depending on the direction they wish to take as they exit the intersection. In some cases, there are directional signs or arrows paved on the road that warn drivers as they approach the roundabout.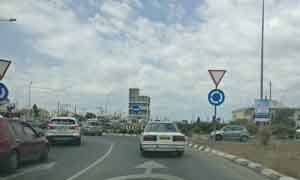 These lanes must be followed all the way through and cars should use their blinkers before they move to exit the intersection. If a car on the inside lane wants to exit, the driver should use the left blinker to indicate he or she will cross lanes to exit and use caution as not to block other cars in the circle. Other drivers also need to be careful and yield properly, so that the car can exit safely.
If a car is attempting to make a U-turn at the roundabout, there is no need to use blinkers but some drivers may wish to use the right blinker, especially in large roundabouts.
Share the road respectfully
Drivers should also be mindful of bicycles and pedestrians near roundabouts, as vehicles are expected to regulate their speed accordingly. Non-motorised vehicles can only accelerate or make manoeuvres in far less capacity compared to motorised vehicles, so car drivers ought to think ahead when they see cyclists on the road and use the "share the road' concept.
Some people have complained on social media about roundabouts, saying there are too many in Cyprus and in some cases they cause traffic jams.
This can be true and raises the question of size and scale, but roundabouts both in theory and practice can prove to be effective if used properly.