Cypriot interior minister wants higher EU awareness after EC president signals no funding for barb wire and walls
Interior Minister Nicos Nouris wants strong EU awareness on external borders to be shown in Cyprus as well, in remarks he made near the buffer zone on Sunday, just two days after the European Commission president signaled there would be no funding for barbed wire and walls.
Nouris, who pushed for a controversial barbwire near the Green Line earlier this year to halt illegal crossings from north to south, attended a memorial on Sunday dedicated to fallen fighters in Troulloi, a village in Larnaca district adjacent to the UN buffer zone.
In his eulogy, the minister accused Ankara of "illegally pushing thousands of undocumented migrants towards areas under the Republic's control," adding that those arrivals was being "rewarded by the Erdogan regime."
"In October alone over 1500 irregular migrants crossed the Green Line, mostly coming from sub-Saharan countries and Syria but all of them arriving through Turkey," Nouris said.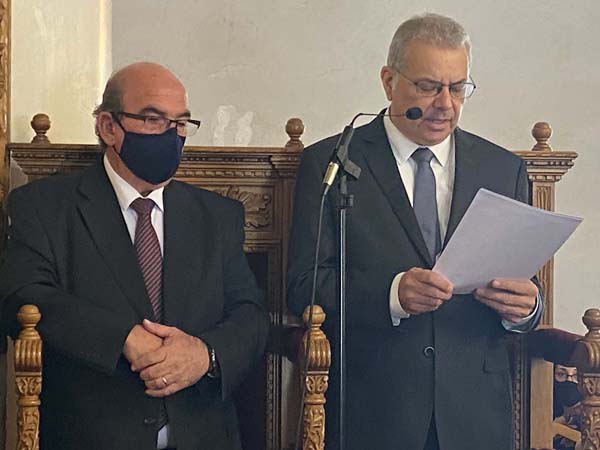 According to the Cyprus News Agency, the minister later told reporters the government was moving forward with special monitoring and technical capabilities, including closed-circuit television, noting the technology would act as a deterrent for illegal migration.
Local media said a high-tech system from Israel is expected to be installed along the buffer zone, giving the Greek Cypriot National Guard visual and auditory access day and night along the Green Line that runs east to west as well as collecting information further into the north, with some reports saying all the way to the Kyrenia mountains.
But critics have argued that Greek Cypriot officers at checkpoints between north and south do not allow refugees to seek asylum if they show up at a legal crossing point, thus prompting undocumented migrants to seek illegal entry points.
Recently the UNHCR agency has called for three individuals currently stuck in the buffer zone and living in tents to be allowed to seek international protection in the south, meaning they should have the right to have their asylum claims examined.
'I have to admit we are already playing the cat and mouse game with human smugglers... we guard west Nicosia, we have runaways through other areas'
But Nouris has ordered customs officers not to take their applications, telling The Guardian earlier this year that the situation with three Cameroonians in the buffer zone could be easily solved otherwise.
"I have written to the European Commission, saying we are prepared to transfer them to other member states, but have not heard back," Nouris said.
The minister recently aired island's grievances at the European level, saying the Cypriot government was ready to welcome refugees but the small country could not accept huge numbers of economic migrants.
But European Union leaders are still trying to overcome their differences on how best to handle migration, with talks on comprehensive reform stuck due to disagreements and demands from members including MED5 countries - Cyprus, Greece, Italy, Spain, and Malta.
The latest effort on Friday has revealed that there was still disagreement on the best way forward, with European Commission president Ursula von der Leyen saying there would be no EU funds for "barbed wire and walls."
"I was very clear that there is a longstanding view in the European Commission and in the European Parliament that there will be no funding of barbed wire and walls," the head of the bloc's executive said.
But Nouris argues last summer's Home Affairs Council decisions acknowledge the need to safeguard the buffer zone in Cyprus, "despite the fact that it does not constitute an external border," he told reporters according to CNA.
The interior minister told reporters on Sunday that Cypriot authorities end up playing the cat and mouse game, referring to measures including the barbed wire.
"Measures are being taken but I have to admit that we are already in a situation where we are playing the game of cat and mouse with human smugglers," Nouris said, adding that when "we guard west Nicosia, we have runaways through other areas."
But the minister vowed to take action similar to other EU member states, including Poland and Lithuania, where he says "there is a strong awareness within the European Union, exactly the same kind we hope to see realized in the case of Cyprus also."
Europeans all over the map on migration
But the issue with Poland and Lithuania is far from being resolved, as the fate of migrants stuck on the border between Belarus and the two countries as well as Latvia remains unclear.
The three EU member states have reported sharp increases in the number of migrants from Africa and the Middle East crossing into their territories from Belarus in recent months.
EU officials blame Belarus for deliberately orchestrating the flow to put pressure on the bloc in retaliation for sanctions it had slapped on Minsk over human rights abuses, according to foreign media.
The bloc is divided over how to solve the crisis, with some calling for a physical fence or border as one method to curb migration. Others question whether sanctions will work in the meantime.
The EU Commission president attempted to settle the dispute by making clear "we will keep up the pressure on the Lukashenko regime."
More moderate voices came from others including Luxembourg's prime minister Xavier Bettel, who said an orderly migration must remain possible.
"I'd be ashamed to see a fence with a sign 'Financed by the EU' on it," he said, adding that some European countries were not treating migrants properly.
"We need to find the right balance," Bettel said.
Cypriot interior minister wants EU awareness on external borders apply to his island too, EC president says no EU funding for barbwire & walls