Cypriot government on the defence after blocking boats and sending back undocumented migrants to Lebanon
A police task force from the Republic of Cyprus is hoping to hash out a plan with Lebanese authorities to deter "economic migrants" from traveling to the island, as government and state officials rush to respond to criticism over a decision to send back undocumented migrants to the neighbouring country.
According to local media, over 100 people from Lebanon have been sent back to the country after Cypriot coast guard officers blocked a total of five boats from reaching the island's eastern shores over the weekend and Monday. Reports said a number of Syrians were also possibly on board.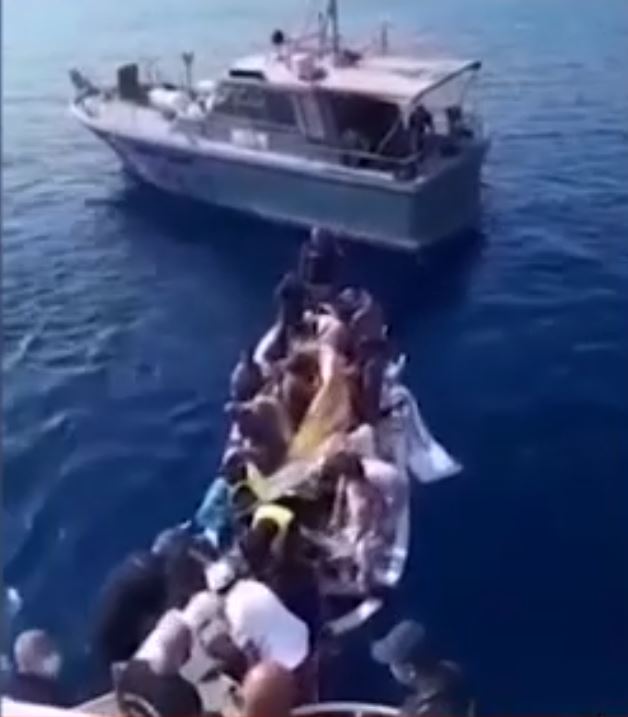 Interior Minister Nicos Nouris said the decision to block a number of boats from Lebanon, which were spotted off the coast over the last four days, was made in the name of securing national borders as well as European borders in the easternmost section of the Mediterranean Sea.
Nouris, who has taken a tough stance on the migration issue, reiterated that the state was ready to welcome "legitimate refugees" within the island's capacity, adding that migrant facilities were overcrowded.
UNHCR Cyprus cries foul over operation
But UNHCR Cyprus says any delay in helping people at sea come ashore can put lives at risk.
State officials said nobody was at risk during the operation, while a number of women and children had been transported to a local hospital before being returned to the vessel
Emilia Strovolidou, UNHCR's Public Information Officer, told local media on Monday that a boat with refugees off Larnaca, which was eventually allowed to disembark, had been damaged.
"That boat was at risk of sinking after sustaining damages during blocking maneuvers,' Strovolidou said.
Passengers were jumping into water
According to a Tuesday morning online report by Philenews, it was suggested that a number of boat passengers ended up diving in the water after realizing their boat would not be allowed to go through. The story was not independently verified.
State officials said nobody was at risk during the operation, while a number of women and children had been transported to a local hospital before being returned to the vessel, and then boarding another boat where 81 people ended up on a one-way ticket back to Lebanon.
But more questions were raised in the media following criticism of law enforcement and coast guard officers who refused to allow safe passage.
Police say the follow political decision
Police spokesperson Christos Andreou says the decision was political.
"Police are assisting in the effort by following instructions from the Justice Ministry, which is based on political decisions taken by the Interior Ministry," Andreou said.
The spokesperson also confirmed that police were following orders in sending back the undocumented migrants, citing border protection.
"As you can understand, there are processes involving other agencies, and we will follow instructions to the letter," Andreou added.
Task force and FRONTEX
The interior ministry says Nicosia will embark on a new information campaign to give its European Union counterparts an "accurate picture" of the issue. A Cypriot police task force is also planning to travel to Beirut where they will ask for collaboration from Lebanese authorities.
But according to the Cyprus News Agency, the interior minister said Cypriot authorities were betting on the presence of FRONTEX as an effective way to protect its borders.
"We don't need task forces from European countries, we need help in protecting our borders, and this clearly entails the presence of FRONTEX as the appropriate force which has jurisdiction over carrying out the protection of marine borders," Nouris said.
Pournara residents also get one-way ticket to Lebanon
But media reports suggested the boat that was commissioned by the state, which transported people back to Lebanon on Monday, also carried a number of undocumented migrants who already reached shore and were transferred to Pournara camp, in rural Nicosia.
Nouris pointed to overcrowding conditions at the migration welcoming centre, pointing to lack of space to accommodate newly arrived refugees.
But Pournara is also being used as a detention facility, where critics say many asylum seekers who already have family members on the island end up being locked up in the camp.
Nouris has repeatedly said the island could not host more "economic migrants" while at the same time assuring critics that authorities would not be sending back those whose lives may be in danger.
The government has also sponsored a set of bills, which were recently passed into law, essentially amending the Constitution by allowing state agencies to shorten the period of appealing a migration decision, such as deportation.
But critics warned that the amendment to the Constitution was chipping away inalienable rights of applicants to have access to "due process" in order to appeal a decision.