For the second consecutive year, Cyprus ranks first among European Union countries in the absorption of funds from the European Regional Development Fund and sixth for all European Funds. A statement issued by the Ministry of Finance said that Cyprus has completed a large number of projects, making full use of the European Union's development funds.
On the basis of certified expenditure, Cyprus has achieved not only high absorption levels of European funds but according to the European Commission it is ranked among the best performing Member States during the current programming period.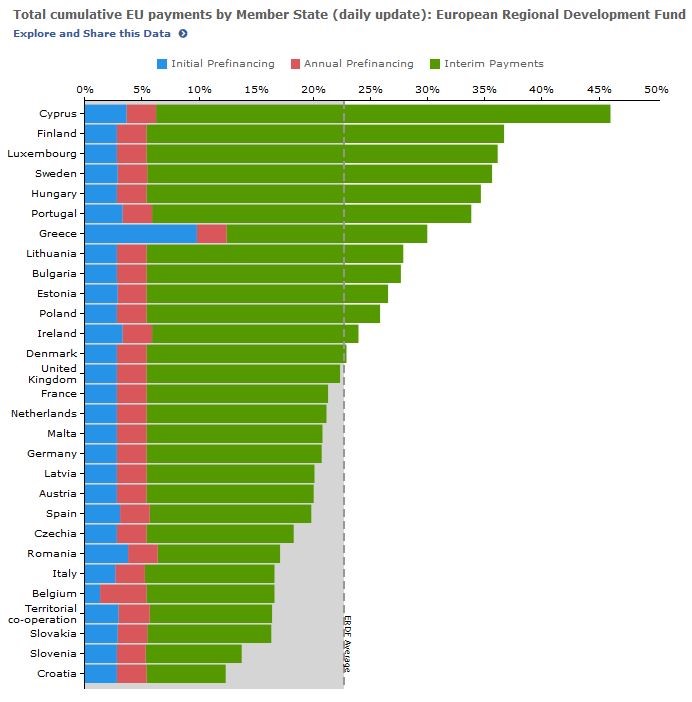 It is noted that for the 2014-2020 Operational Programs (Competitiveness and Sustainable Development, Employment, Human Resources and Social Cohesion) applications of approximately 138 million euro were submitted exceeding the absorption target € 127 million by approximately € 11 million.
Such funding is targeted, among other things, on infrastructure projects for Sustainable Urban Development, Entrepreneurship, Energy, Information Technology, Research and Innovation, Environment, Transport, actions that increase employment and strengthen social cohesion.
The Minister of Finance expressed his satisfaction and has congratulated State services for their efforts. At the same time, Minister Georgiades underlined the importance of using available funding to ensure sustainable development.