More suspects, less clarity as police investigate disappearance possibly linked to unclear cryptocurrency case
A man said to be an acquaintance of Little Hacker, the detained suspect in a disappearance case possibly linked to cryptocurrency theft, has also been nabbed by police after investigators became suspicious over partial statements he had made, but charges still remained unclear.
According to police, a 37-year-old male from Nicosia district was arrested on Wednesday in connection with a dual investigation into the disappearance of a Limassol resident who was reported missing last week.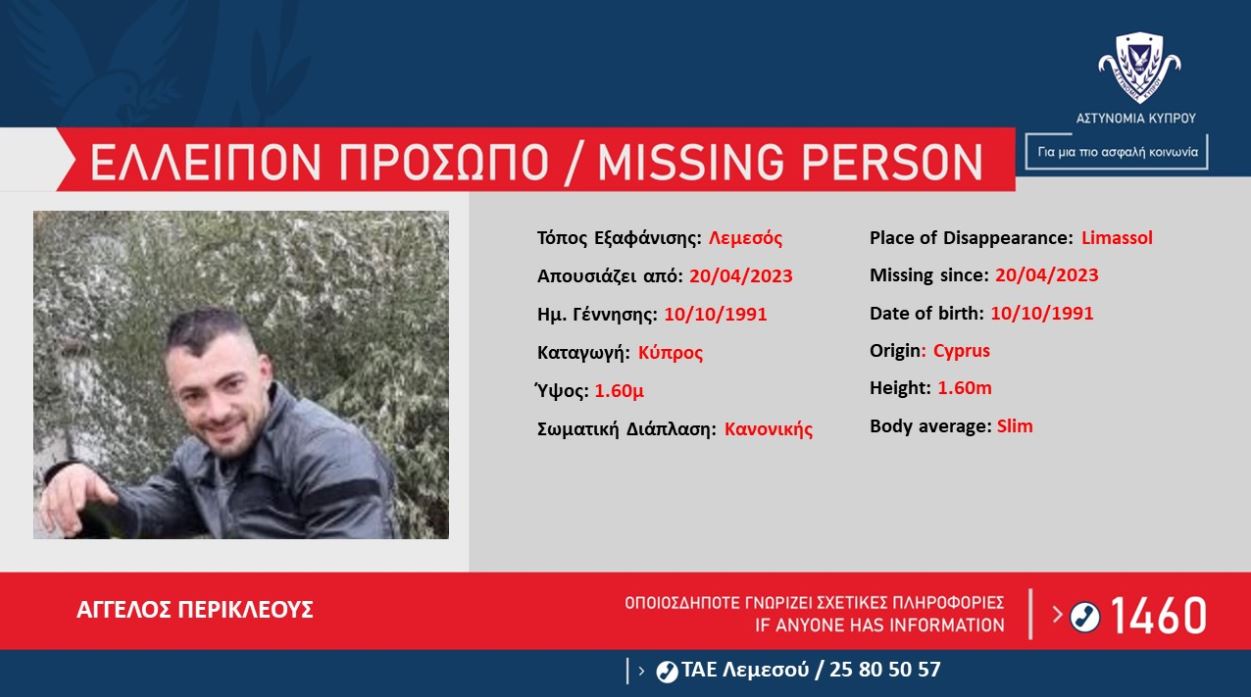 Angelos Perikleous, whose girlfriend says she last saw him when he left his house on April 20, has been missing ever since while a day later his vehicle was found torched near the Paliometocho shooting range in rural Nicosia.
A 24-year-old man, known as the Little Hacker who was extradited to the United States where he served one year in a US federal prison, walked last Sunday with his lawyer into a police station where he was detained.
But the exact charges against the two suspects are not clear based on police reports that stated the two men were being detained in order to facilitate an investigation into car arson and a disappearance.
It was not clear who had moved the car but local media said police unsealed the vehicle in front of the Littel Hacker and found inside 69 rounds of ammunition
Local media said the 37-year-old, who was described as a friend of the 24-year-old, was arrested after investigators got suspicious over particle statements he had made about his car.
The second suspect reportedly told police he had let the Little Hacker borrow his Honda.
But investigators believe the 37-year-old had not been forthcoming with full details, with reports saying that findings later suggested the vehicle in question was, which used by the Little Hacker to drive to Perikleous' residence, was found days later in Agios Georgios Alamanou in coastal Limassol.
It was not clear who had moved the car to the location where it was discovered but local media said police found inside the vehicle 69 rounds of ammunition, two rolled up joints, and a nylon bag that contained cannabis.
The discovery was made in the presence of the Little Hacker who was taken there by police officers, who proceeded to unseal the Honda to conduct a search.
Police say they have information that the Little Hacker was seen at Perikleous' apartment last Thursday, when the suspect went there in the early afternoon, with the two leaving before coming back together a few hours later.
Perikleous was said to have expressed fear for his life recently while the Little Hacker had also expressed similar fears in the past.
The two men, who were described as friends, recently had a dispute over a cryptocurrency job gone wrong, but reports suggested said they had patched things up.
Police have not said what information the 37-year-old had failed to reveal to investigators, but an official report says he was detained after new information concerning his vehicle.
Media reports also said the arrest warrant document for the Little Hacker was not read aloud in court over privacy concerns, with a lawyer representing the 24-year-old saying it contained sensitive information about Perikleous as well as revealing its content could be dangerous for his client.
Police fear that Perikleous may have been murdered but officials said no signs have been found except marks of a third vehicle that may have been at the shooting range where his torched car was found.
The 24-year-old suspect, who is currently in remanded custody, is purportedly not answering any questions.