Pro-migrant group seeks answers after fire deaths, says migrants were left behind
Pro-migrant group KISA is accusing authorities and farmland bosses of leaving foreign workers to fend for themselves in Saturday's wildfire in Cyprus, as more questions are being raised following the death of four Egyptian workers who perished while trying to evacuate in an inferno with the odds overwhelmingly stacked against them.
(Click here for an update to the story)
A blaze thought to have started from a single fire on Saturday afternoon in Cyprus left four people dead and many rural communities devastated in an area of some 20 square miles in the foothills of the Troodos mountain range within Limassol and Larnaca district boundaries.
'Employers took their families and left but nobody thought what would happen to migrants, who don't even have a bicycle to leave the village'
Nearly a dozen communities were evacuated as flames spread rapidly due to fanning winds, engulfing homes, vehicles, and causing all kinds of property damages. Land and air battles against the flames went on overnight until the situation was declared manageable on Sunday.
While charred remains were beyond recognition, local media said the victims were believed to be Egyptian nationals Morzok Shady Morzok, Hisa Melad Farouk, Ezat Salama Josef, and Maged Nabil Yonan, all seasonal agricultural workers in Odou, one of the villages in Larnaca district affected by the fire.
Reports said the four men, who were picking tomatoes in Cyprus for a better life back in Egypt, got into a small truck Saturday in an attempt to drive to a safe location away from a fire outside Odou.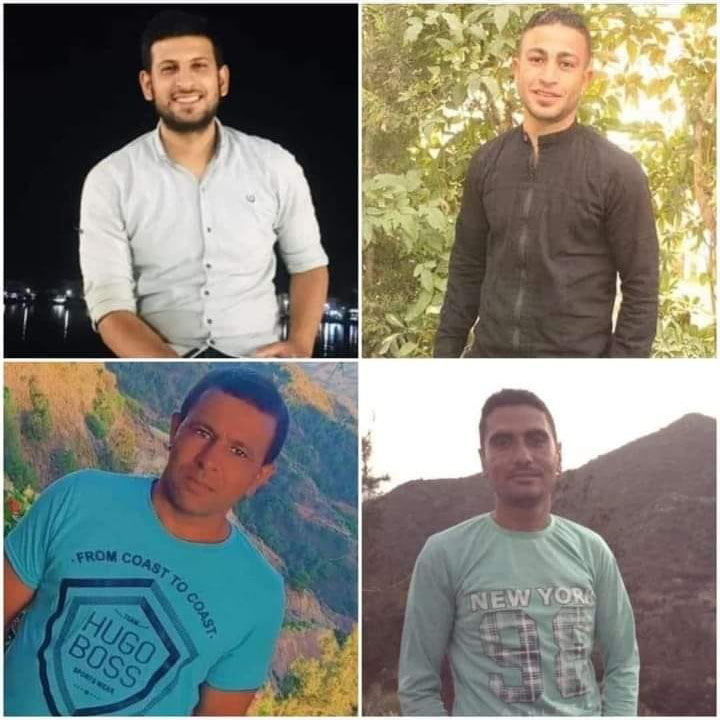 Initial reports said the four men were at their residence at the time but Odou community leader Menelaos Filippou told state radio on Monday morning that the four men had been working out in the field when the fire broke out.
Viewer discretion is advised – blurred image of corpse depicted in a photo further down
Their boss confirmed that his employees had worked in one field and were scheduled to go to another field at 4pm. He also said he was on the phone with one of the victims, who reportedly phoned in a location of a fast-approaching fire.
But KISA, an NGO group that advocates for human rights, accused Cypriot authorities and employers of "criminal negligence" over a decision to evacuate the community while "leaving foreign workers to their fate in the inferno."
KISA director Doros Polykarpou told a local radio station that the workers were never notified to evacuate the area.
"It appears that they were never notified. Those folks saw the fire and were trying to reach their employer. They managed to reach him to let him know the fire was coming very close and they would take the vehicle to get away," Polykarpou said.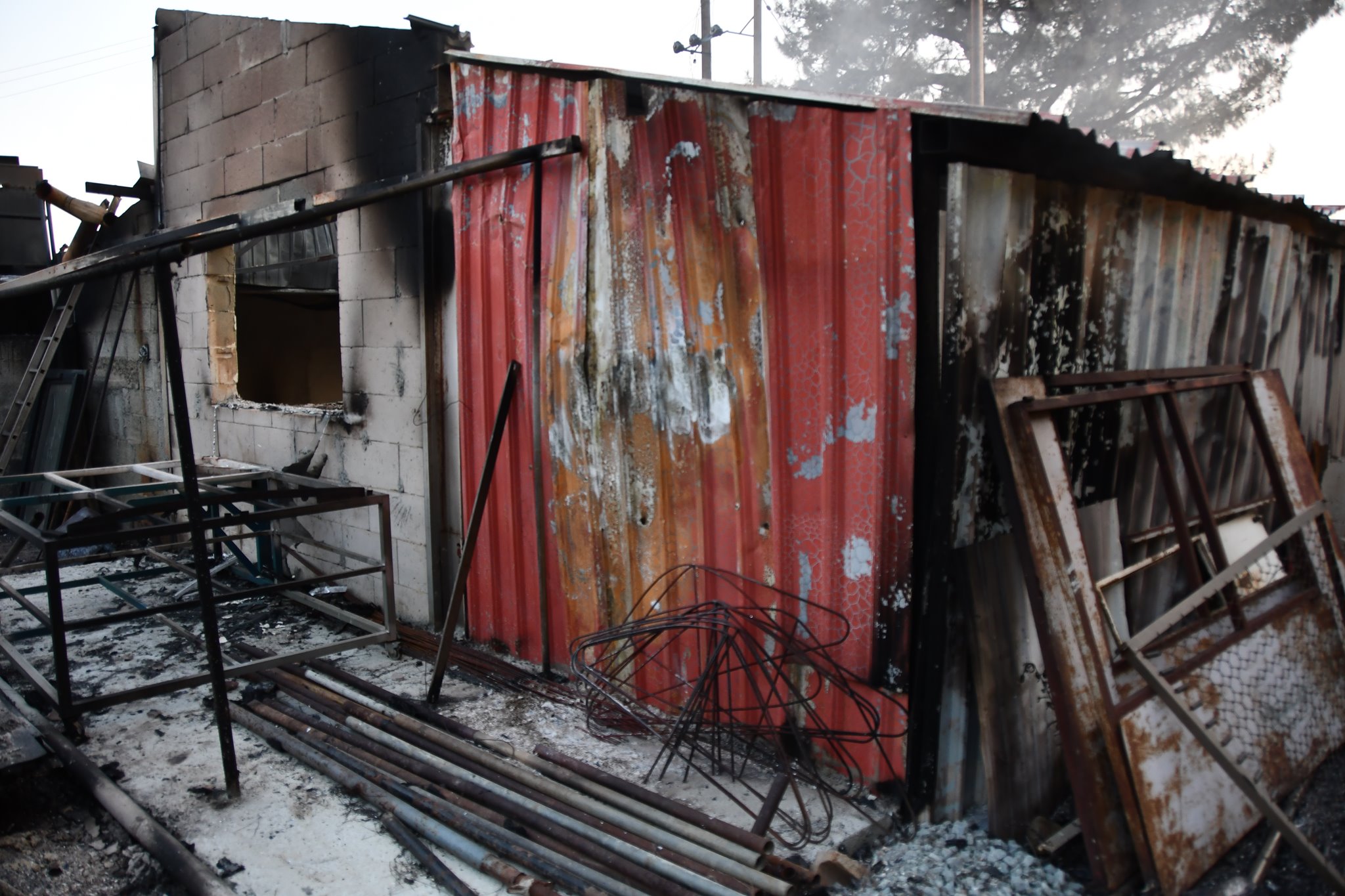 Filippou also told reporters that when a decision was taken for Odou residents to evacuate the area, it became clear that the four men failed to show up in the village square.
Reports said the four workers had to turn their vehicle back, possibly due to smoke and fire. It was also reported that the truck at one point fell into a ditch, with a fast-approaching fire behind them and the four men getting out of the vehicle in an attempt to make a run for it all the way to the top of a hill where there were no flames.
A reporter who traced the steps of the four men later said the terrain was steep and hard to climb, adding that it would have been a lot more difficult for someone being chased by fire to make it quickly all the way up.
"The tragedy here is that if they could run an additional 100 meters further up, they would have made it. They didn't manage to get out of there, they were engulfed in flames," Polykarpou said.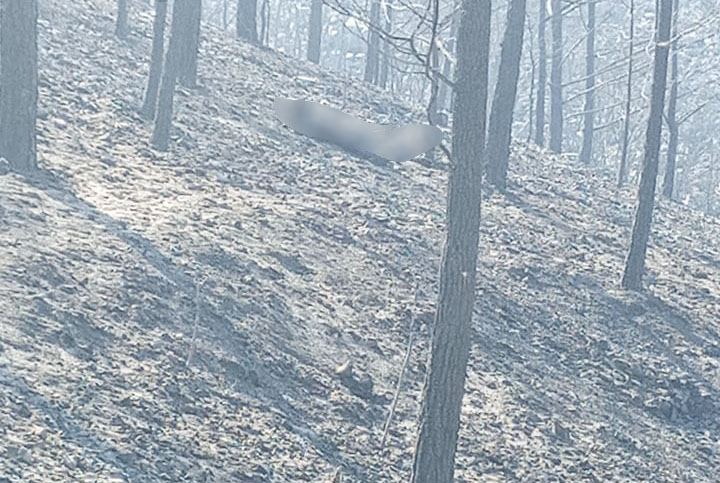 In a post on Facebook Sunday night, KISA posed a number of questions including why authorities were unable to locate the victims when their vehicle was found Saturday evening at 8pm.
While official accounts mentioned the bodies were spotted some 400 to 500 meters away from the pickup truck, KISA disputed the distance saying they were discovered "no more than 200 meters from the vehicle." Other reports said the bodies were found dozens of meters away from each other.
"What did the authorities do since 5pm?" the KISA director asked, referring to the time that authorities knew about the four men gone missing.
Polykarpou went on to explain there were only two possible routes for vehicles, one coming down to the village but it was not an option because it was on fire, and the other possible escape route was to turn back and go the other direction away from the flames.
"Had they searched the other route they would have determined in a timely manner that the car was burned about 3 kilometers away from the village," Polykarpou said.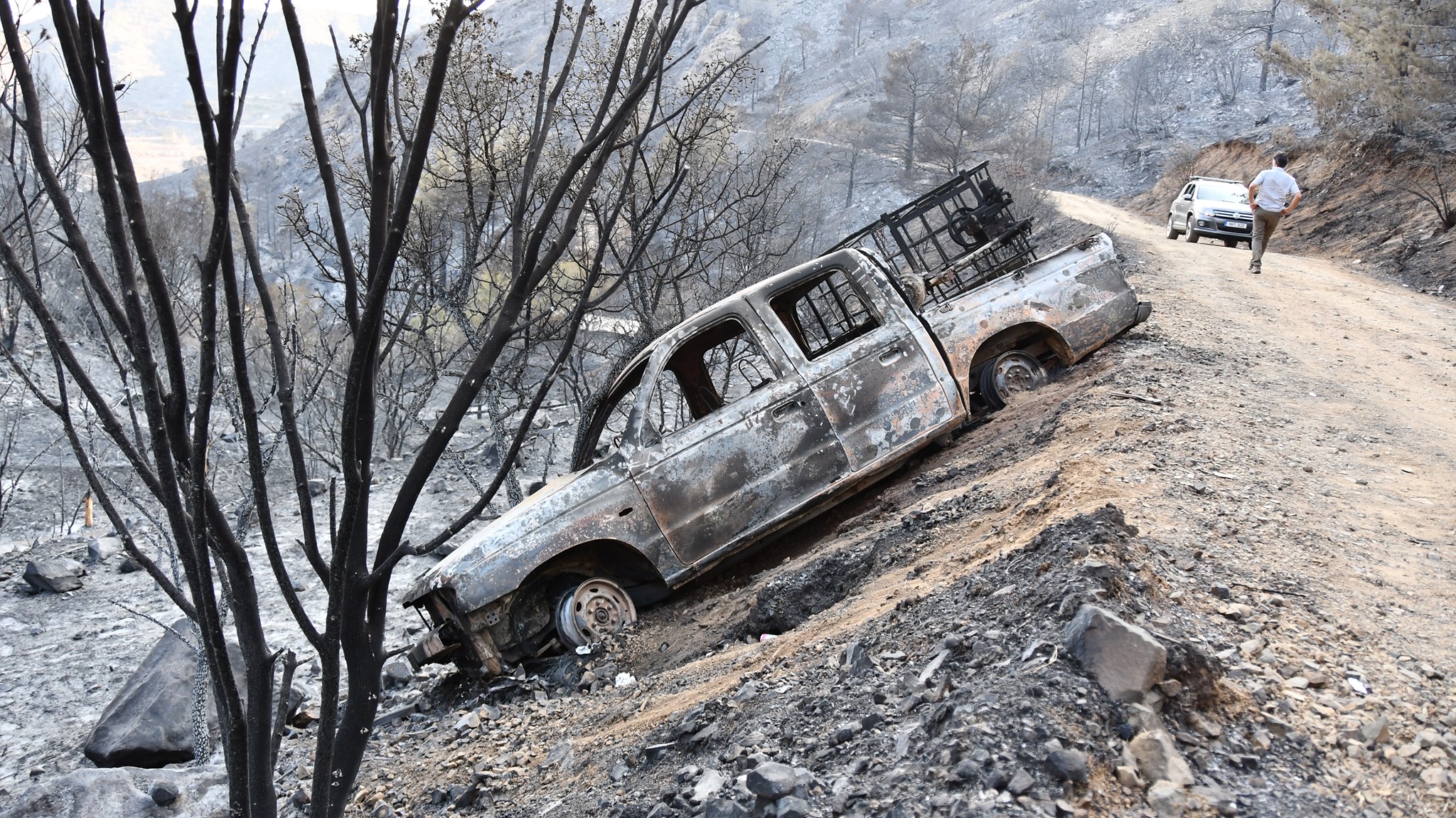 He also said "the bodies would have still been recognizable" when the car was spotted at 8pm.
"But they didn't bother to make an effort to check 150 meters around the vehicle to locate those people," the KISA director said.
KISA also alleged that Cypriot officials had tried to dissuade search parties, comprised of fellow Egyptian workers, to carry on the search, with reports saying workers were told not to take the risk on Saturday as it was getting dark.
Polykarpou also said it was not officials but fellow workers who discovered the bodies later in the morning at 9am.
KISA also disputed official reports that forensic pathologists rushed to the scene and conducted on-site autopsies.
"The forensic examiners never even came near the corpses but they just sent a photographer to take photos while they remained at the site of the burned vehicle and just waited," KISA said.
KISA also said friends of the victims had been waiting from 9am until 2pm until the state pathologists arrived, and then police officers handed out gloves and bags so that the workers would move the corpses into an awaiting police van and stack them one on top of the other," the NGO alleged.
Police said workers had offered to help but denied that officers ordered people to carry dead bodies.
KISA has called for a "proper forensic investigation" to ascertain the exact time and cause of death," adding that "apparently judging from their whole stance towards the case, nobody can have full trust in Cypriot forensic examiners and so we demand that a foreign expert be brought in."
Polykarpou also said his group would prepare a report to account for everything that took place during the wildfire, while also calling for an in-depth investigation into how the rescue plan was put in action and how did 200 migrant workers end up staying behind during organized evacuations.
"Employers took their families and left but nobody thought what would happen to migrants, who don't even have a bicycle to leave the village," the KISA director said.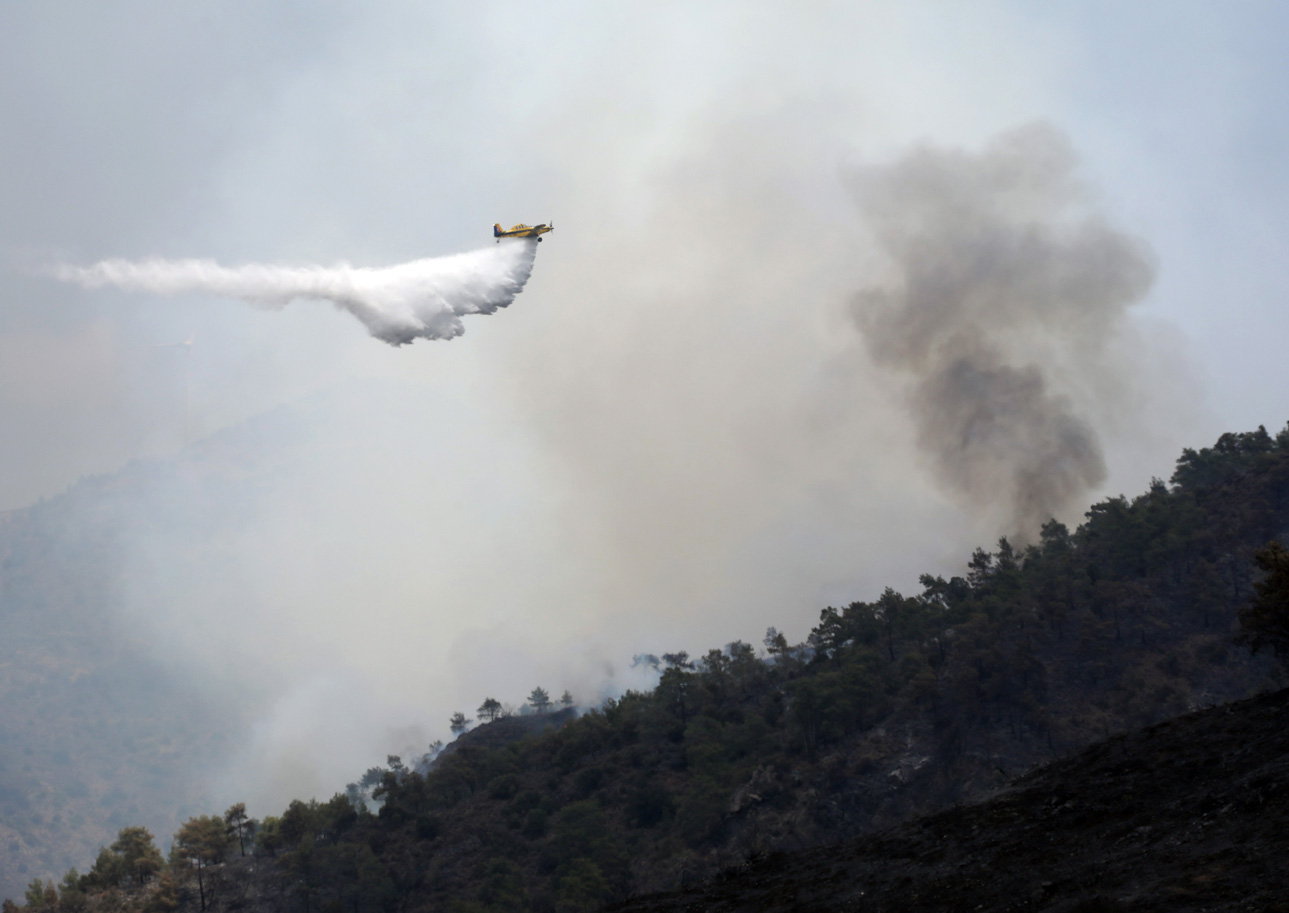 Workers union PEO has also called for an investigation into the incident, after sending a letter to the labor ministry to ask that "employment status and work conditions be investigated along with possible misconduct pertaining to employee health and safety."
"All eyes in Cyprus are on the horrific fire," PEO said, adding that the trade union was waiting to see immediate action to answer all questions and assign blame if and where it exists.
The government in the Republic of Cyprus said on Sunday it would stand by the families of the victims.
Measures to help those affected by the devastating fires in Cyprus over the weekend were also decided during a meeting on Sunday, while government spokesperson Marios Pelekanos pointed to "good news" after officials said fires in rural areas in Larnaca and Limassol district were either contained or manageable.
The official added that the state's priority was to restore damages and offer support to all those affected.
Police spokesperson Christos Andreou on Monday said that all aspects were under investigation in relation to the wildfire including deaths.