Fire victims had been told to fill truck with water and head to village that ended up being evacuated
The Cypriot government has rejected accusations of a lax response to Saturday's deadly wildfire, with police not ruling out a criminal investigation that could include a probe into the deaths of four Egyptian workers who died while trying to escape the inferno.
Critics and community leaders appeared in media outlets saying the impact of a Saturday fire that left four people dead and many rural communities devastated could have been lessened if there was help in the early stages of the blaze when it was needed the most to stop the flames from entering villages.
Andreas Gabriel, a community representative of Vavatsinia in Larnaca district, said the fire department was late in responding to the fire in the affected southern rural areas while planes did not arrive in time to put out the blaze.
"If aircraft could be scrambled when they were requested in the afternoon at 4:30pm to help out over a mountain ridge, the situation wouldn't have been so bad and a big part of Ora and other areas would have been spared," Gabriel said.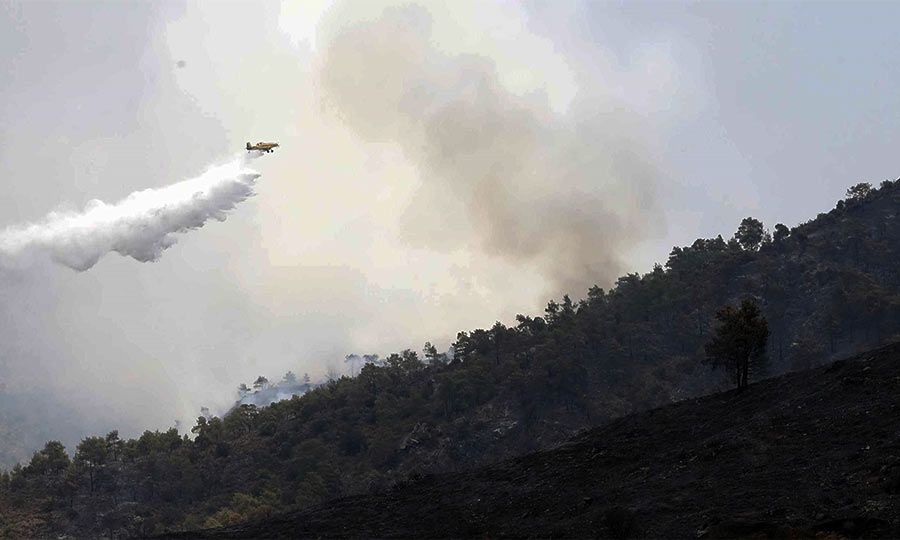 But government officials have rejected accusations that the state failed to coordinate a rapid response.
According to the Cyprus News Agency, government spokesperson Marios Pelekanos issued a written statement on Monday saying a quick response to the wildfire was evident in that the fire had been effectively contained in less than 18 hours, noting it was three times the size of a victimless fire in Solea years earlier.
"The response by fire fighting forces and the state mechanism in general was quick and, given the circumstances, also effective because despite the extent of the damages, it is certain that a failure to react would have had infinitely more tragic results," the statement said.
But Forestry Department Director Charalambos Alexandrou admitted the fire was easier to contain during the night when fanning winds had subsided.
At that time Odou residents were in panic mode with Constantinou calling the four workers again and asking them to fill the truck-mount sprayer with water and come down to the village
"We can fight a blaze not where and when we want but where and when we can," Alexandrou told state radio on Monday morning.
But pro-migrant group KISA director Doros Polykarpou has accused state authorities and farmland bosses of "criminal negligence" after pointing out that evacuations failed to account for some 200 migrant workers, pointing to a lack of rescue coordination that left foreign workers fend for themselves.
Polykarpou also spoke about the deaths of four Egyptian farm workers, whose charred remains were discovered by fellow compatriots on Sunday morning.
The KISA director has called on forensic experts to ascertain the exact time and cause of death, following reports that said the four workers were late to evacuate under circumstances still not fully known.
Christakis Constantinou, a farmer in Odou village who employed the four victims, said he was sleeping Saturday afternoon when he woke up after the power went out.
Constantinou said he walked outside and saw smoke in the sky on the side of Arakapas while also hearing a fellow villager saying folks were taking water sprayers to put out fires.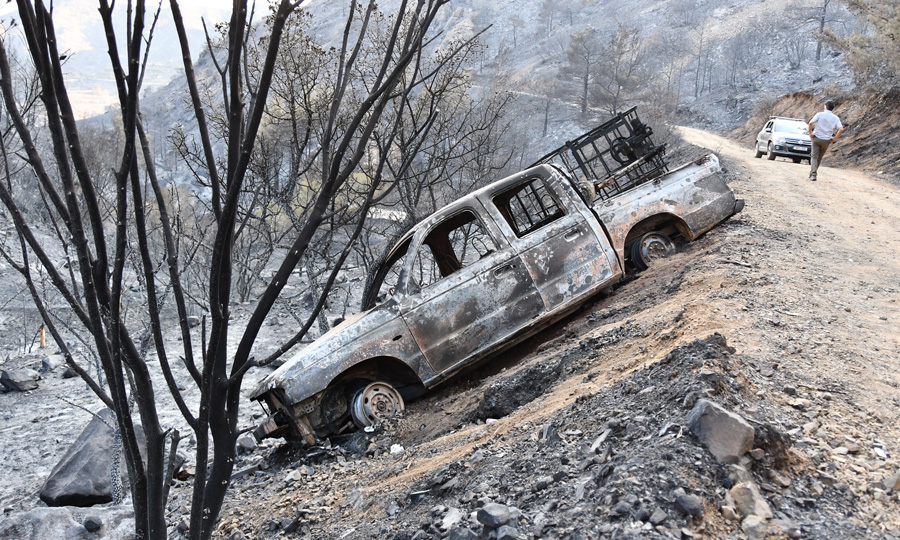 At that time, the workers were scheduled to go to another field for work but the Constantinou called them up to tell them about a change of plans, according to local media reports.
"They were supposed to go down to another field to pick tomatoes, but I told them to stay put and wait," Constantinou said according to Philenews.
At that time Odou residents were in panic mode with Constantinou calling the four workers again and asking them to fill the truck-mount sprayer with water and come down to the village. The sprayer's capacity was 500 litres, according to reports.
But Odou residents were ordered to evacuate, with Constantinou following suit and taking his family to Farmakas.
The farmer said he did not remember the exact time as they were leaving but said he called the workers who alerted him of a fast approaching fire.
"We are leaving now from the shed," one of the victims said on the phone according to Constantinou.
"Just be careful on the road. If you see fire, leave the truck and run for it," their boss said according to his account. He then tried to call back repeatedly and couldn't get through.
President Nicos Anastasiades had said on Twitter Saturday early evening that "it was a very difficult day for all of Cyprus," while adding the state's priority was to avoid any casualties.
But Polykarpou says authorities knew the four men had gone missing by the late afternoon, going further to accuse officials of providing inaccurate details over the course of events.
"They are lying in order to cover up their criminal negligence," the KISA director wrote on Facebook.
Polykarpou also said his group would prepare a report to account for everything that took place during the wildfire, while also calling for an in-depth investigation into how the rescue plan was put in action and how did 200 migrant workers end up staying behind during organized evacuations.
"Employers took their families and left but nobody thought what would happen to migrants, who don't even have a bicycle to leave the village," the KISA director said.