The most expensive form of advertising is television which is then followed by billboards, radio, and print. Digital channels, such as social media, Google Ads, and YouTube, are the least expensive.
If this election differs from previous ones in any way, it is because the lion's share of the advertising pie has shifted to digital media, particularly social media, with Facebook and Instagram dominating in terms of the amount of advertising content given to them.  This is where the candidacies of Nicos Christodoulides, Averof Neophytou, and Andreas Mavroyiannis are focused, with staff, communicators, and communications offices maximizing the potential and appeal of social media to the general public. To put things in perspective, there are 830,000 Facebook users in Cyprus and 794,000 Instagram users (data confidential.gnora.com). It also appears that Facebook ads can reach 79.2% of people over the age of 13, whereas Instagram ads can reach 75.7%. The figures above show one of social media's strongest trump cards: providing measurable results for a campaign. They are also less expensive than traditional media and add an element of immediacy to the candidate's message to the voter.  According to K's data, the role of television in electoral advertising is declining, as is the role of print media, while the role of social media and digital media, in general, is significantly increasing. Radio spots are becoming less popular, while billboards continue to be used for pre-election advertising, despite their high cost when compared to digital media.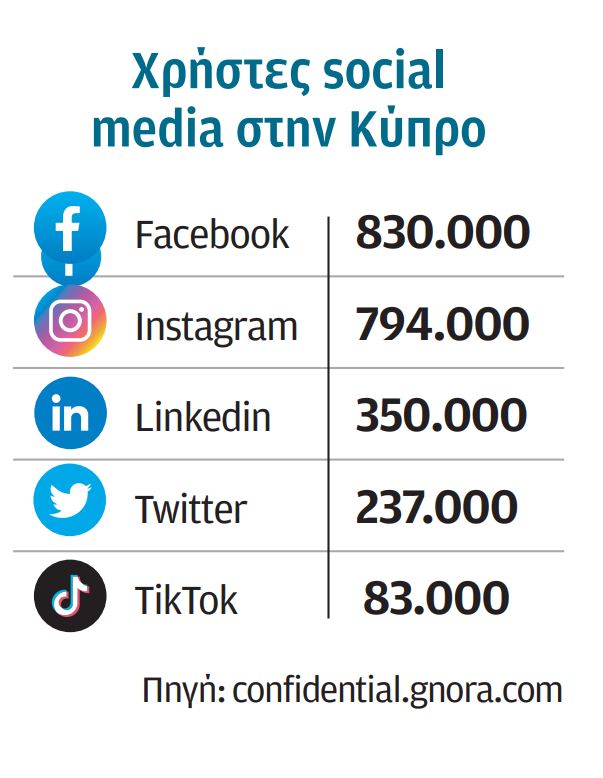 Christodoulides and Tik Tok
Newsletters, Viber groups, and billboards are being used to promote Nikos Christodoulides' candidacy, with the candidate's communications team aiming to promote content about the candidate and his platform. However, much of his campaigning is taking place on social media, which appears to exclude Twitter.  Another major player is YouTube, which has 860 registered users and has essentially become a huge archive of the independent candidate's statements, appearances, and meetings, according to Andrea Solomonidou, managing partner of Giraffes in the Kitchen Cyprus. N. Christodoulides is perhaps the only candidate who has taken advantage of the newest social media platform, TikTok, in order to win over younger voters between the ages of 18 and 28, who are not included in the Facebook age group. He maintains an active presence on Facebook and Instagram.  According to Andrea Solomonidou, the videos on TikTok do not fall under the category of advertising. She also notes that, as of May 12, volunteer funding and contributions ranging from 5 to 100 euros account for the majority of the costs associated with social media advertising.
There is some concern about whether more traditional media, such as television and print media, will be used for advertising. Political advertising investment on television, in particular, is extremely limited, regulated, and expensive. As a result, if it is finally tapped, it will be just a few days before the first round of elections on February 5th. In conclusion, N. Christodoulides' direct contact with the people and the impact on social media, combined with the high cost of advertising, significantly weakens television's role in the ongoing election. Billboard advertising, which began after Christmas, is also still an option.  In general, however, advertising spending is down compared to previous election periods, which can be attributed to the platform provided by social media as well as the long duration of the election period, during which many issues have been exhausted through debates in broadcasts and debates.
Podcasts featuring Averoff
Social media and digital advertising have taken the lead in Averof Neophytou's election advertising, with the advertising material focusing on Google ads, Facebook ads, social media, and YouTube. In addition, there is a parallel promotion of messages and information on positions, positions, and the candidate's program to supporter groups on WhatsApp and Viber, a highly effective tool. Among the peculiarities of Neophytou's campaign advertising is his participation in podcasts, with the material then being promoted both on social media and digital media such as YouTube. This is a new medium aimed at an age group where the candidacy needs to be strengthened. The majority of ad dollars are spent on Facebook and Instagram, with approximately 130 repeat ads for each candidate.  Although the program is intended for people of all ages, the fact that the campaign advertising is centered on social media indicates that the emphasis is on reaching the potential 25-44 age group. This is an audience that is described as prioritizing economic stability and security, as well as maintaining economic standards. Aside from social media, the Averoff campaign has recently expanded into outdoor advertising. However, this is a costly medium, and its use should be selective and prudent, according to sources on the candidate's staff. Currently, the messages on billboards are about strengthening the family (a message that is also aimed at female voters) and the economy, with a final message likely to follow in the final days before the election.  There is also a radio presence among A. Neophytou's advertising options, as well as television and newspaper.
Mavroyiannis's short stories
Andreas Mavroyiannis' pre-election advertising began with outdoor advertisements. Mavroyiannis was perhaps the first candidate in this election campaign to use television as an advertising medium, a move attributed to the need to increase the candidate's visibility. Radio was also used to reach out to workers who were on their way to or from work. Speaking to K, Chief of Staff Leontios Filotheou stated that advertising expenditure per medium is constantly evaluated and shaped based on its effectiveness.  In any case, the majority of advertising messages are primarily distributed through Facebook and, secondarily, Instagram, two platforms that reach the broadest range of voters. Facebook's audience is 35-70 years old, whereas Instagram messages reach younger audiences. And the tool of Stories is used, which combines the characteristics of message speed, liveliness, and immediacy, and is more effective in terms of reaching an audience than regular posts because views and reactions in Stories are many times higher than in other posts. In message promotion, Twitter is used sparingly, while Tik Tok is not used at all.  Going into the final stretch, Mr. Mavroyiannis' campaign will have a presence on all channels and media, while billboards and TV will be reintroduced, which will be added again in the final stretch before the elections due to costs.
Instagram and Facebook
It should be noted that social media advertisements are a constant presence. Nikos Christodoulides' Facebook and Instagram advertisements began in May 2022. In this case, the amounts spent on each advertisement range from 100 to 200 euros, 200-299 euros, and 100-199 euros.  The results on the ads library page show approximately 130 advertisements for the Nikos Christodoulides candidacy, approximately 135 advertisements for the Andreas Mavroyiannis candidacy, and 130 advertisements for the Averof Neophytou candidacy. In the case of Mr. Neophytou, the most money is spent per advertisement; that is, we see amounts of 200-299 euros and 300-399 euros more frequently than the other two candidates. In the case of Andreas Mavroyiannis, the promotion of advertising material on social media began on Facebook on 26 July 2022, with clips from the three candidates' debate, and by 12 November, the candidate's ads on social media - Facebook primarily and Instagram secondarily - amounted to about 135, almost a third of which was also addressed to, or exclusively addressed to, the Instagram audience.  There are 1621 followers on the Instagram app for A. Mavroyiannis' candidacy, and 211 posts have been made. Nikos Christodoulides has a larger Instagram following, despite the fact that he has had a profile on the app for a longer period of time, and while he was Foreign Minister. In any case, he has 13.6 thousand followers and 477 photos on his page. Averof Neophytou is also active on Instagram, where he has posted 475 photos and has 10.4 thousand followers.
Messages in advertisements
Kostas Daltas, Managing Director of Red Wolf PR & Advertising, observed that in the final stretch before February 5, the three main candidates will attempt to remind voters of the unmixed nature of their campaign messages by analyzing both the media used and the messages themselves.  As he stated, Averoff's staff is attempting to stop the party's leaks by scaremongering, while also attempting to remind the DISY president of his leadership qualities. At the same time, it selects faces based on themes, so that the message is noticed but it is not immediately obvious that it is a political advertisement. Christodoulides' staff is playing on a larger board because of the support of more party mechanisms, while also trying not to annoy the alarmed in order to bring them together. He is only promoting a positive agenda by putting his face out there and emphasizing his message about the people's vote.  In terms of Mavroyiannis' staff, at the policy level, his diversity of faces helps him, and at the billboard level, he came out on top because he had the most name-recognition issues of the three. We should see more outdoor and TV ads in the final three weeks before the election. Going into the final stretch, Averoff's campaign will try to emphasize elements related to good country management, Christodoulides' campaign will emphasize his candidacy's independence, and Mavroyiannis' campaign will emphasize his name recognition and the convergence of his and AKEL's positions.
"They don't make a president."
Social media is a lower-cost medium than television, and it can be more easily addressed to the general public. However, Daltas explains that followers and likes do not translate into votes and that a profile with a high potential on social media does not imply that it will have the same clout at the ballot box. In the end, he said, social media does not make a president. "Campaigning is a jigsaw puzzle with many pieces, including social media, messages, candidate profiles, billboards, events, interviews, positioning, and the inevitable mistakes that everyone will make." A good outcome will then be determined by how well these pieces fit together.
[This article was first published in Kathimerini's Sunday edition and translated from its Greek original]