Starlings have flocked to Lake Oroklini in the Larnaca district, offering breathtaking images of their formations before sunset.
Elena Markitani, head of communications of the Birdlife Cyprus Association told CNA that the birds arrive in Cyprus to spend their winters here. This year, they have arrived in large numbers and at sunset provide a wonderful spectacle with their formations which mimic dancing.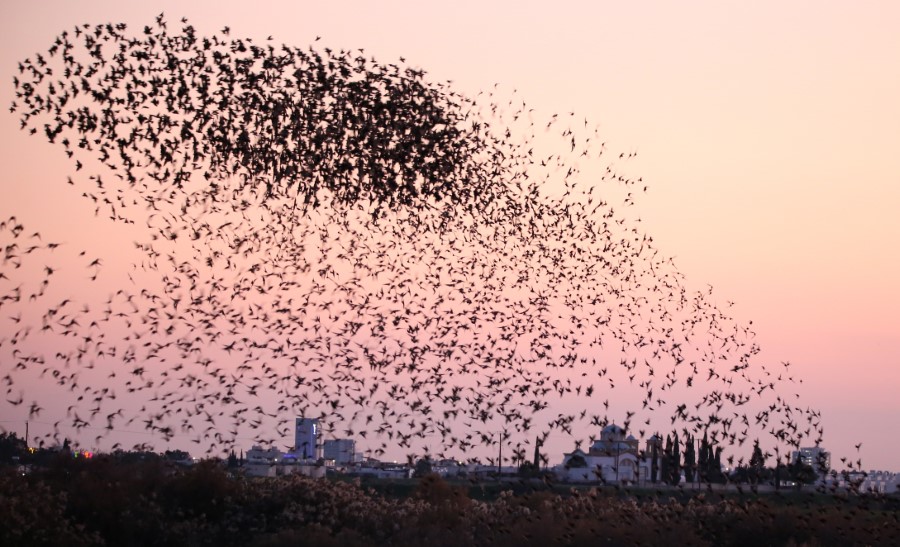 She added that "the fact that the birds chose Lake Oroklini to roost in the nearby reeds highlights the importance of the particular wetland."
These days, she remarked, the observatory is full of people including professional and amateur photographers who are capturing the starlings' 'dance' as well as the arrival of other birds such as ducks and flamingoes that have chosen Lake Oroklini for their winter destination.
The starlings' murmuration, Markitani said, takes place during sunset. During sunrise, the birds leave the areas where they perch and set off for the lake in small flocks to feed. Before sunset, they all gather and create unique formations before returning to the reeds or trees along the shores of the lake to rest.
Markitani urged the lake's visitors not to disturb the birds as their formations have a defensive nature protecting them from predators that might attack the herd.
Neophytos Fakontis, community leader of Voroklini said that hundreds of starlings make the formations along the Voroklini Lake where there are also other birds such as flamingoes and gulls.
However, their formations are unique in the area providing a great spectacle for photographers and residents who flock to the area to "witness these beautiful pictures".
People cannot reach the lake because of the fencing and remain at the observatory for videos and pictures. The use of drones is not allowed.
Fakontis also said that schools from all over Cyprus visit the area almost daily where the students learn about the lake's history and the birds it hosts.