Knife-wielding Ukrainian woman sentenced to six months on assault charges after acquittal on hate crime charges
A Ukrainian woman in Cyprus who carried out a knife assault against a group of Russians last year has been sentenced to six months in prison on common assault after being acquitted on more serious charges of incitement to hatred and violence.
Local media said a Larnaca district court on Tuesday sentenced a 55-year-old woman from Ukraine to half a year in prison after she pleaded guilty to multiple charges in an assault against Russian citizens back in August 2022. She initially pled not guilty to all charges while it was not clear whether a deal had been reached with the prosecutor.
The incident, part of which was caught on video, took place at a park opposite Panagia Faneromeni church where Russian nationals including children had gathered to kick off celebrations on their national Flag Day.
According to details in the case, the defendant was wielding a big knife when she walked over to the participants, calling out one of the women by name and saying "… you will die."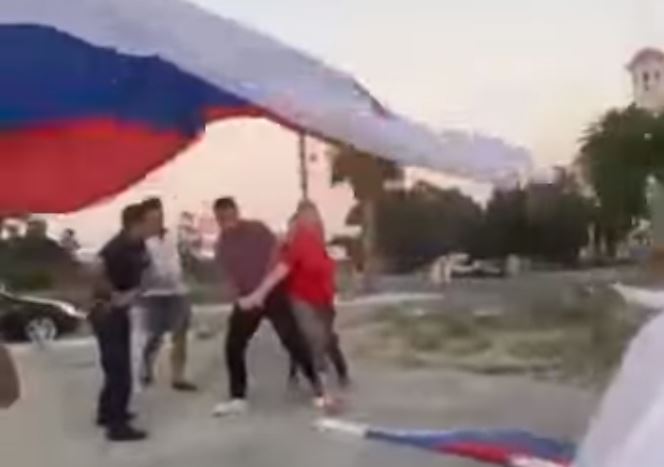 "She grabbed her by the hair and made a move with the right hand in an attempt to stab her with a knife," it was heard in court, but others managed to intervene and pull the attacker back.
A male police officer, who was present at the scene, arrested the woman, who reportedly told him as she was being read her rights that "you are protecting Russians in Cyprus" and "they killed my brother."
Her defense lawyer, George Mouskos, told the court that his client was a Ukrainian citizen who lived permanently in the Republic of Cyprus since 2013, adding that after losing her husband, her brother passed away two months prior to the incident while the rest of her family was still in Ukraine.
'Even the emotional charge of the accused, due to the death of her brother, does not justify her viewing every person of a specific nationality as an assault target'
A reference to incitement to hatred and violence, which alluded to charges carrying up to three years in prison that had been added to the charge sheet, was taken off the table by the judge, who acquitted the woman on three counts but found her guilty on other charges that carry a one-year maximum, such as two counts of assault, knife possession, public intoxication, disorderly conduct, disturbing the peace, and carrying a weapon with intent to terrorize.
The judge said the defendant admitted to carrying out a "bias-motivated crime" while also pointing out that the European Court of Human Rights called for heavier sentences in crimes targeting persons of a specific nationality, ethnicity, race, religious or other convictions, family background, sexual orientation or gender identity.
But after taking into consideration all mitigating circumstances, the defendant was handed down a six month sentence.
A request for a suspended sentence was rejected, with the court saying it could not legally disregard a bias-motivated crime which was an aggravating factor in the case.
"Even the emotional charge of the accused, due to the death of her brother, does not justify her viewing every person of a specific nationality as an assault target."
Other factors considered before sentencing included children being traumatized after witnessing the incident as well as the severity of the assault that included a big kitchen knife.
The case came months after the Russian Embassy in Cyprus said it had received reports that Russians living in Cyprus had been targeted due to the war in Ukraine.

Both groups of Ukrainian and Russian nationals, including their supporters, were active last year both online and during protests or public events in connection with the ongoing war.
Russian embassy officials, who initially argued the knife incident in Larnaca was played down by authorities and the media, later called for the woman to face attempted murder charges after pointing to specific online comments by the suspect days prior to the incident.