Photo by Brooklyn creative collective MSCHF
Source: All That's Interesting
Handbags come in tons of different sizes. There are huge totes, tiny clutches, and the practical kind of purses that Queen Elizabeth used to wear in the crook of her elbow. But there's never been a handbag as small as the one produced by creative collective MSCHF, which — despite being about the size of a grain of salt — has just sold at auction for $63,000.
"...the tiny bag is meant to parody the increasingly small size of luxury handbags." -Kevin Wiesner, chief creative officer of MSCHF
"I almost hope somebody eats it," Kevin Wiesner, the chief creative officer of MSCHF, told The New York Times. Noting that the tiny bag is meant to parody the increasingly small size of luxury handbags, he added: "I think 'bag' is a funny object because it derives from something rigorously functional. But it has basically become jewelry."
According to CNN, the bag measures 657 by 222 by 700 microns, or less than 0.03 inches wide. It is barely visible to the naked eye, though its details and bright color are clear beneath a microscope. Viewed that way, the Louis Vuitton monogram on the neon green bag becomes clear. CNN reports that the bag is based on Louis Vuitton's OnTheGo tote, which, ironically, retails for much less than the tiny handbag at between $3,100 and $4,300.
"As a once-functional object like a handbag becomes smaller and smaller its object status becomes steadily more abstracted until it is purely a brand signifier," MSCHF explained of the bag's concept, according to the New York Post. "Previous small leather handbags have still required a hand to carry them — they become dysfunctional, inconveniences to their 'wearer.'"
The sale of the bag was orchestrated by Joopiter, an online auction house owned by musician and designer Pharrell Williams. Though Williams is Louis Vuitton's creative director of menswear, Wiesner says that MSCHF sought neither his permission nor Louis Vuitton's while making the microscopic bag.
"We are big in the 'ask forgiveness, not permission' school," Wiesner said, adding: "Pharrell loves big hats, so we made him an incredibly small bag."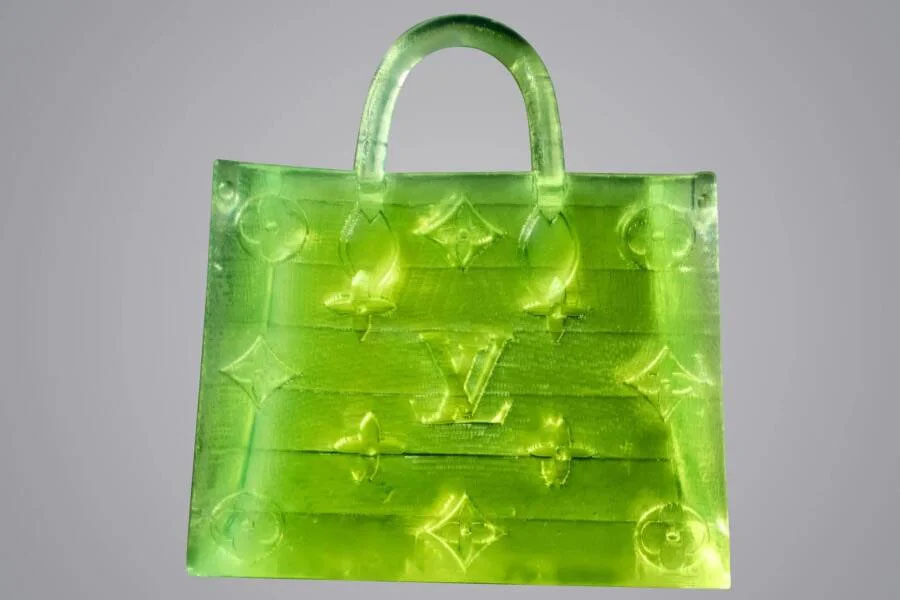 The tiny bag's details are visible only under a microscope, yet the bag itself sold for much more at auction than the real-life Louis Vuitton bags that it's based upon.
According to CNN, MSCHF has developed a reputation in recent years for so-called "drops" that mock consumer capitalism. In 2021, they were sued by Nike for collaborating with the rapper Lil Nas X to sell "Satan Shoes," which featured satanic symbols and contained drops of real human blood.
"Uhhhhhh yeah hahah not medical professionals we did it ourselves lol," Daniel Greenberg, one of MSCHF's founders, replied when The New York Times asked who collected the blood for the shoes.
"We're OK being hated," Greenberg added. "We just don't want apathy."
MSCHF has also sold forged Andy Warhol drawings, cut-up Damian Hirst paintings, and tore up Birkin handbags in order to make "Birkinstocks" which they sold for up to $76,000. (The bags usually retail at $10,000 or more).
Recently, MSCHF offered a pair of "Big Red Boots" that were "REALLY not shaped like feet, but they are EXTREMELY shaped like boots." The boots, which sold for $350, became a hit after stars like Doja Cat and Janelle Monáe were seen in them.
While some of MSCHF's past creations are attention-grabbing and designed to be shown off, the handbag is so small that it can only be enjoyed by one person at a time through a microscope. Fortunately, the person who purchased the handbag will also receive a microscope equipped with a digital display so they can gaze upon their purchase as much as their heart desires.