UK flights land in Cyprus amid coronavirus spike, some operators holding back hoping for category A upgrade
Five flights from British airports were scheduled to land in the Republic of Cyprus on Saturday, after the island listed the United Kingdom in Category B, which means arriving passengers are not required to be under quarantine or self-isolation.
The United Kingdom was officially removed from Category C on Saturday, August 1, after Cyprus bumped it up to the second category within a low-high risk assessment scheme for COVID-19.
Under Category B, arriving tourists from Britain must have a coronavirus test up to 72 hours prior to boarding their Cyprus-bound flight, with the certificate showing a negative result.
British tourists can return home without quarantine restrictions but this is subject to change, as Cyprus is fearing more coronavirus flare-ups
According to latest information, test results can be presented in the form of an email or SMS, as long as it includes all essential details including date and time when the test was taken. UK officials have advised British travelers to carry paper copies of all their electronic documents for backup.
British tourists on the island are currently free to return back home without quarantine or self-isolation restrictions after the UK included Cyprus on a "safe" list of countries. But the information is subject to change, while just this week Cyprus saw an unprecedented spike in coronavirus cases.
The first flight, operated by EasyJet out of Bristol, was scheduled to land Saturday at 1:45pm, with the last flight of the day from the UK expected from Liverpool at 9:25pm.
Some operators holding back
Other airline companies and tour operators were still holding back, with tentative flight dates pushed back to mid-August pending an upgrade decision, according to reports.
Jet2 Holidays said they were urging officials in the Republic of Cyprus to review further the entry criteria pertaining to British tourists. 
"Because of prohibitive entry restrictions into Cyprus, we have no choice but to suspend flights and holidays to Larnaca and Paphos up to and including 16 August," Jet2 said.
Earlier this summer, Republic of Cyprus officials said the government would foot the bill for those who may contract the virus while vacationing on the island.
Categories reviewed on weekly basis
Transport Minister Yiannis Karousos, who made an unannounced visit to Larnaca International Airport on Friday, said he made the trip to the terminal to see for himself that "all protocols in place were working and instructions were being followed."
The transport minister also said the government was following the advice of health experts, who update their epidemiological data on a weekly basis.
"If they decide that a country belongs in category B it means that the country fits the criteria to be in that particular category," Karousos said.
The minister also said that in cases where there is improvement in the epidemiological data of a country, "it can be upgraded to category A or even downgraded, depending on the situation."
Random passengers selected for test

Passengers arriving from countries in the low-risk Category A do not have to undergo any testing while they face no restrictions, except a chance they may get selected for a random test out of a combined total of 1000 samples taken at Larnaca and Paphos airports.
According to the Cyprus News Agency, Georgia was moved to Category A on Saturday, with passengers from that country no longer required to provide a certificate of a Covid-19 test upon their arrival in the Republic.
At the same time, Algeria and Bulgaria were being bumped down from Category B to Category C, with both countries deemed to pose increased risks compared to Category A and B countries.
During his airport visit on Friday, Karousos was accompanied by newly-appointed Justice Minister Emily Yiolitis.
The justice minister said she also wanted to send the message that police would show zero-tolerance towards non-compliance to all government-imposed decrees during the response to the pandemic.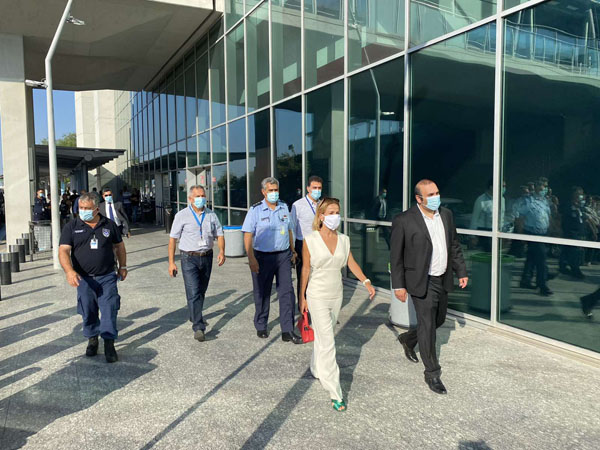 Only ticketed passengers are allowed in the terminals while the use of face masks in public indoor places is mandatory, with Yiolitis saying security and law enforcement officers were also supporting the government's effort with redundant measures to maintain social distancing.
All travelers irrespective of nationality, including passengers on UK flights to Cyprus, are requred to apply for the Cyprus Flight Pass within 24 hours before their flight departure. Immigration or customs officials at the gate of a departing flight may inspect those passes.
An earlier date for Britain had been sought previously, with Deputy Tourism Minister Savvas Perdios saying July 15 was a "very reasonable" timeframe.
Perdios made the statement back in June following anticipated positive news in the United Kingdom. But a number of health experts as well as Health Minister Constantinos Ioannou had expressed reservations at the time after partial lockdown measures in Britain raised concern among officials in many countries.