Delinquent youths with smoke bombs and firecrackers caught on video wreaking havoc on back to school day
Police detained three teenagers on illegal fireworks possession in connection with back-to-school pranks, while viral videos emerged showing delinquent youths using firecrackers and smoke bombs outside high schools in different towns.
According to local media, delinquent youths and possibly high school seniors holding firecrackers and smoke bombs launched their annual back-to-school pranks on Monday morning all over Cyprus, including Nicosia and Limassol.
Local media said youths with their faces covered used smoke bombs and firecrackers outside a Nicosia high school, while additional reports said damages on nearby vehicles were also reported.
Another high school in Limassol was also the target of similar pranks, with TV news programmes showing the air around the school entrance completely engulfed in orange smoke.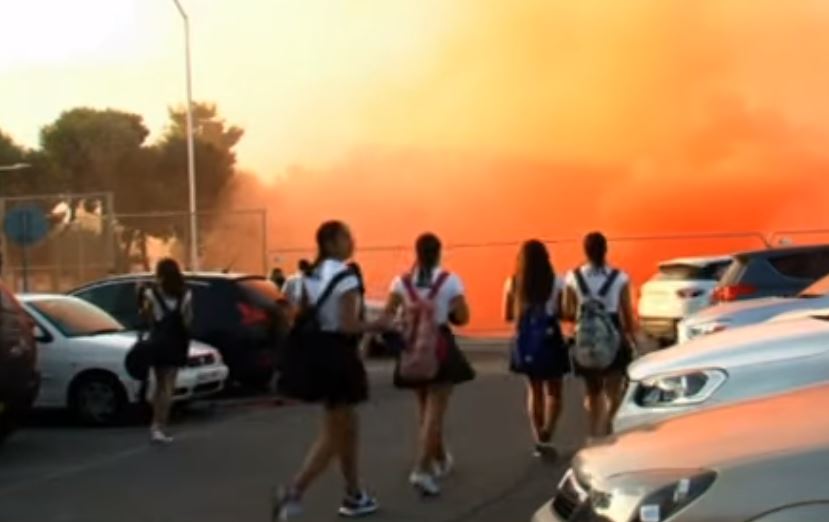 Nicosia police said they detained an 18-year-old male who was driving a vehicle near Kykkos high school in Strovolos after midnight, Monday early morning around 1:10am. Officers found a bag in the car containing 12 flares, which belonged to a 16-year-old female. She was also questioned by police and then was free to go.
Another 17-year-old male was also briefly detained for questioning in Nicosia after midnight, near the Apostolos Andreas Church in Aglandjia, after officers found 5 firecrackers in his possession.
Educators who spoke publicly on the issue said high school seniors started pulling these types of pranks within the last decade, causing headaches for school officials and law enforcement authorities.
A number of residents have been complaining over the last few days over explosions in their neighbourhoods, often taking place after midnight and in the wee hours, causing distress to pets and the elderly.