Cypriot retired intelligence officer rules out illegitimate weapons sent to Ukraine were aboard downed cargo plane
A retired intelligence officer in Cyprus says there is no way a downed Ukrainian cargo plane could have been carrying illegitimate weapons, with rumors still raging over allied weapons to Ukraine being sold on the black market while experts in Greece saying they found no evidence of dangerous substances at the crash site.
(Click here for an update to the story)
Cypriot retired general Andreas Pentaras has ruled out the possibility that illegitimate weapons or arms destined for terrorists would have been aboard the Antonov AN-12TBK cargo plane when it crashed late on Saturday in northern Greece.
Pentaras, who previously served as chief of the Central Intelligence Service (KYP) in the Republic of Cyprus, was a guest on state radio Monday morning when he was invited to comment on rumors that stolen or illegitimate weaponry donated to Ukraine by western allies could have been on board the downed plane.
'I would rule it out just because terrorist organizations would simply not be sending thousands of training mines but would prefer personal weapons, gear, and other types'
"I would rule it out just because terrorist organizations would simply not be sending thousands of training mines but would prefer personal weapons, gear, and other types" Pentaras said.
On Sunday the Serbian defense ministry said there were 11.5 tonnes of explosive materials on board the Antonov, including mortar and training shells bought by the Bangladeshi government.
The plane, which was scheduled to land in Amman after taking off in Nis, made multiple stops earlier in the week, with landings reported at various destinations including Poland, Bulgaria, France, and Turkey. Future stops would also have included Bangladesh and Saudi Arabia according to publicly available flight information.
Earlier this month reports emerged about Ukraine selling weapons acquired from the West on the black market, with experts arguing this was likely due to the Kiev forces' limited ability to use them because of lack of training, logistical challenges, and setbacks on the ground.
But additional rumors began to circulate when reports out of the crash site near Kavala pointed to a peculiar odor, with officials later saying there was nothing dangerous in the air.
"The measurements at the moment have not shown anything but nonetheless instability in the field was observed," said Lieutenant General Marios Apostolidis.
Apostolidis, who oversees the Northern Greece Fire Brigade, had told reporters that local experts could not identify a white substance "so a special armed forces team has to inform us what it is and whether we can enter the field."
Experts have reportedly concluded later that an unknown substance was just a lot of unexploded ordnance the plane had been carrying that was spread around the crash site.
It was not immediately clear what else the Soviet-built turboprop aircraft was carrying, but Pentaras said Greek authorities would have known about any dangerous cargo ahead of time.
"All flights are required to declare their dangerous materials, and the planes are not allowed to fly over urban areas except when approaching an airport to land if they go into a city," Pentaras said.
Serbian Defense Minister Nebojsa Stefanovic, who confirmed the eight crew members were dead, said the plane was indeed carrying 11.5 tons of Serbian-made mortar ammunition to Bangladesh.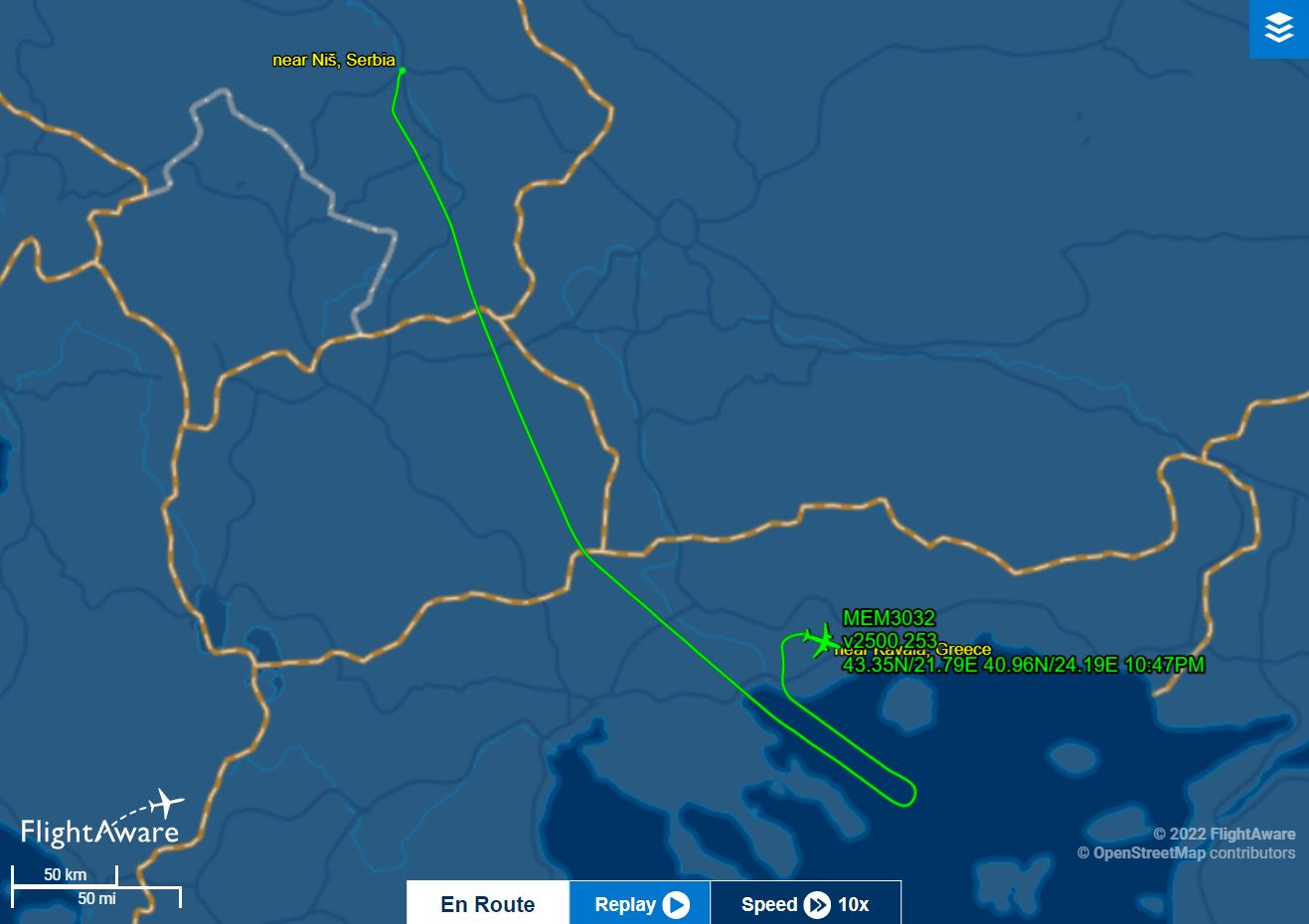 According to a statement by the Hellenic Civil Aviation Authority, the cargo plane entered Greek airspace on Saturday night at 10:09pm and later at 10:37pm the pilots radioed the Athens & Macedonia Area Control Centers Division saying they would turn back to the airport of departure due to "operation reasons."
As the plane was flying east of Halkidiki, a "May Day, May Day" was heard in the cockpit at 10:42pm, with the pilots telling Thessaloniki Approach that they had a fire in Engine 4.
At 10:45pm, the pilots said they would perform a forced landing with the air traffic control tower in nearby Kavala giving permission to land at Chrysoupoli airport.
Two minutes later the plane went off radar at 10:47pm while its last few seconds before hitting the ground appeared to have been caught on amateur video.