watch video
Russian commmercial Boeing lands at Cyprus with an endangered species message
A plane with the majestic face of a Siberian tiger landed at Larnaca International Airport on Sunday, known around the world for raising awareness for the protection of the Amur Tiger.
The Amur Tiger, representing the critically endangered species, gives passengers an opportunity to make a donation on board in the fight against poachers who target the Siberian population.
The Siberian tiger, also called Amur tiger, is a tiger population inhabiting mainly the Sikhote Alin mountain region in southwest Primorye Province in the Russian Far East.
In 2016, Rossiya Airlines placed an order for the face of the Amur Tiger to be featured on the nose of a Boeing 747, as part of a collaboration with the 'Amur Tiger Centre' to raise awareness of the challenges of preserving and enhancing the unique population of Amur leopard tigers.
The Boeing 747 (EI-XLD) in the special tiger livery seats 522 passengers, including 12 business class seats on the upper deck. The company says the Siberian tiger livery highlights the Russian airlines' commitment to the preservation of the Amur tiger.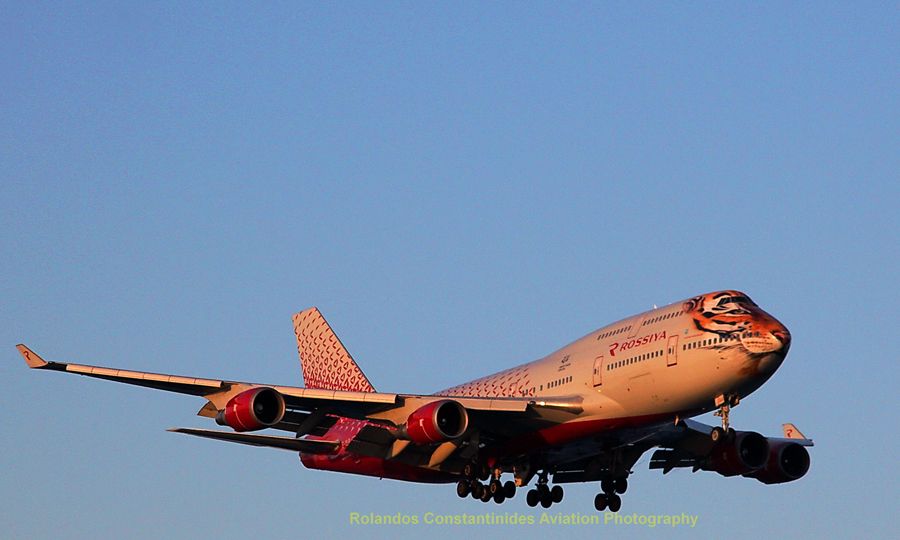 (Photo credit: Rolandos Constantinides - LCA, Cyprus - 8 July 2018)