Photos courtesy Reuters
A rare blizzard warning remains in effect for parts of Southern California – including the Los Angeles region – Saturday as some areas endure heavy snow and record rainfall that has delivered dangerous flooding.
The onset of severe weather across the West Coast has spawned unfamiliar wintry conditions at higher elevations, particularly over mountainous areas of Los Angeles and Ventura counties, where up to a foot of snow may pair with 80 mph winds, the National Weather Service said.
Blizzard warnings are set to continue through Saturday afternoon. The National Weather Service's Los Angeles office had not issued a blizzard warning since 1989.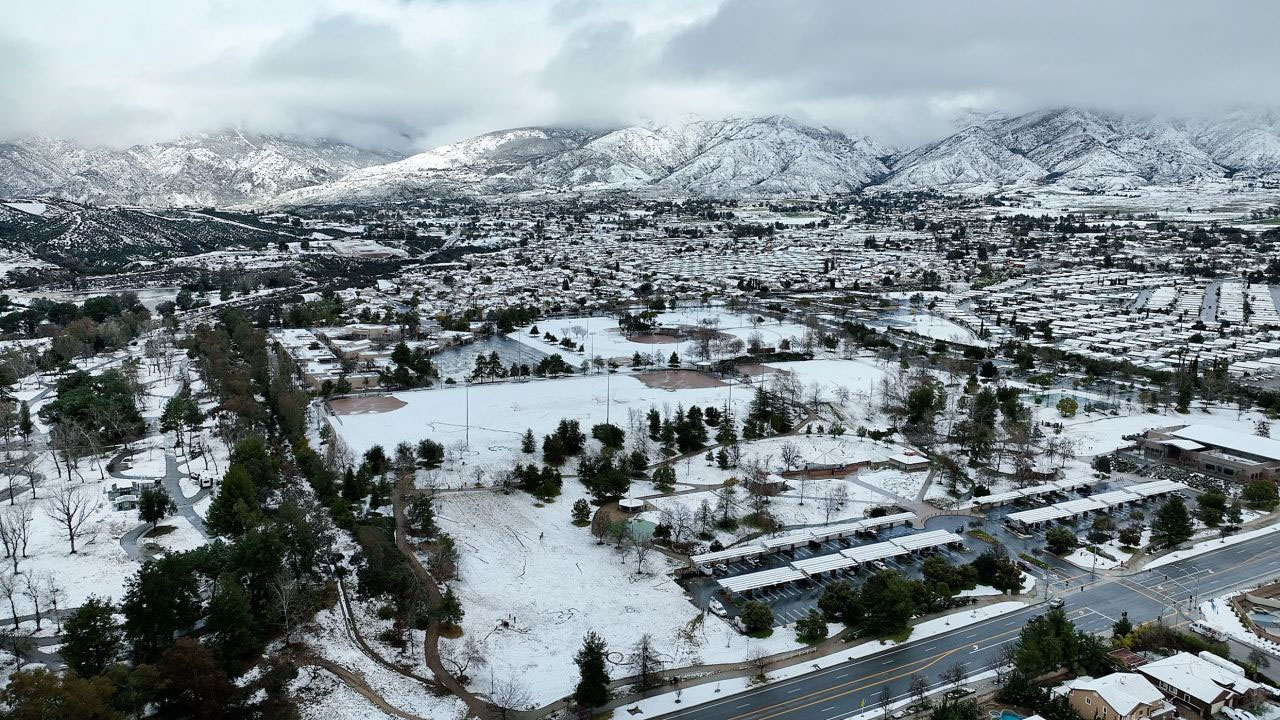 At the same time, torrential rain is expected to continue lashing the Los Angeles metro area Saturday after the area experienced flooding a day prior.
"A cold, strong, and potentially dangerous winter storm will bring periods of heavy rain and mountain snow with gusty southerly winds to most of Southwest California through Saturday," according to the weather service.
The warning comes as this week's severe weather across the state triggered numerous power outages, which persisted for more than 100,000 homes and businesses in several counties early Saturday as temperatures are expected to plummet, with Northern California possibly seeing below-freezing temperatures.
By Friday, snow had already coated the Santa Cruz Mountains, a sight that was a surprise to resident Ngugi Kihara.
"(We've) never seen this much snow up here," Kihara told CNN on Friday. "We woke up to it. It started yesterday but picked up a lot overnight. Lots of trees are falling and all the roads around us are closed. Power is out and has been mostly gone since Tuesday."
And the threat of even more power outages persists Saturday, the National Weather Service said.
The heavy snow and strong winds can ultimately result in near-zero visibility for those in the area, even when snow stops falling because high winds can blow the flakes off the ground. Weather alerts have urged extreme caution when traveling.
High elevations at Big Bear Lake in Southern California saw between 20 to 40 inches of snow over the course of three days as of Friday evening, according to the National Oceanic and Atmospheric Administration. The agency also reported that many vehicles were stuck Friday morning, prompting state officials to close roads.
In addition to the snow, some Los Angeles-area roads turned into rivers on Friday after bouts of heavy rain, prompting the weather service to issue a flash flood warning.
Motorists and vehicles were seen stranded after water levels rose and some roads became impassable.
During the late night hours, a flash flood warning remained for around 1 million people in Los Angeles, Glendale and Santa Clarita through Saturday morning.