Details not yet ascertained as officials begin investigation, saying terrorist attack unlikely but not ruled out
The cause of a large fire on Wednesday at a Russian building in central Nicosia is under investigation, with media speculation ranging from an accident to a possible terrorist attack and authorities not ruling out anything.
(Click here for an update to the story)
Fire Department spokesperson Andreas Kettis told state radio on Thursday that an investigation would begin in the morning following a fire that broke out a day earlier at the Russian Centre of Culture and Science in midtown Nicosia at midday.
"The investigation will begin today, this is a complicated incident," Kettis said.
Seven fire engines and twenty fire fighters took part in extinguishing the fire that broke out around 1:30pm, spreading rapidly with black smoke seen from many parts of the capital while videos of the incident flooded social media.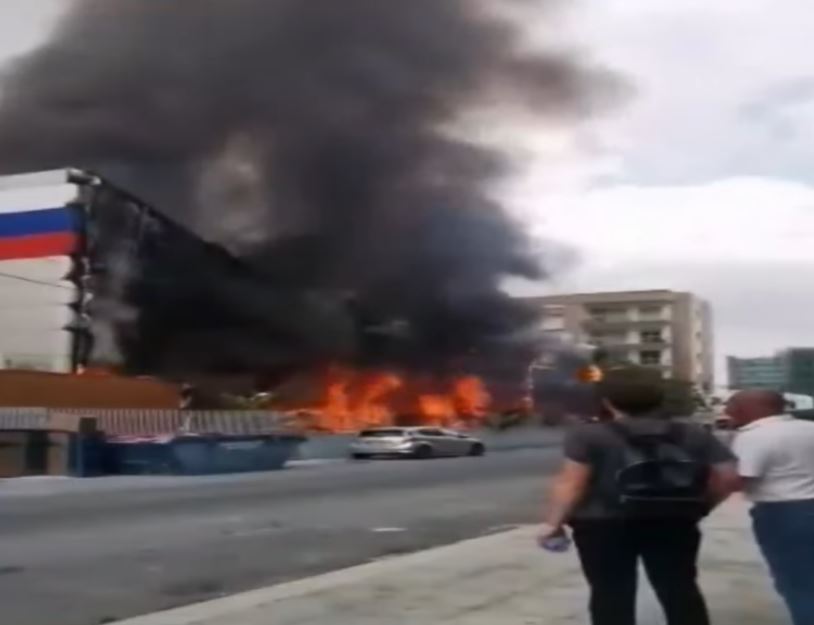 But it was too early to establish facts as to the cause of fire as well as how many origins were involved.
"There was fire both inside and outside the building but it is unclear what started it and whether there were two separate origins," Kettis said.
Media reports said it took two hours to contain the fire that resulted in extensive damage but no casualties.
Russian officials on the island said they were cooperating with local authorities while Russian Ambassador Murat Zyazikov, who spoke with police and fire officials at the scene, was briefed "about the possible versions and circumstances of the incident," according to a statement on the embassy's Facebook account.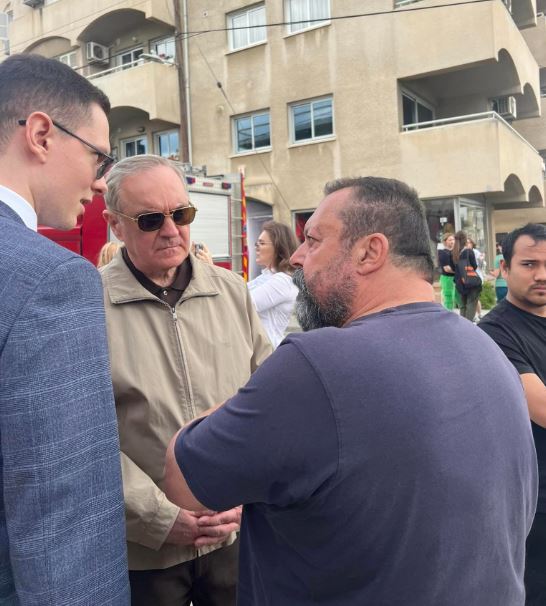 One version theorized that a fire broke out by accident and grew rapidly due to insulation material on site during renovation work.
Another theory under consideration was the possibility of a terrorist attack, as rumors intensified on social media that a gasoline bomb had been thrown at the building.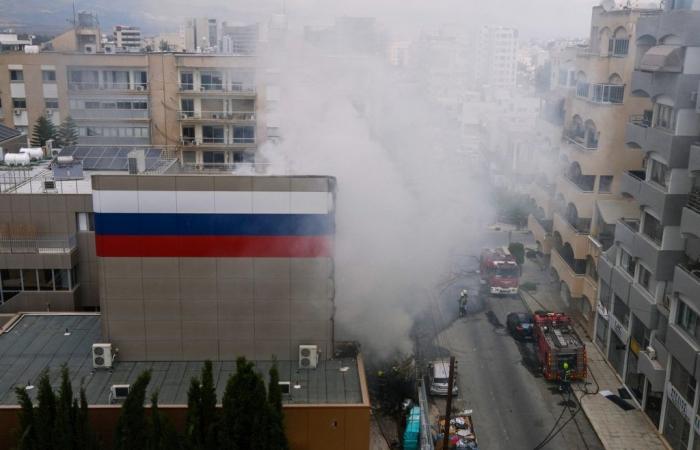 Local reporter Christoforos Nestoros said local residents heard two explosions.
Nestoros, who went on site in the immediate aftermath, reported on AlphaNews Live and spoke with a worker who said they had been working inside the building when they heard two blasts outside.
"We were inside working, ripping things out," a man with an accent said in Greek, adding "we suddenly heard deadened sounds like pah, boom."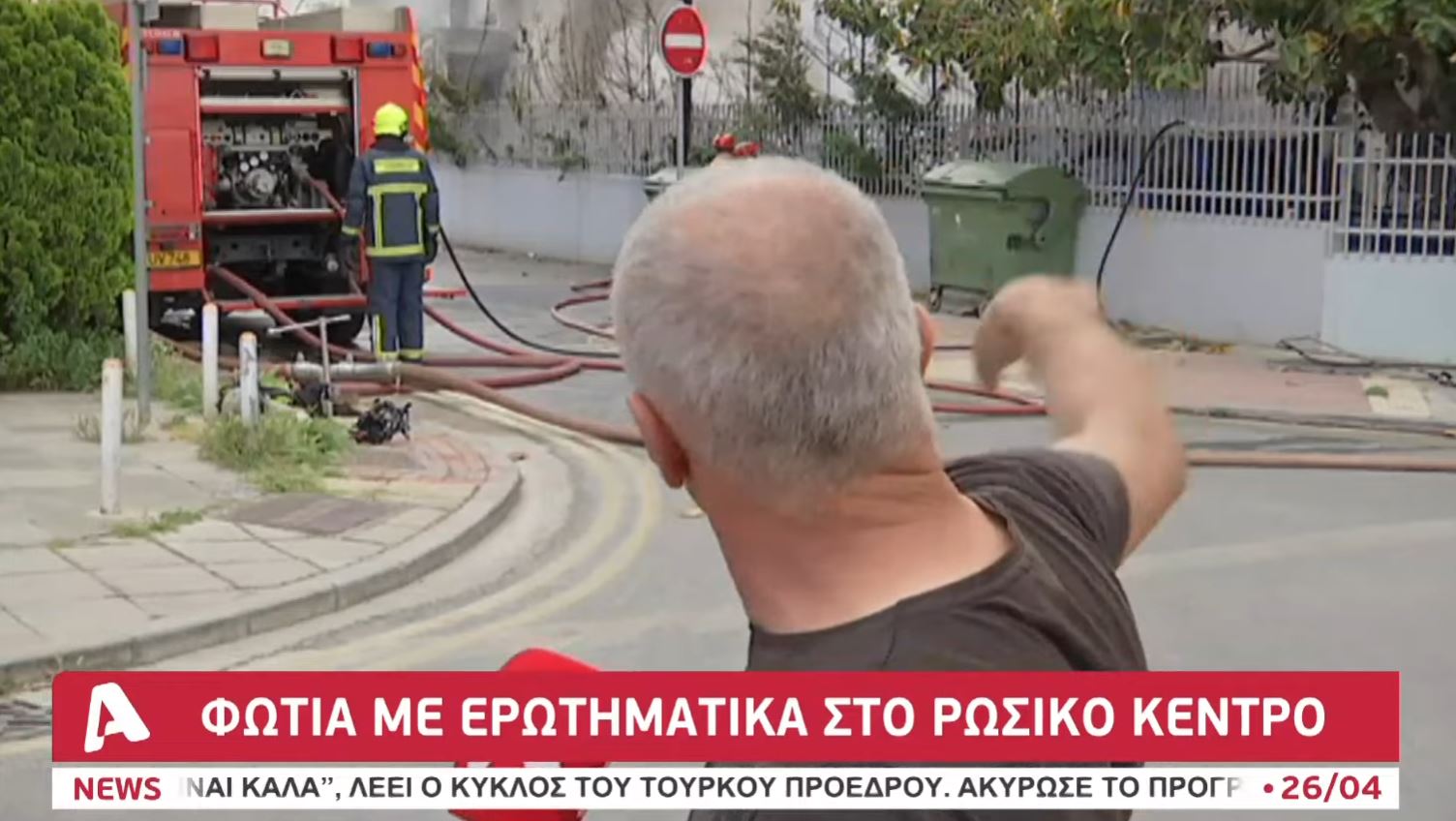 "The fire got high up maybe 3-4 meters straight away. I must have taken something like three minutes to get out and go around the back, such a tall fire could not have started on its own," he added.
But Fire Marshal Charalambos Tylliros cautioned that an explosion was unlikely based on preliminary conversations with other people who were near the building.
"We cannot jump into conclusions regarding any possible cause," Tylliros said on Wednesday.
As time went on, reports suggested foul play was being suspected but there were no corroborative details from Cypriot authorities.
"Nothing can be ruled out," Kettis said on Thursday morning.
The news also made headlines around the world, including Ukraine and Russia, as stories were being posted online with videos and various comments, including speculation.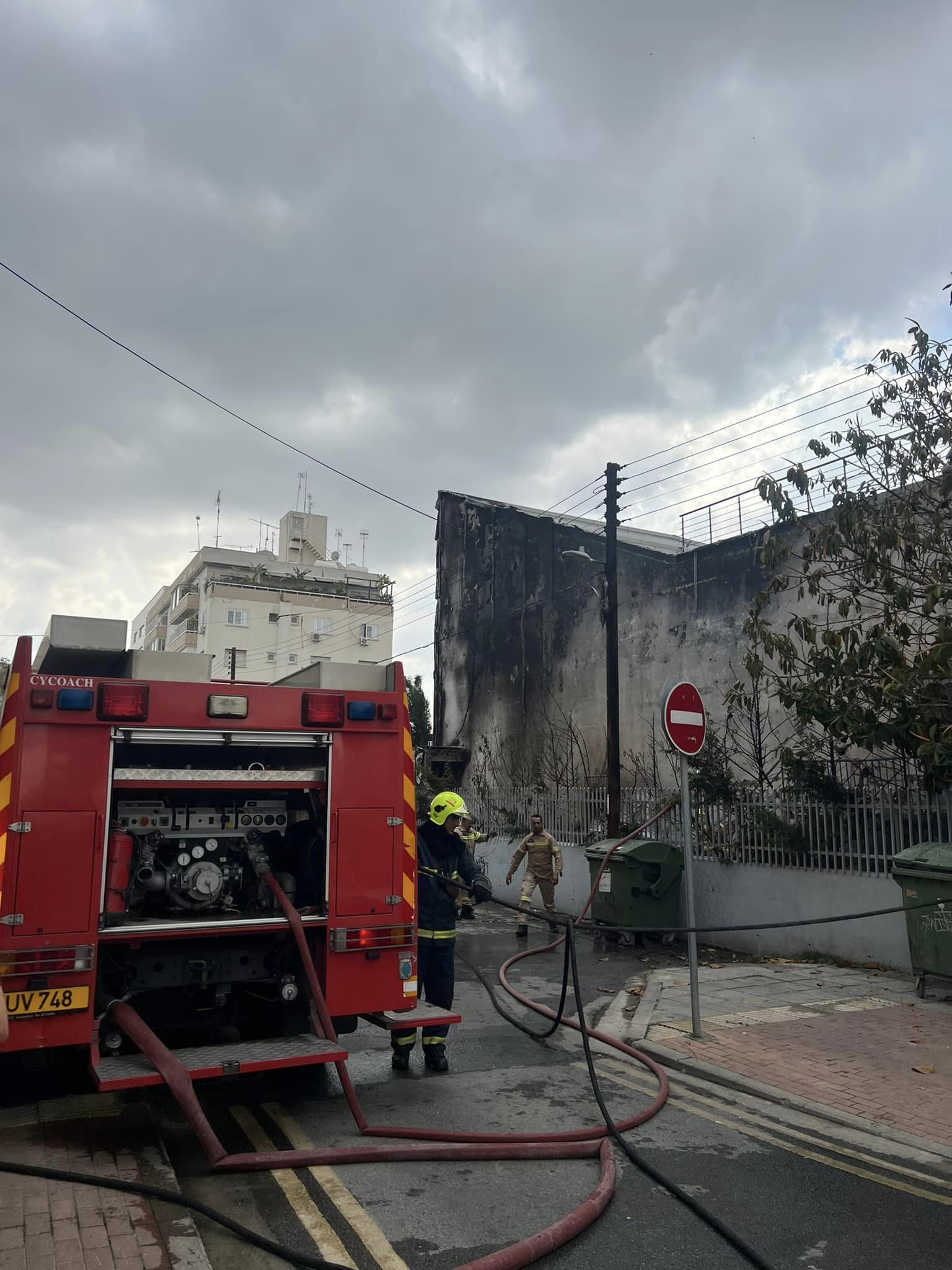 YouTube creator and blogger Alex Christoforou, who offers commentary on world issues including Russia and Ukraine, also visited the scene after the blast and proceeded to live stream, pointing out the street where the center was located had been being monitored by police.
"The interesting part about this street… is that 24 hours a day there were police cars actually parked right over there and they would monitor this building 24 hours a day because of everything that is happening with the conflict in Ukraine," Christoforou said.
Police said they were investigating the incident while security camera footage was being sought from the area.
Additional reports said witnesses made references to a white van that was seen in the area, but no specific details were provided.
According to the cultural center's head Alina Radchenko, who spoke to TASS, Russia's state-funded news agency, witnesses said "Molotov cocktails were thrown into the building."