Official calls fire suspects 'dumb' as multiple fires prompt authorities to issue forest ban
Dozens of fires broke out on Saturday in Cyprus, prompting state authorities to ban private vehicles on forest roads after a pattern of arson emerged linked to suspicious cars in the area.
The head of the Forest Department, Charalambos Alexandrou, issued a statement on Saturday saying he was utterly shocked and at the same time very angry over what he described as "criminal act against the homeland."
'I am utterly shocked. I want to state this categorically and condemn this disgusting behaviour, carried out by dumb people'
Fire fighters and forest department staff in Paphos district have been battling multiple fires all day Saturday, with tens of origins of fires spread out within a 20 kilometer radius approximately, in remote areas near villages such as Kouklia and Dora but also Mousere along the Limassol district boundary.
"I am utterly shocked. I want to state this categorically and condemn this disgusting behaviour, carried out by dumb people," Alexandrou said.
The agriculture ministry has issued a ban on movement by all private vehicles on forest roads effective Saturday, August 8 through Monday, August 17.
Visits to state parks still allowed
But officials later clarified that members of the public could still drive up to campground sites within state forest areas for visitation purposes, while through traffic in state parks was still banned.
The ban came hours after reports said cars were seen driving from one location to another in the very early morning hours, with Paphos police investigating allegations of possible arson in at least six locations.
In one case, a local representative in Dora told police that he saw a blaze around 2:30am very close to the village and ordered an evacuation out of an abundance of caution.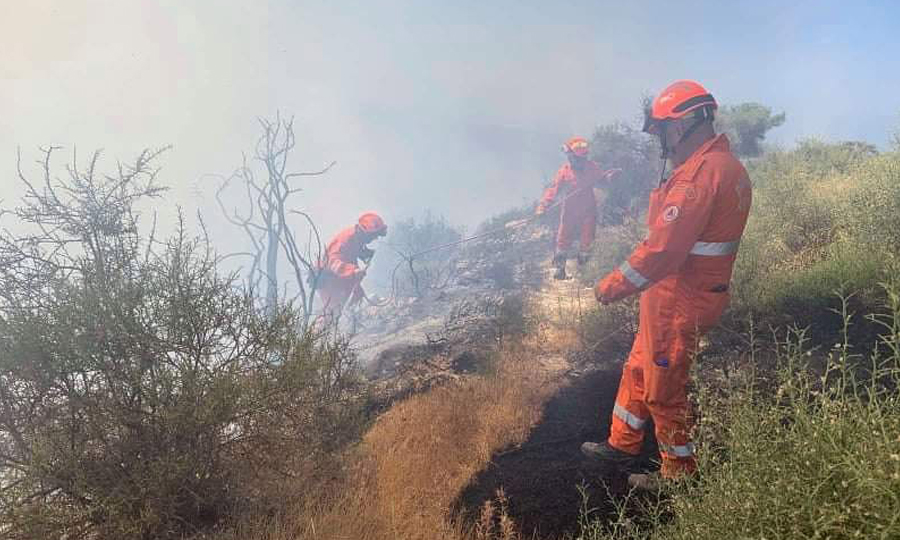 "Police officers and civil defence volunteers were knocking on people's doors and managed to gather everyone at the village square," a witness said, who told media an entire village arrived at the entrance of the village but in the end nobody had to leave as the fire was no longer a threat.
There were also fires in other areas, including Aradpippou in Larnaca district, which was said to have been contained in just half an hour.
Fire department spokesperson Andreas Kettis said fires that have been contained were being watched as strong winds posed high re-ignition risks, while in many cases fires had re-started.