Reznikov visits Athens and Nicosia amid reports of EU ammunition plan being stalled over fine print squabble
Ukrainian Defense Minister Oleksii Reznikov visited Cyprus on Friday amid reports that a recent EU plan to send ammunition to Kiev was being held up in some European capitals including Athens and Nicosia.
Reznikov was welcomed on Friday by his Cypriot counterpart Michalis Giorgallas, who accompanied his wartime guest on a tour to Limassol where a drone company of Ukrainian interests has been sending dozens of Poseidon H10 to Kiev.
According to the Cyprus News Agency, the two ministers held discussions on developments in Ukraine, as well as the situation in Cyprus and the wider eastern Mediterranean region.
Nicosia and Athens sought to clarify the EU package for Ukraine over concerns that cash for buying 155-millimeter artillery shells and missiles may end up with sub-contractors or suppliers in Turkey
Reznikov expressed Kiev's gratitude for Cypriot support and personally thanked Giorgallas for his hospitality, according to a press release.
Prior to Reznikov's arrival in Cyprus, Giorgallas told a local television network that Cyprus was supporting Ukraine in humanitarian ways, clarifying the assistance was not military.
But Giorgallas also clarified military cross-training has been taking place, referring to a Cypriot military officer currently being trained in Germany and a team of Ukrainians heading to Cyprus later this month.
"We will host I believe towards the last week of April the first team of Ukrainian specialists who will be involved in demining and detection operations," the Cypriot minister said.
The arrangement for cross-training sessions of Ukrainians in Cyprus was signed by Giorgallas' predecessor, while the new minister last month signed up for a collaborative "joint procurement" of ammunition as part of European defense and armaments cooperation with Ukraine.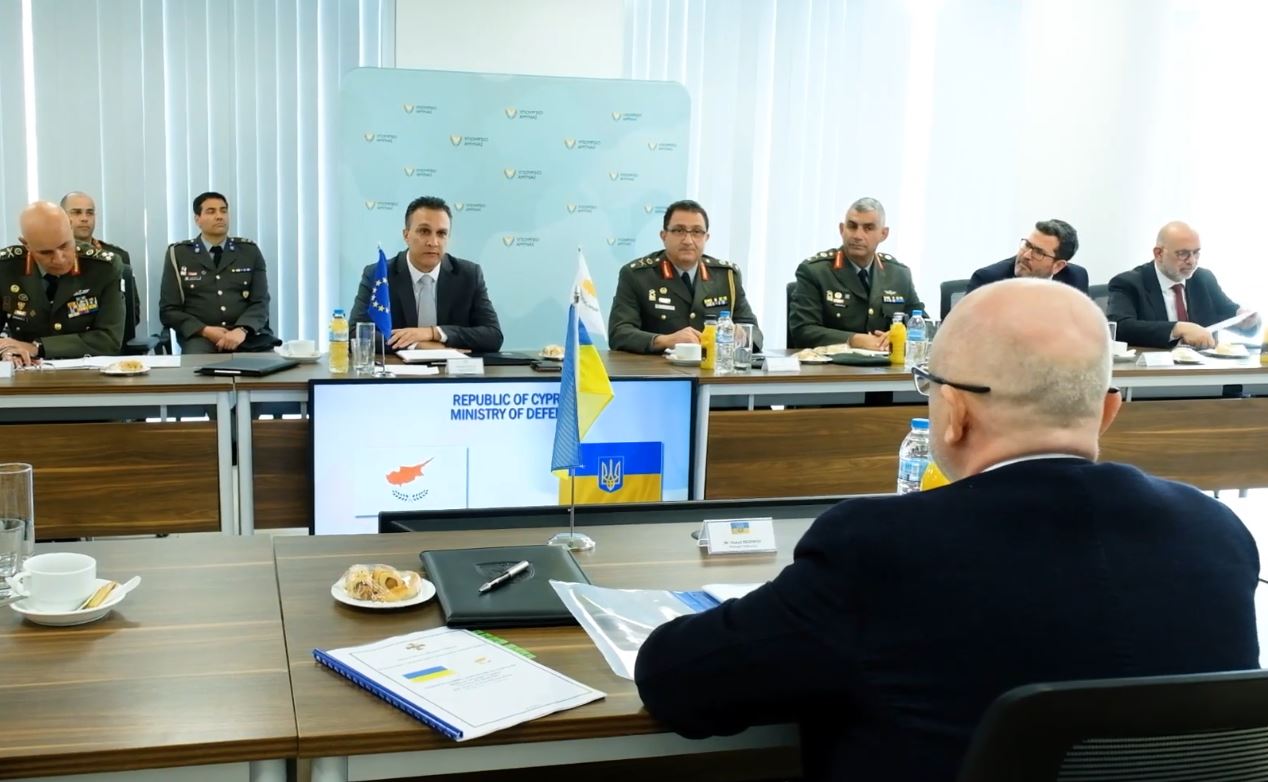 But Reznikov's visit was overshadowed by reports that the groundbreaking package approved in Brussels, including a plan to send 1 million artillery shells to Ukraine, was not moving fast enough due to disagreements.
According to Reuters, Greece and Cyprus have sided with France after Paris argued that money spent on munitions ought to stay within EU borders.
"We will first buy European. European financing must serve to buy European," a French official was quoted as saying, adding "but we also have to be realistic."
Another Reuters report citing diplomats in Brussels said Nicosia and Athens had sought a strict definition of the term "European industry" that was included in the package, "expressing concern that some of the cash to buy 155-millimeter artillery shells and missiles may end up with sub-contractors or suppliers in Turkey."
Other countries including Germany, Poland, and Holland argued against too many restrictions on supply chains, citing concerns that the European industry proper might struggle to produce a million shells in one year.
A day prior to his trip to Cyprus, Reznikov also traveled to Greece, where he reiterated Kiev's call for more artillery shells and heavy field weaponry.
The ammunition question is to be discussed after the Catholic Easter break, when EU officials will head back to Brussels to finalize details.
Nicosia has repeatedly dismissed rumors that Soviet-made weapons would be sent to Ukraine to fights the Russians, but officials on the island have not completely ruled out indirect supply to Kiev through swap deals with third countries.